Welcome to Buds' class page
Class Info
2023-2024 Gallery
| | |
| --- | --- |
| | This week, Buds had a visit from The School Games Programme who delivered 20 scooters. The children thoroughly enjoyed learning how to balance and use their hand-eye coordination to navigate the playground. Buds are really looking forward to becoming more and more confident. |
| | Throughout this week, some of our Year 4s have had the opportunity to share their maths knowledge with the rest of their peers. For the morning starter activities, they have become the teachers and have led the sessions from the front of the class. |
| | This morning, we had our first music lesson! Children were able to practise playing the ukuleles through playing the C-Chord and then sharing this to their peers at the end of the lesson. |
| | In today's RE lesson, we learnt about the story of the Maccabees and how this led to the Jewish festival of Hannukah. This allowed us to understand why light is an important symbol in the Jewish religion. |
| | In today's Topic lesson, we created a timeline of events across World War 1, summarising the key dates within the war. To deepen our understanding, we acted out these events as freeze frames and shared them with our classmates. |
| | In today's maths lesson, we worked in group to become interactive number lines. Children put themselves as different multiples of 1,000 whilst others wrote numbers on their whiteboard and placed themselves in-between as an estimated position. |
| | In today's English lesson, we formed two sides of an argument based on our vehicle text 'The Whale'. In this debate, we argued whether we thought the sightings of the whale were true or whether it was all a hoax. |
| | Black History Month has begun! Today we started to celebrate Black History Month after Year 6's launch assembly by asking the questions 'Why is Black History Month important?' and 'How can we make Black History Month special?'. We worked in groups and shared our ideas with our classmates. |
| | Today, Year 4 had their first Bush craft club of the year. Here, we worked in groups to make animal shelters using materials such as twigs and leaves which we found in the forest school. |
| | In music, we are still continuing with our lessons practising learning to play the ukuleles. Now we have mastered the C-Chord, we are able to combine this with other notes which helps us to perform pieces of music to the rest of the class. |
| | Today was National Poetry Day and National Teacher's Day. To celebrate this, we worked in groups to create our own acrostic poems to celebrate all of the hard work our teachers do for us. |
| | In today's English lesson, we took on the role of journalists. We had the opportunity to interview different characters to work out whether the whale that was spotted was in fact true, or whether it was all a hoax. |
| | Today in our maths lesson, we tackled column subtraction through using a combination of concrete, pictorial and abstract support. We used a range of counters, dienes and place value charts to help us alongside our abstract column method. |
| | Today was National Mental Health Day. We celebrated this through discussing the topic with Kirklees' mental health lead, followed by creating posters on how oracy can be used to help improve our mental health. |
| | Today, Year 4 shared their research all about the Battle of the Somme during World War 1 with their peers. They all found a range of interesting facts which they presented as a fact file. |
| | Anthony Cotterill, the Paralympic wheelchair tennis player, came to visit Carlton today. He did some fun activities with us the in hall before hosting an assembly where we got to ask him some intriguing questions to find out all about his fantastic career. |
| | Today in Year 4, we had the opportunity to practise our golf skills. We completed 4 different activities which involved us chipping and putting the ball so we could learn the basic golf skills. |
| | In today's maths lesson we began building on our understanding of polygons. We used lollipops sticks to create both regular and irregular polygons, learning that for it to be regular they must have sides the same length and equal interior angles. |
| | Today we celebrated Remembrance Day. Year 4s joined the Year 1 class in walking to Dewsbury's war memorial and paying our respects by laying the poppy wreaths we made and holding a 2 minute silence to remember those who sacrificed their lives for ours. |
| | In our maths lesson today, we moved onto discussing and learning about perimeter. We began by collecting leaves from our forest school area and then drawing around the perimeter of the leaf. We then used string so that we could measure our perimeter and compare the lengths with our partner's leaf. We used the stem sentence to understand that the perimeter is the distance around the edge of a shape. |
Gallery Archive 2022-2023
School Councillors
Meet our class representatives who look forward to a year of working on some exciting projects.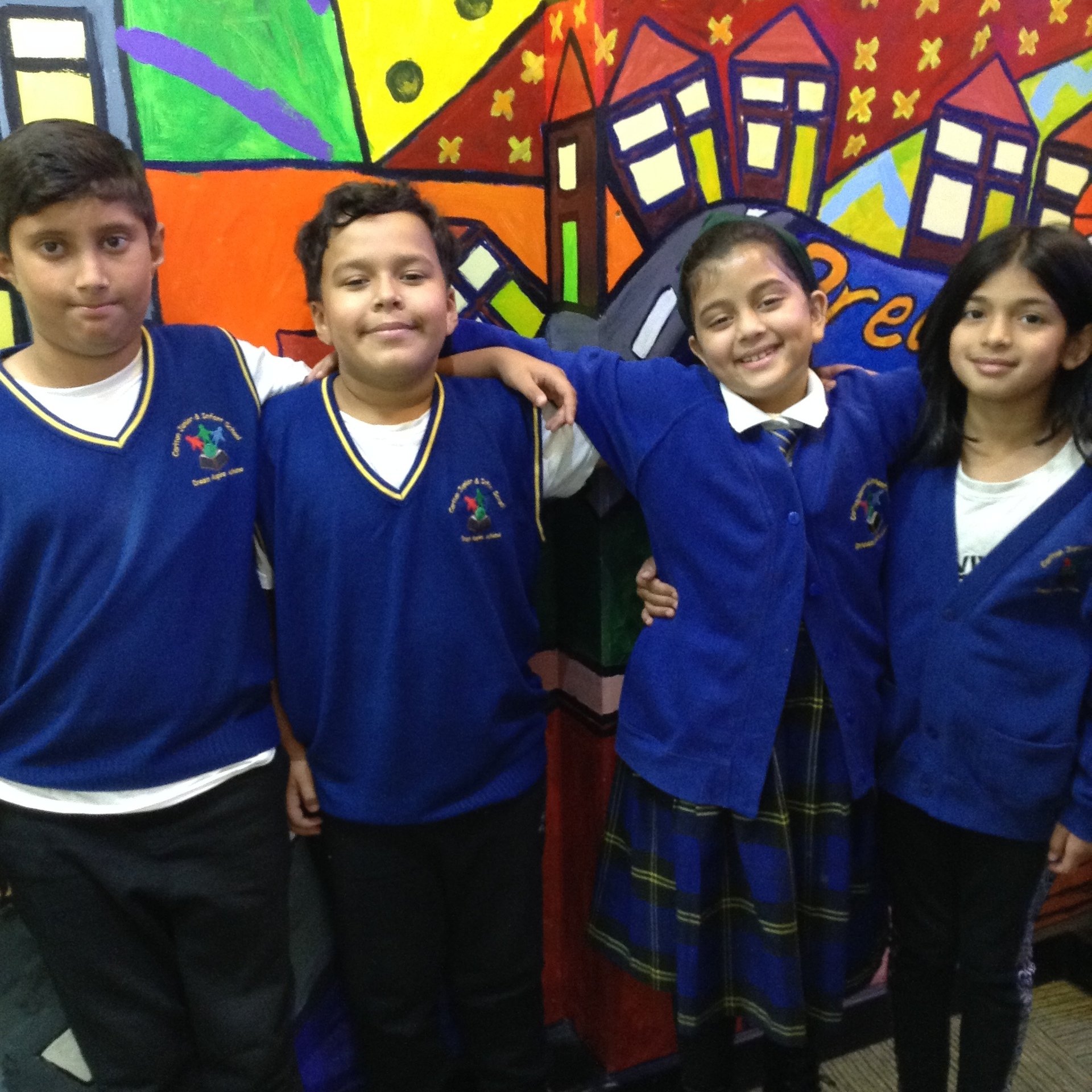 Rotary Representatives
Meet our Rotaries for Year 4 who are extremely excited to work on some Social Action Projects this academic year.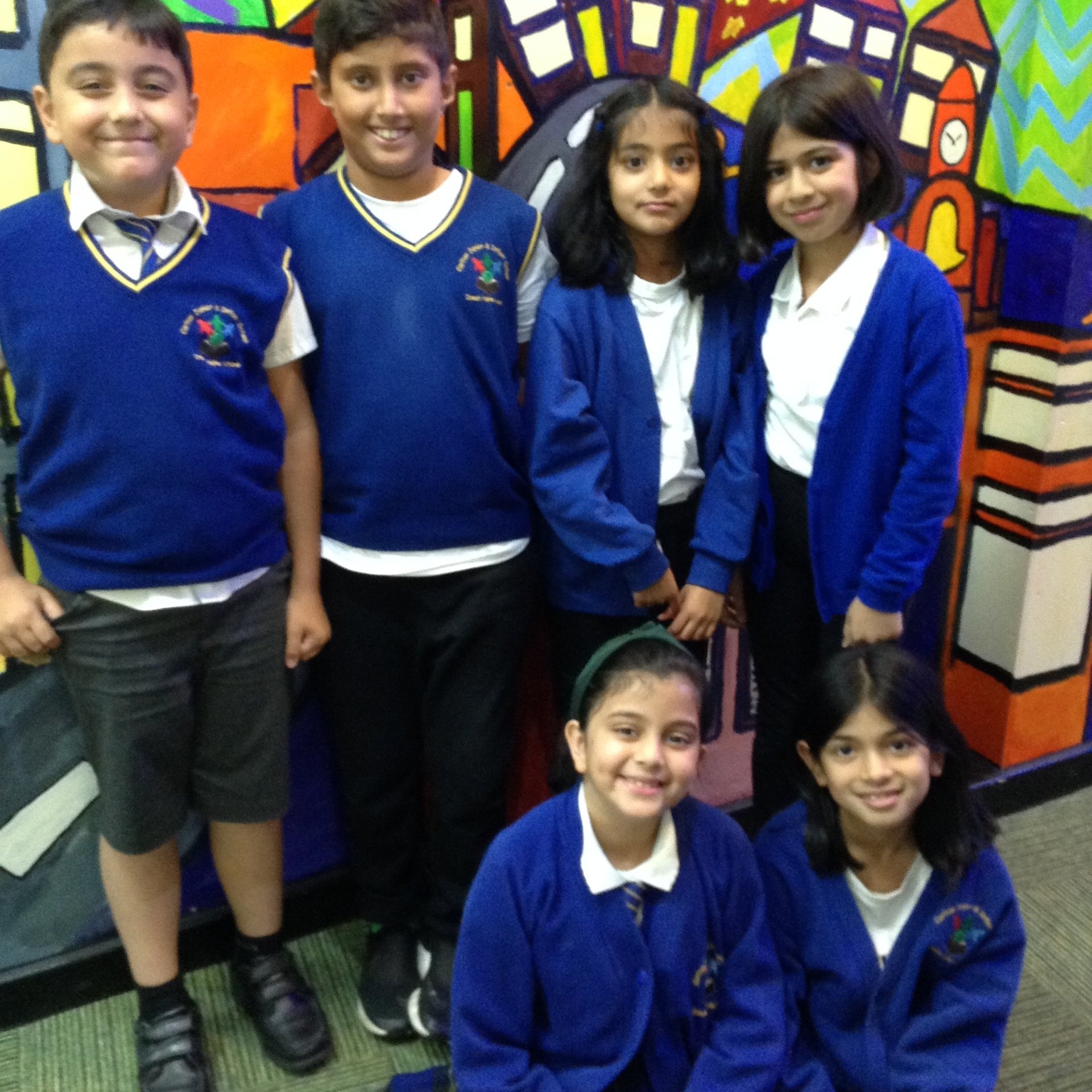 Meet our Pals
Our pals each have an important role in our classroom. Our pedagogy pal is more than happy to help anyone who needs a little support with their work. Our planet pal has the important task of making sure year 4 are doing everything they can to help save our planet and our peace pal is there to lift anyone's spirit when needed. Well done for securing such important roles.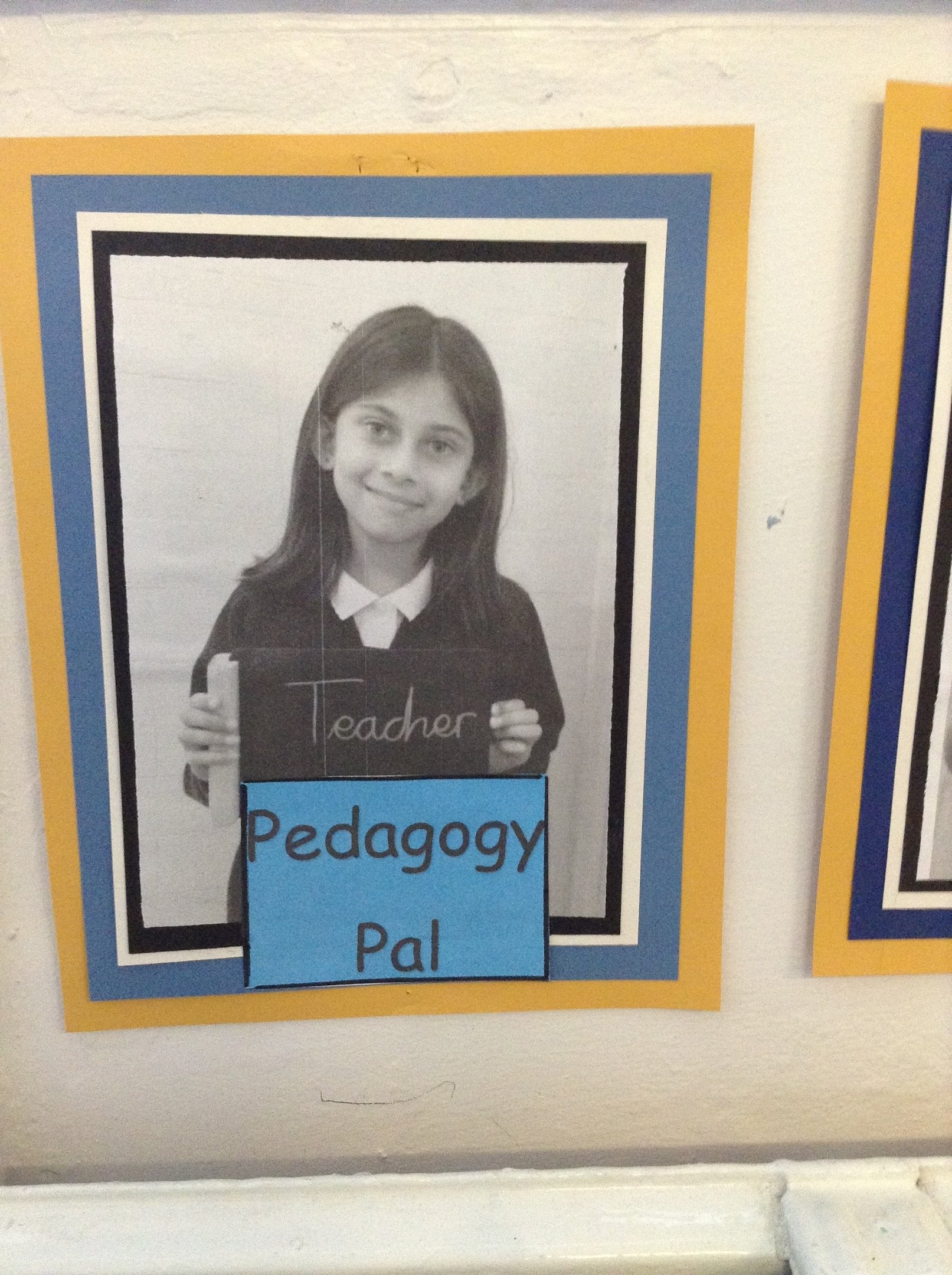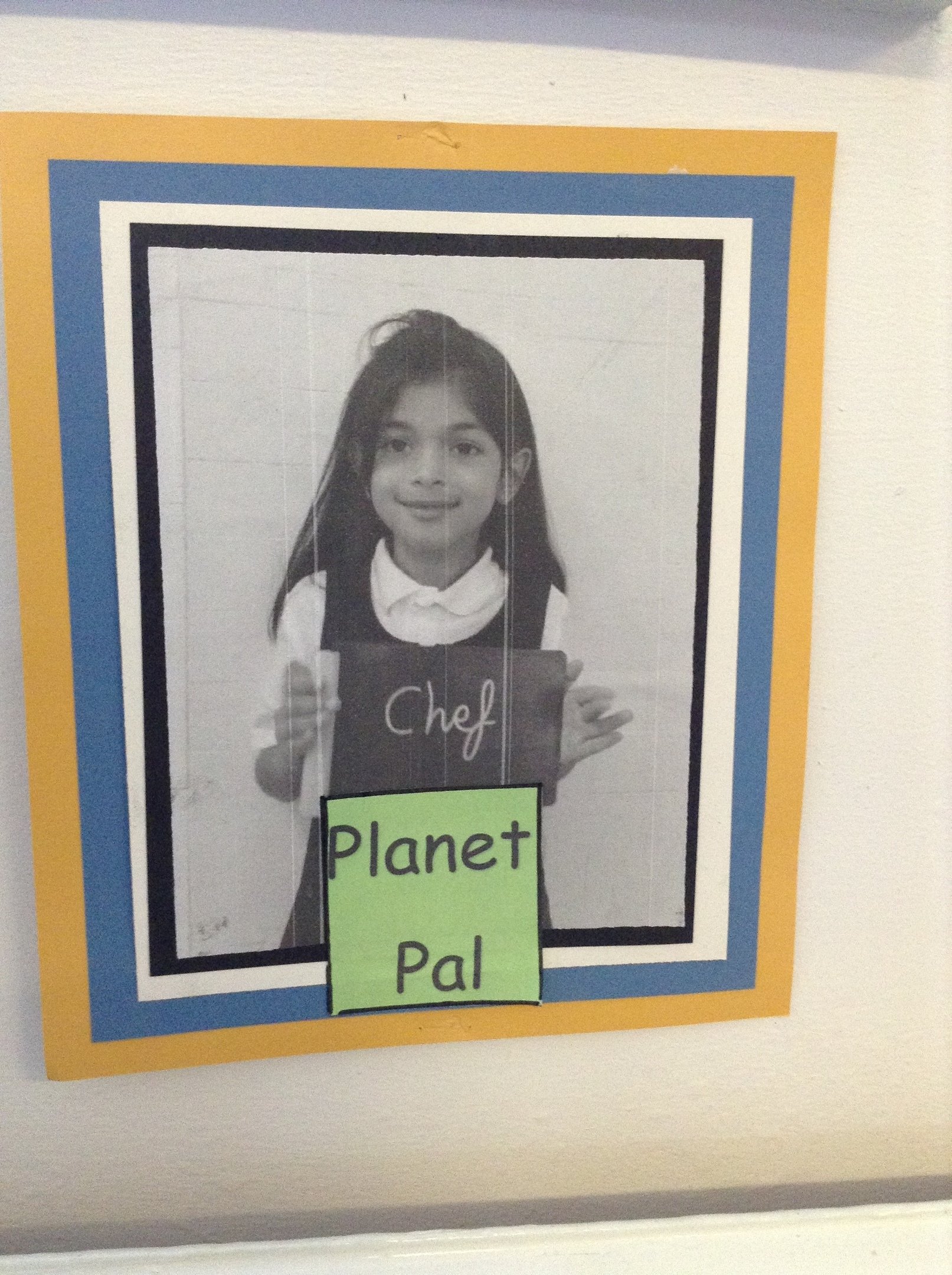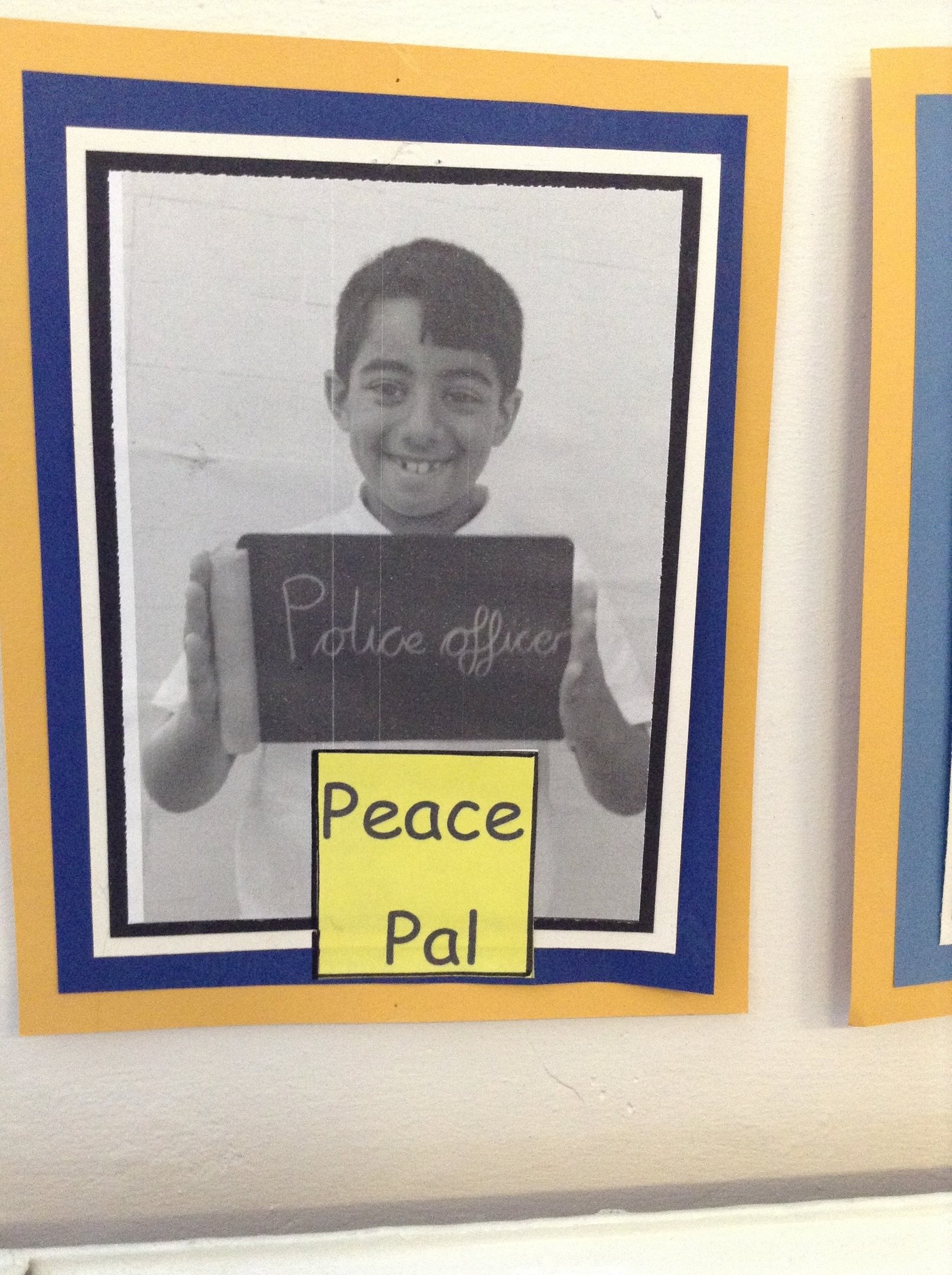 National Poetry Day
Today we celebrated National Poetry Day! We all brought in our favourite poems from home and in the morning we had the opportunity to share these with the Year 3 class. This gave us a chance to share our love of poetry and also to hear which poems the Year 3's enjoyed to read as well.
In the afternoon, we were also able to write our own poems celebrating the importance of looking after our environment. We shared these with our classmates and some of us will even be able to read them in tomorrow's achievement assembly.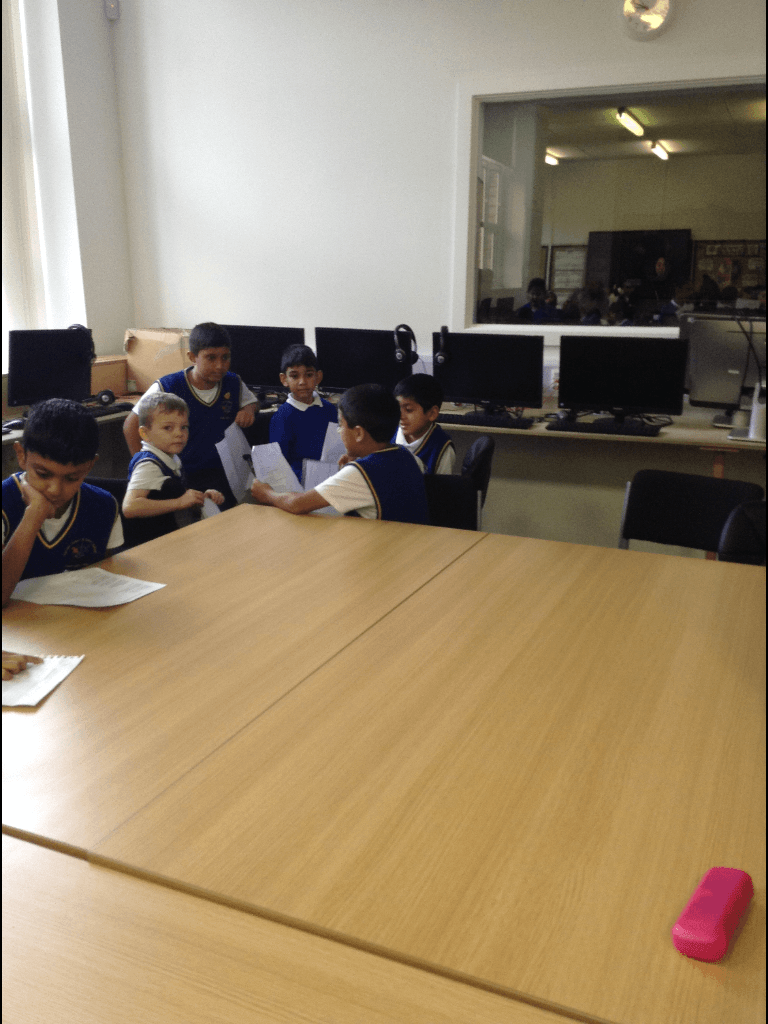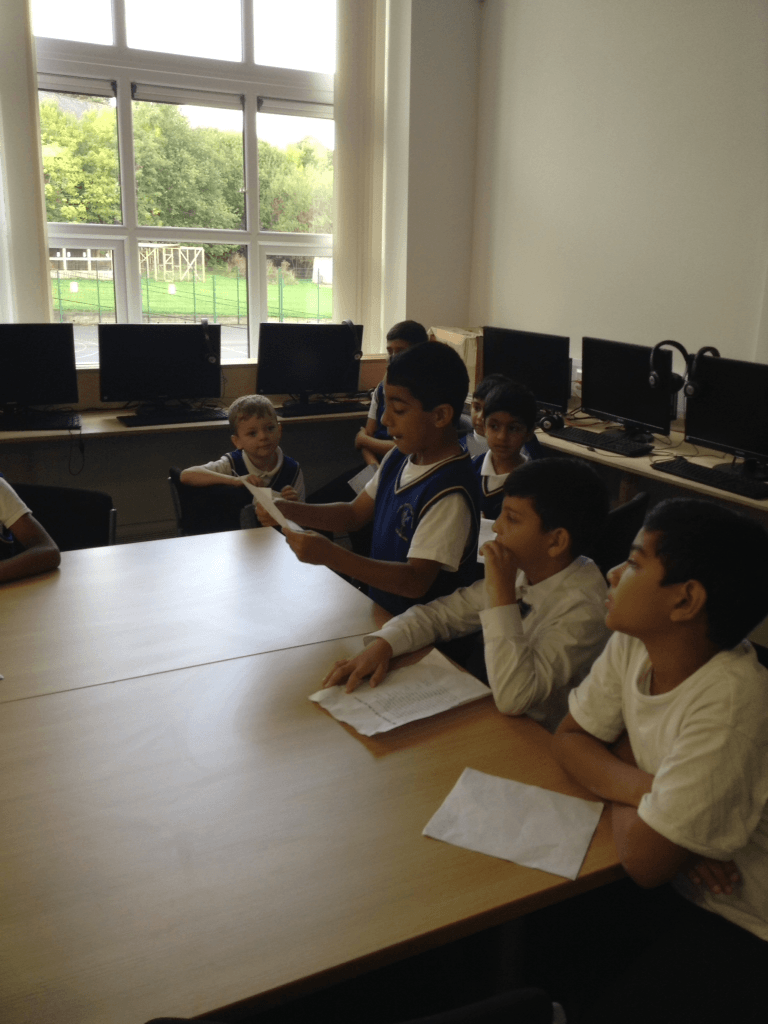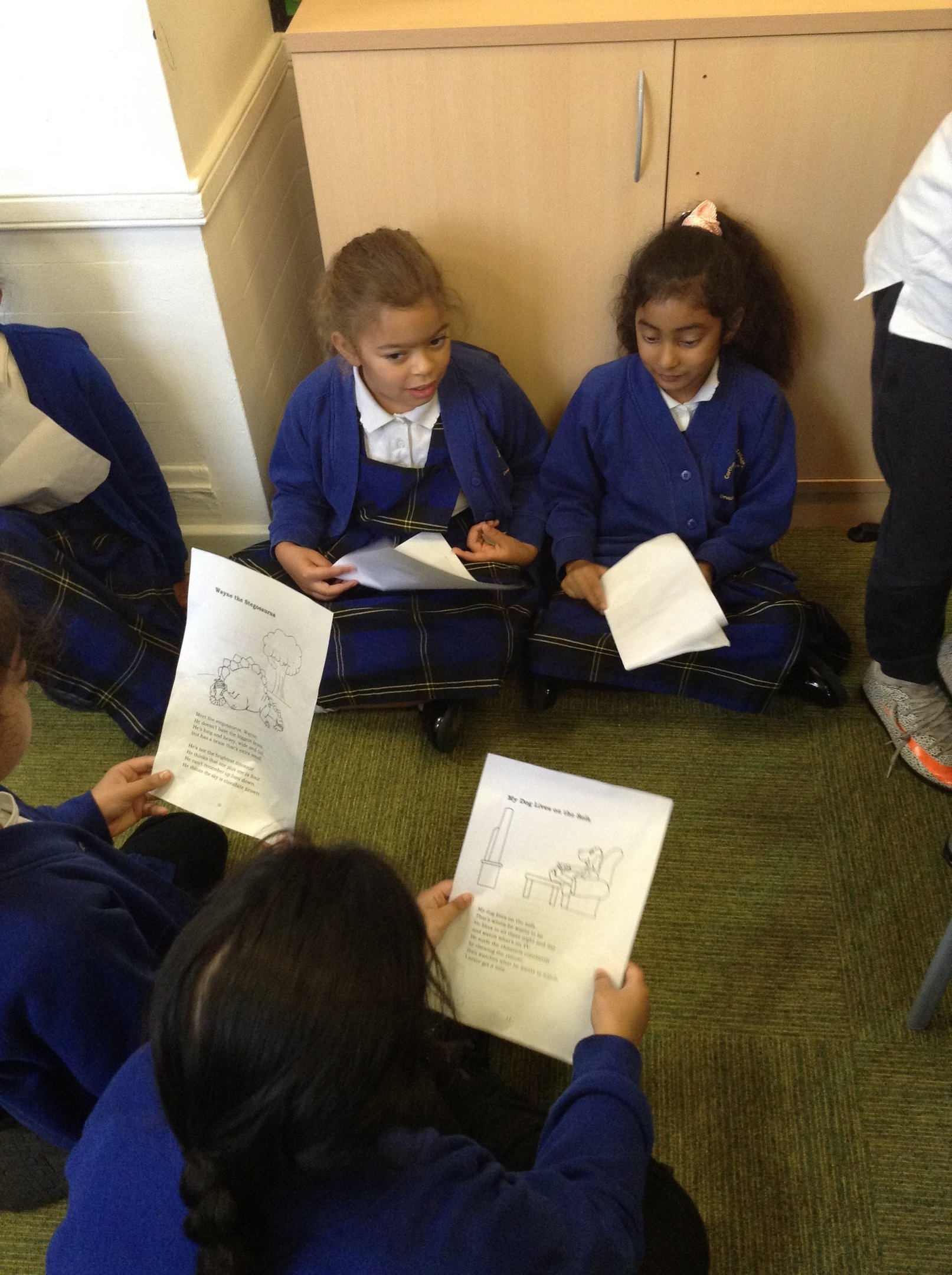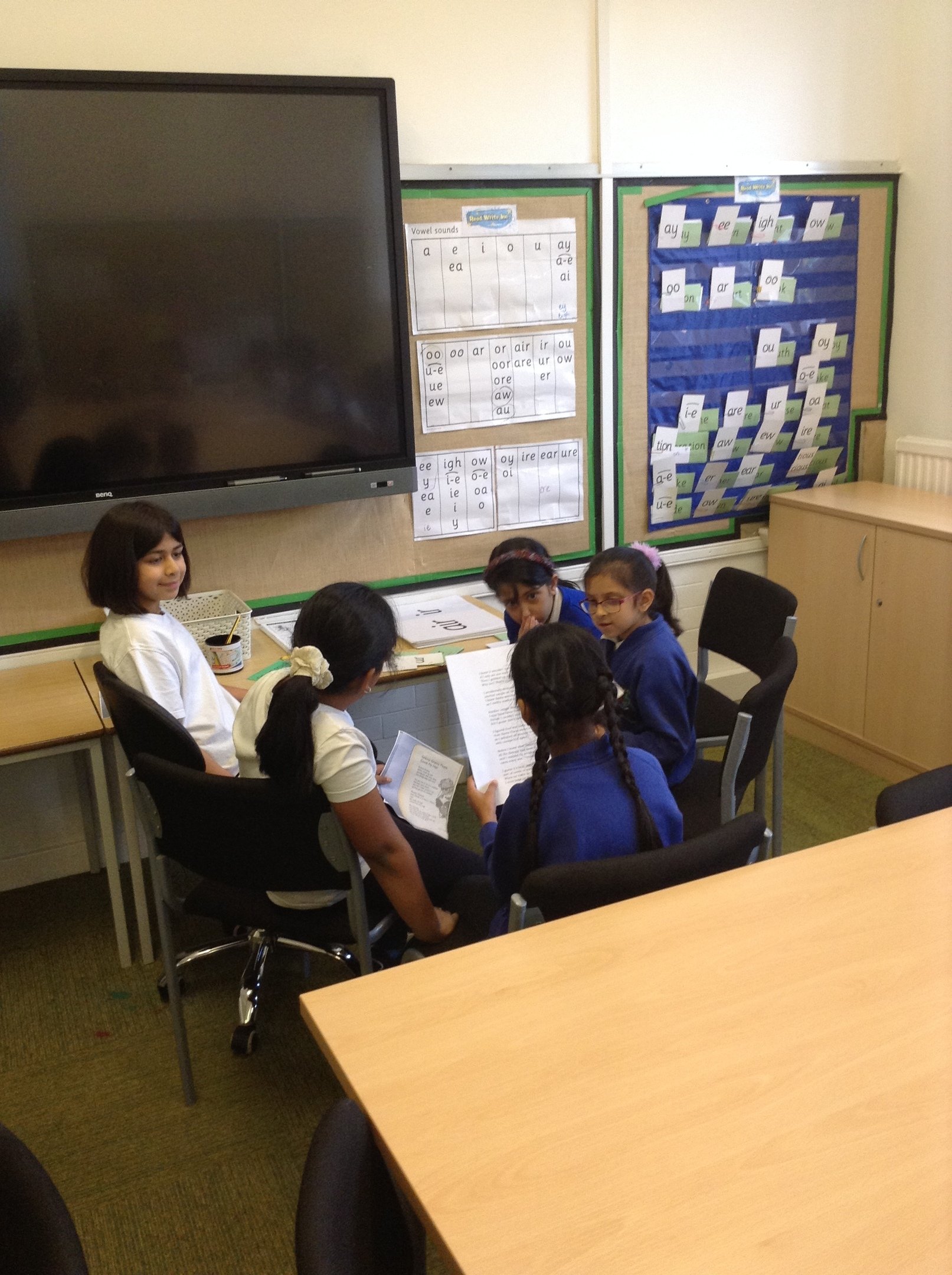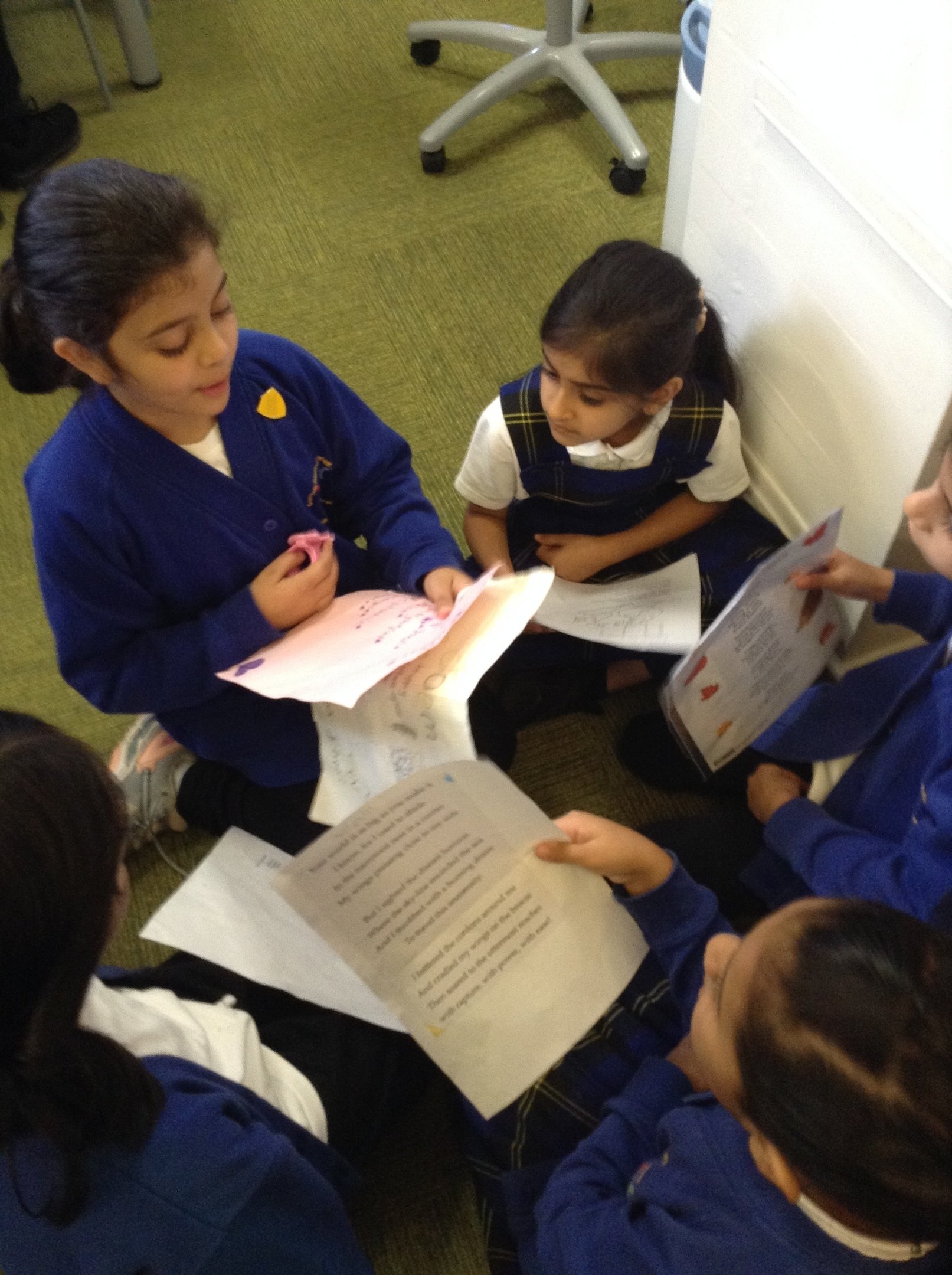 What's in your town?
Today in our French lesson, we practised our oral skills by explaining to our classmates what we have and don't have in the town we live in. We used the phrases 'Dans ma ville, il y a...' and 'Dans ma ville, il n'y a pas' when speaking to our classmates.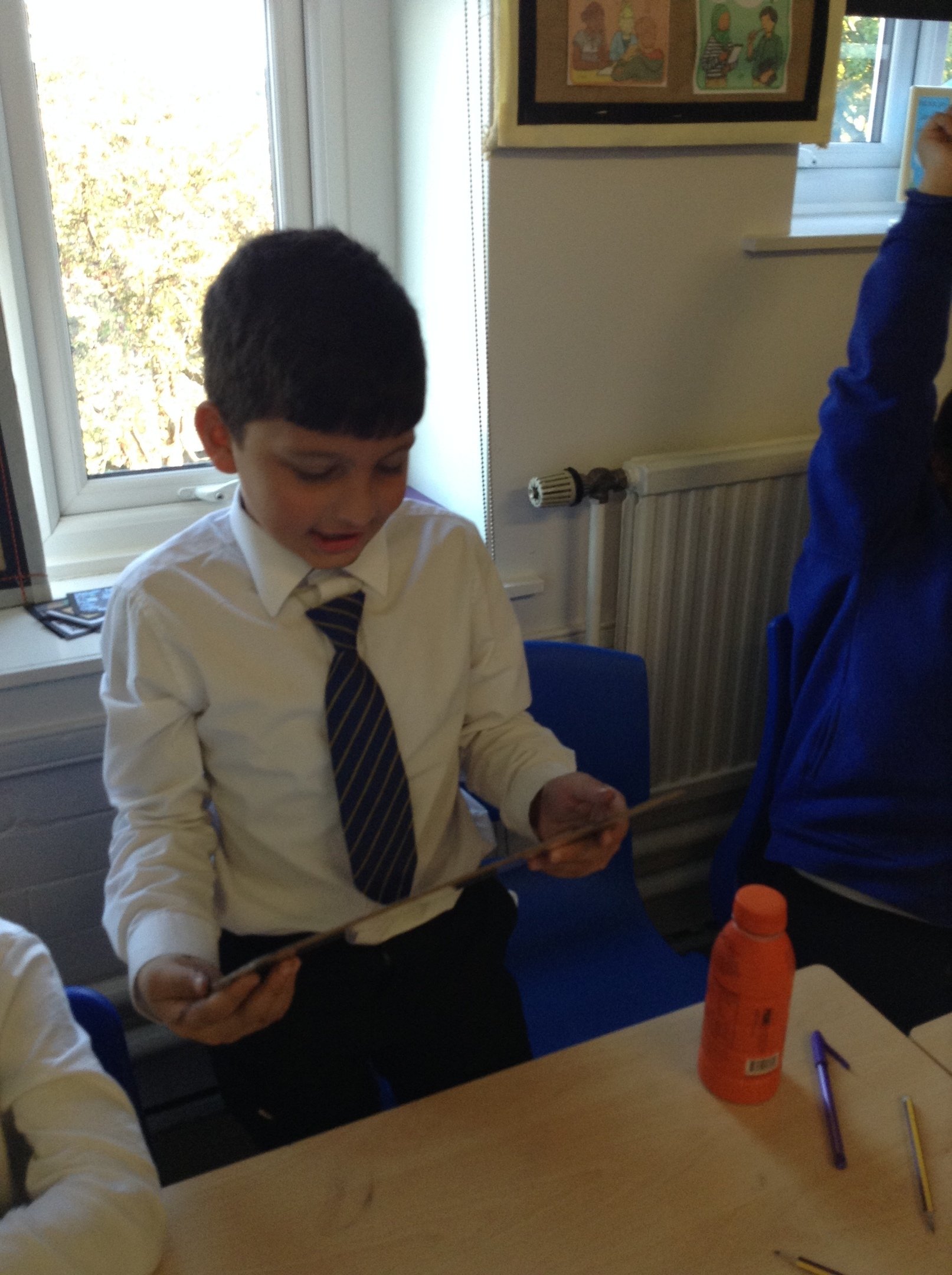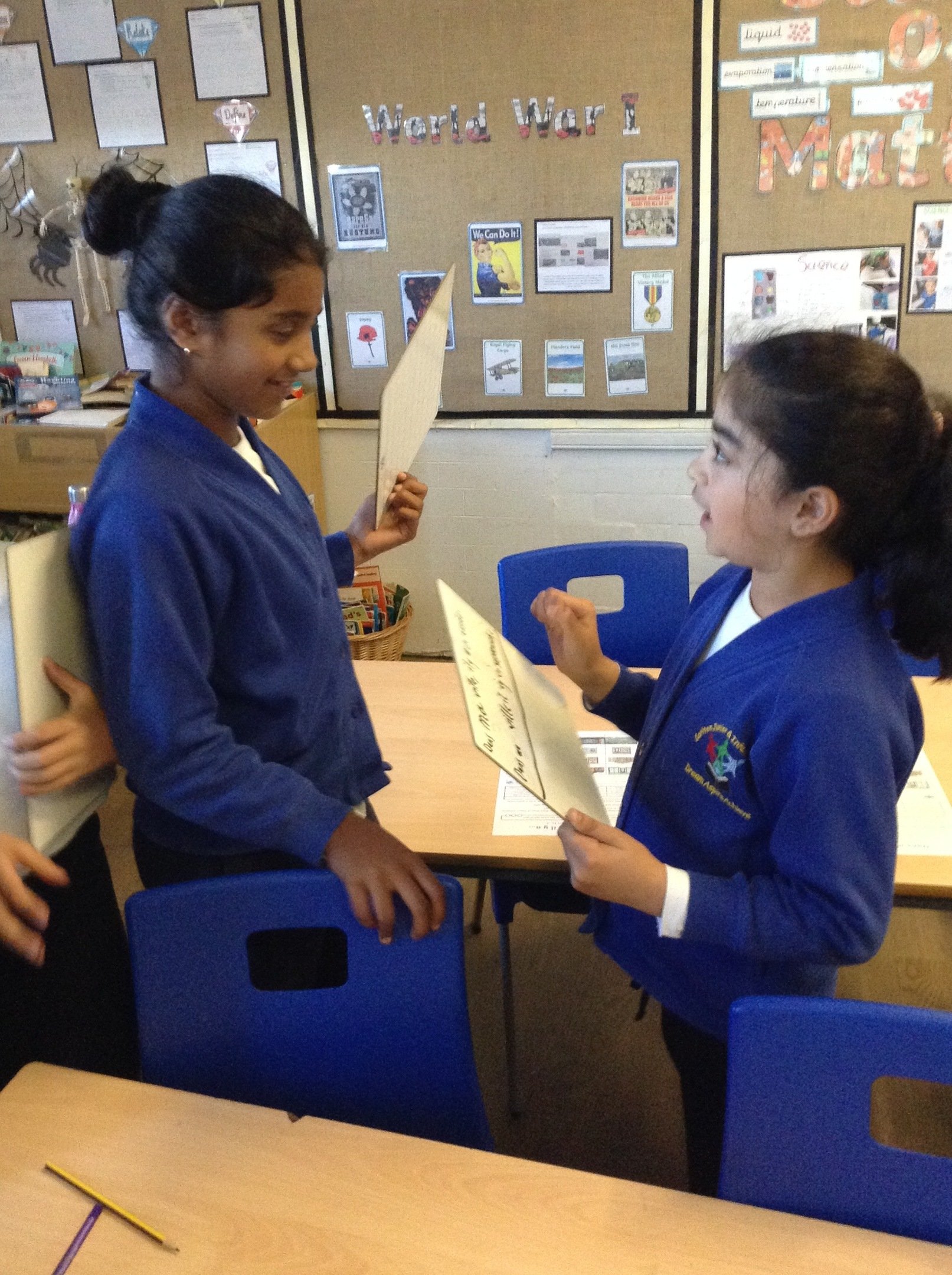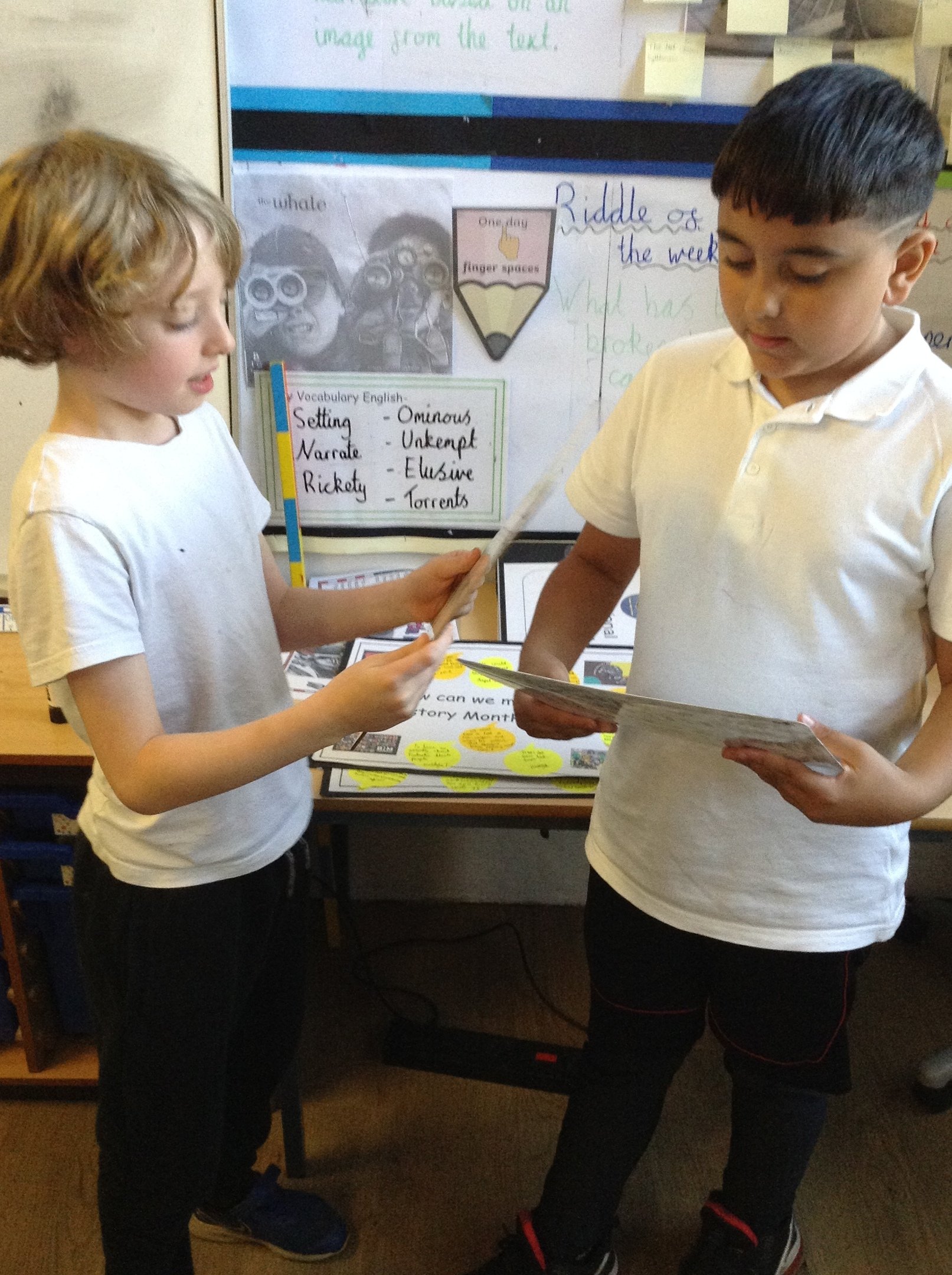 What happens when gas is heated?
In our science lesson today, we completed a practical experiment to see what happens to gas when it is heated. To do this, we used an empty water bottle and a balloon to seal the gas particles and a bowl of hot water to heat them. When the hot water heated the particles, we found that the gas particles rose and inflated the balloon! However, some balloons inflated much more than others...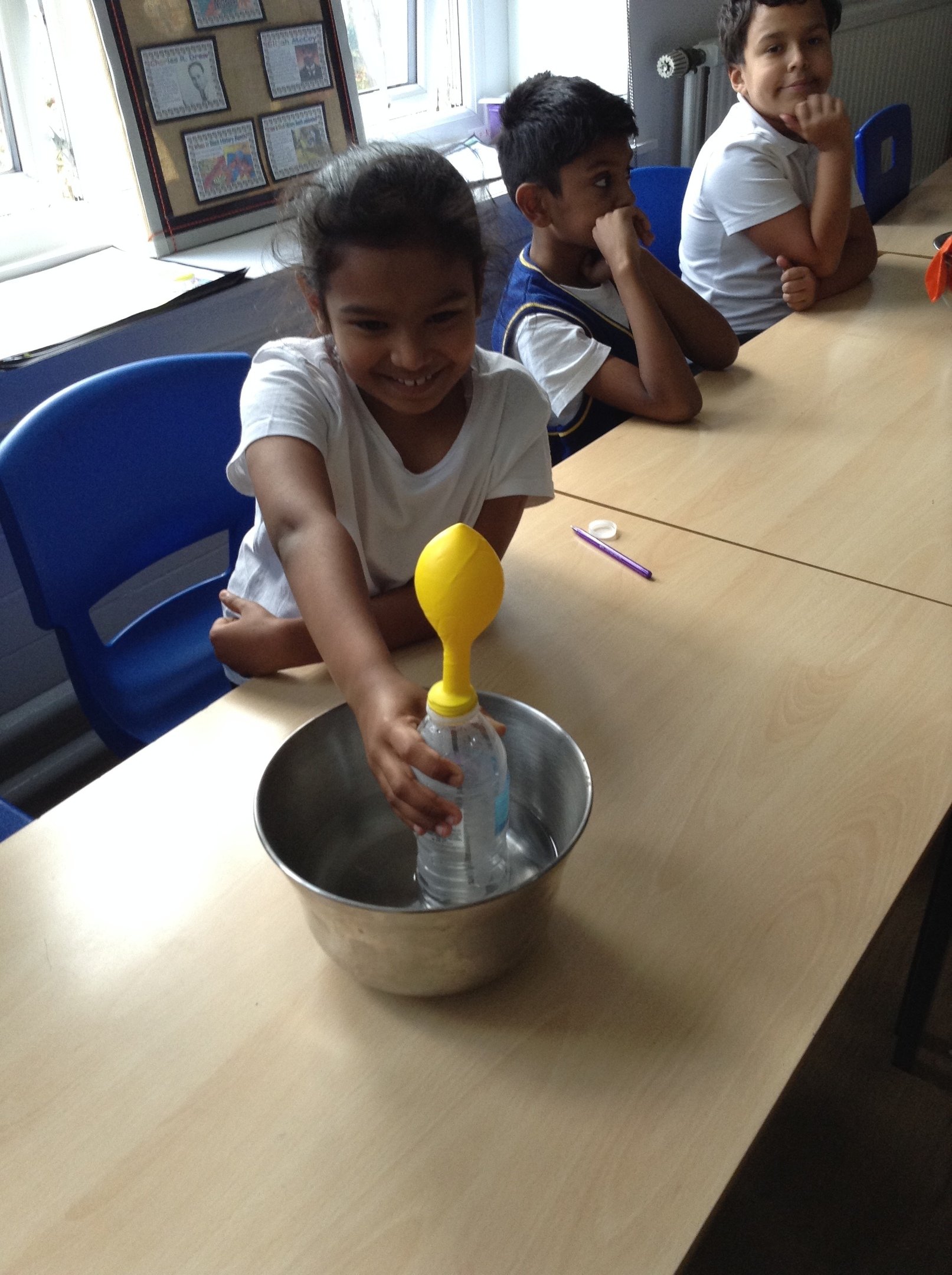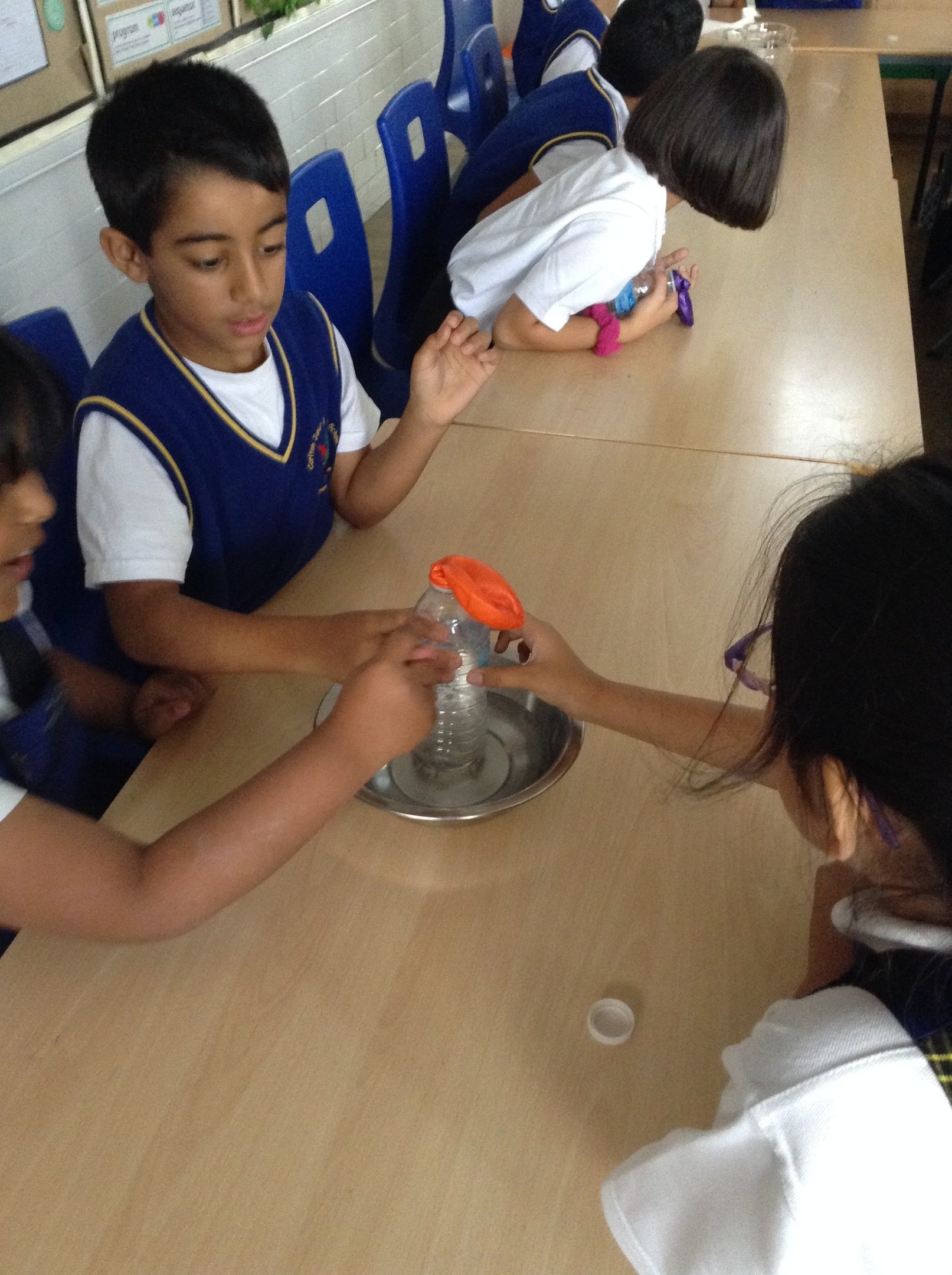 Harvest Assembly
We had the opportunity to present our harvest poems in this week's excellent assembly. We learnt the importance of helping ourselves in order to help others.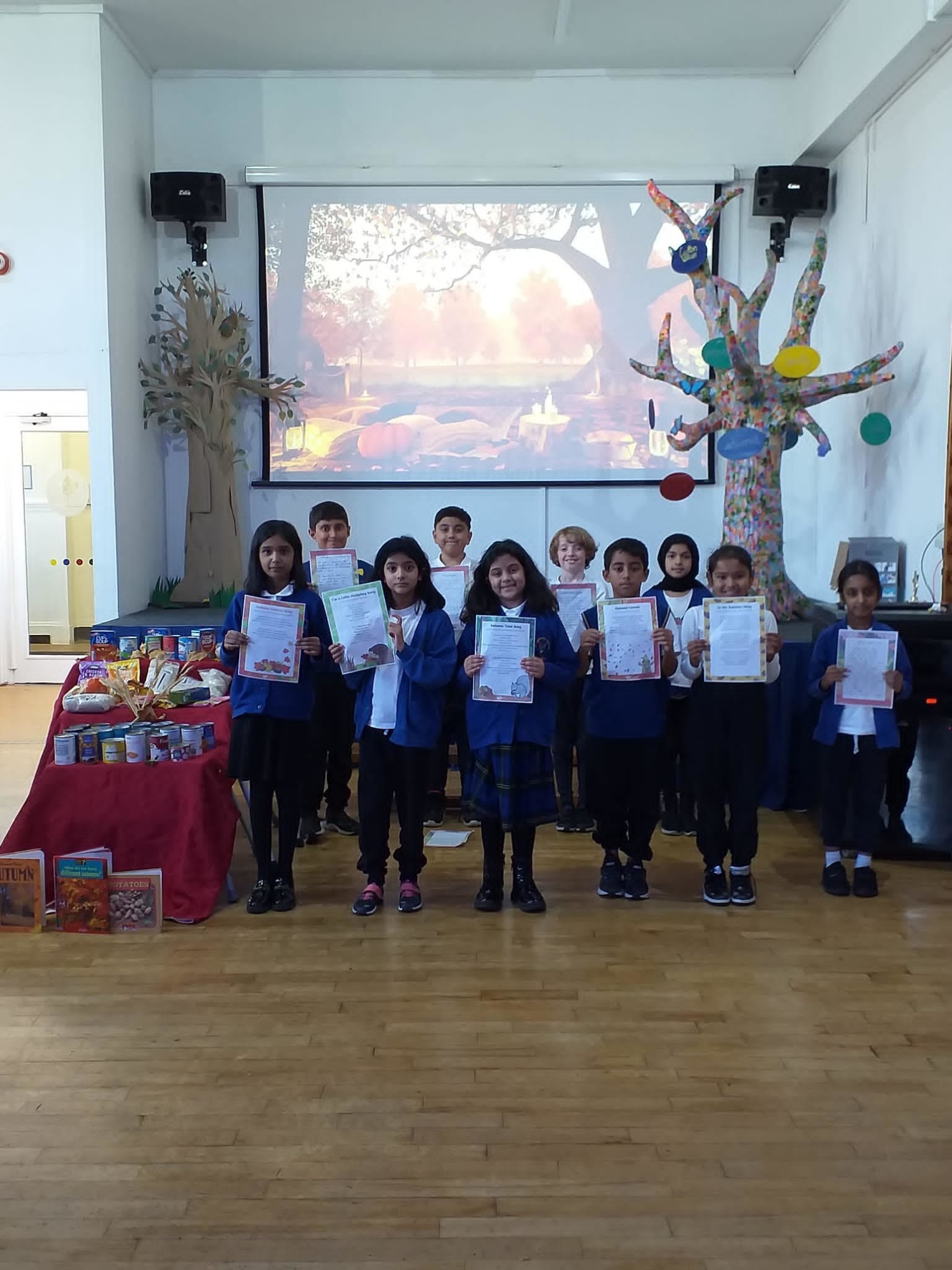 What's perimeter?
Throughout this week in our maths lessons, we have been focusing on understanding perimeter. To do this, we have been using a range of methods including drawing the outlines of leaves, using string and walking around the school!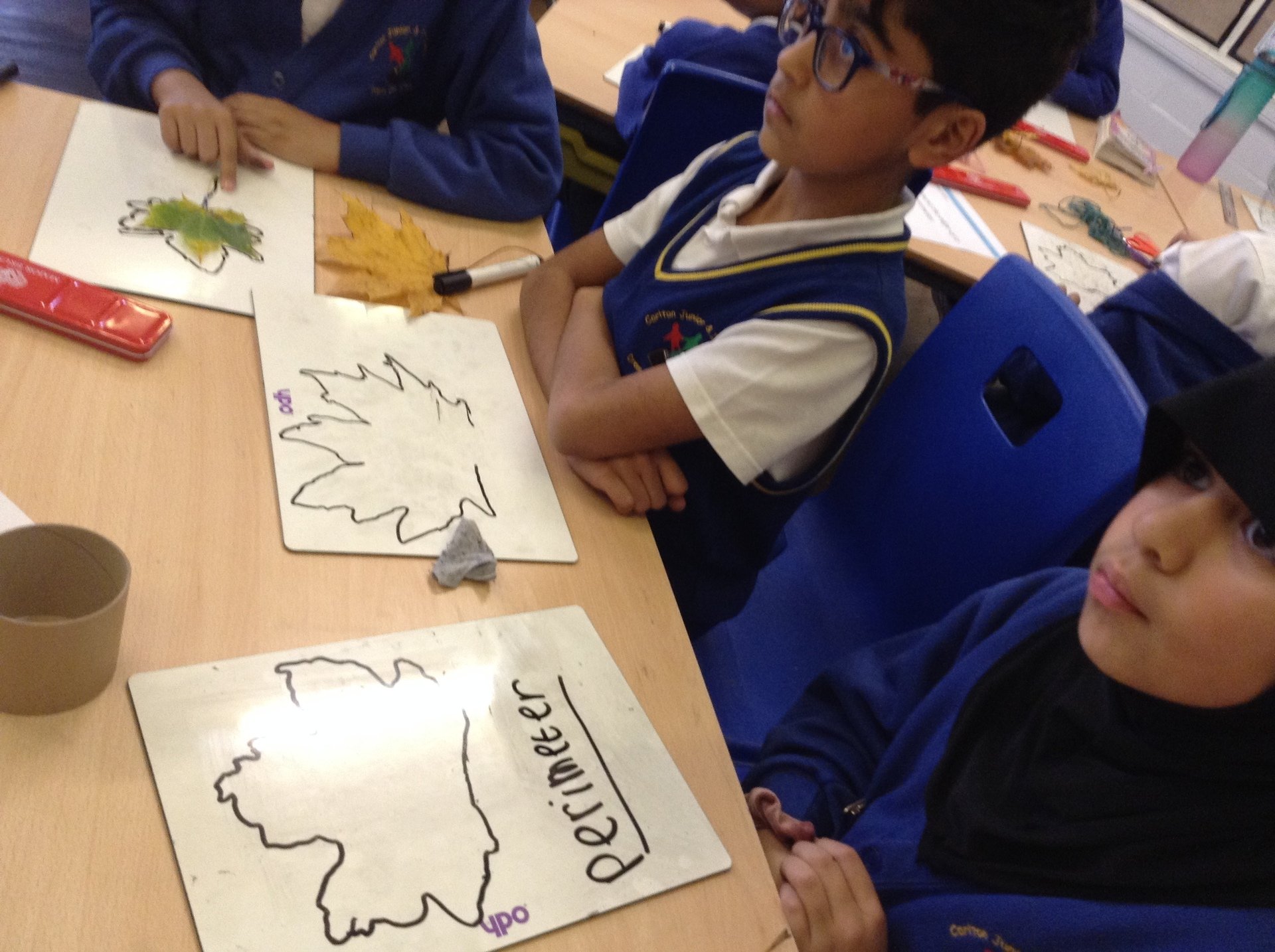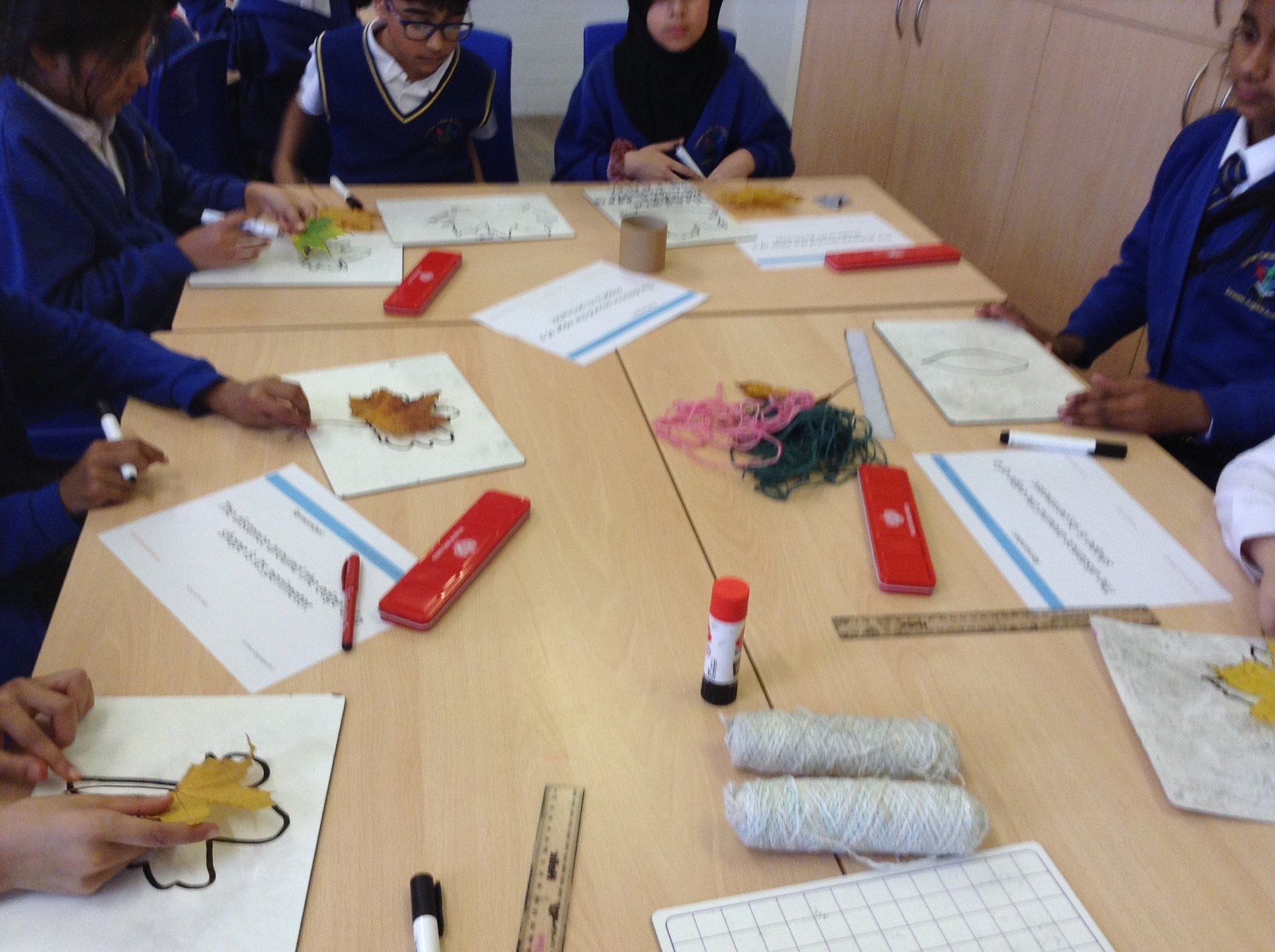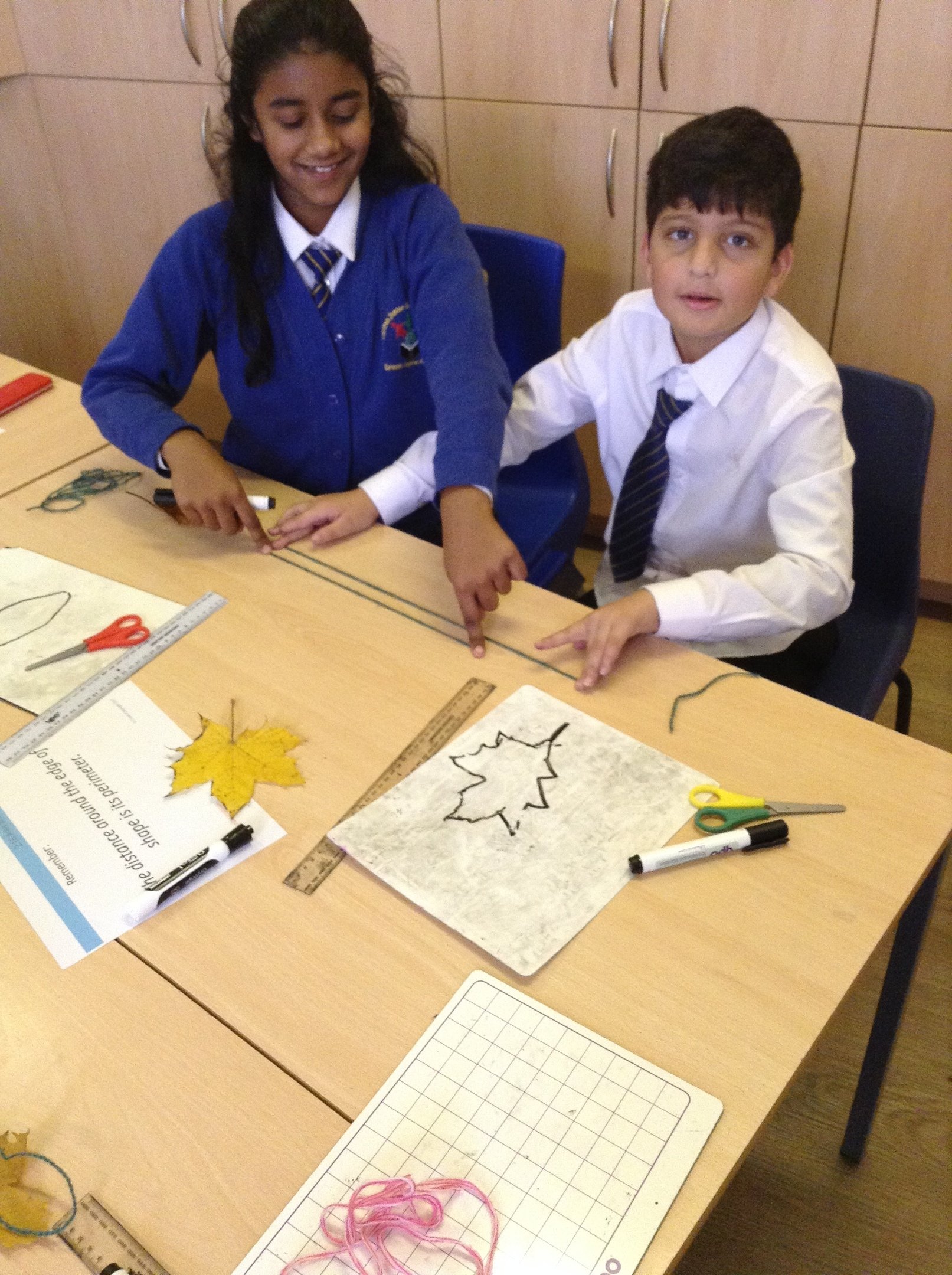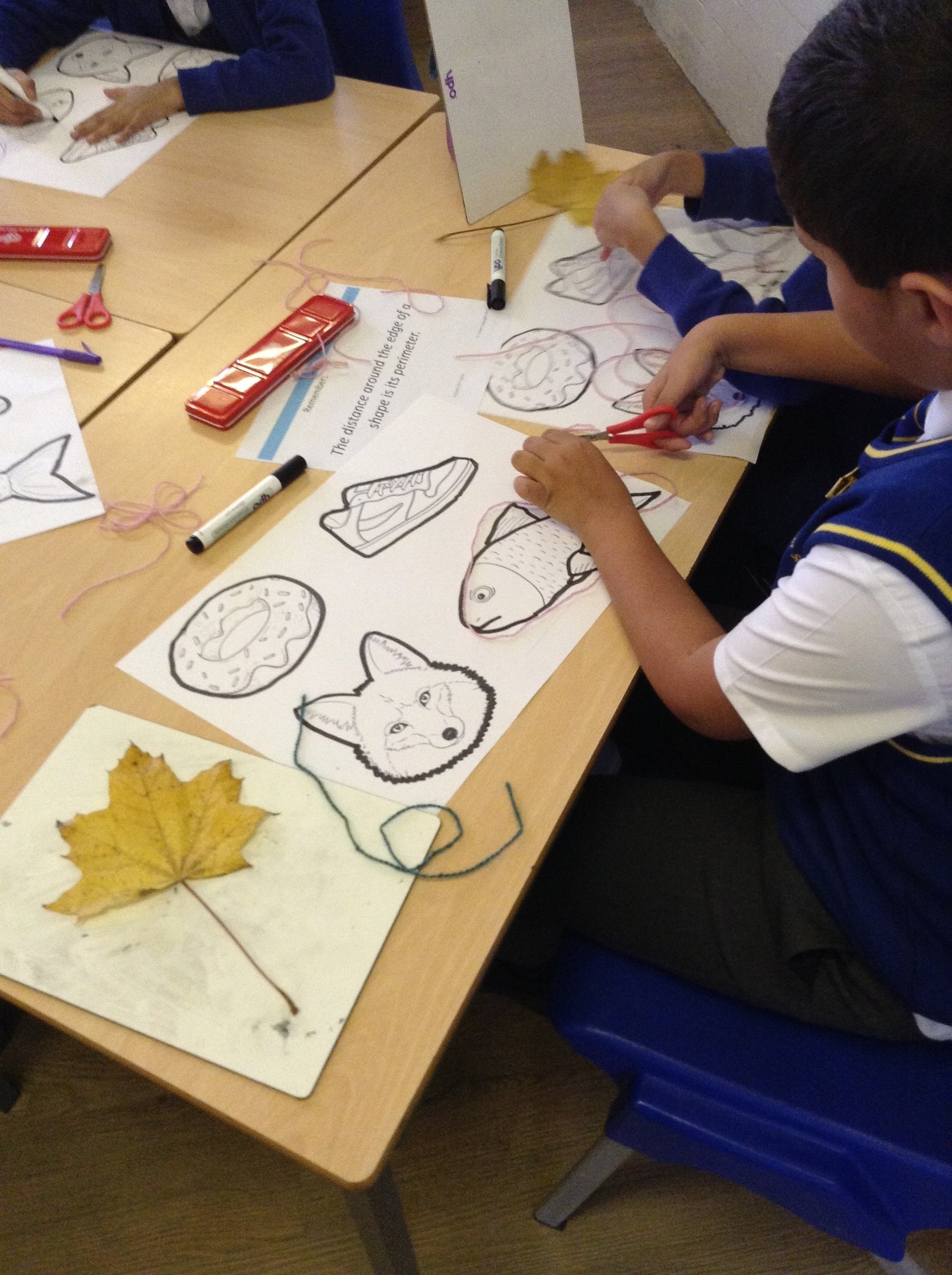 World War I Workshop
This afternoon, we had a workshop all about World War 1! We learnt lots about the war including what life was like for children like us in the war and how it differed to the soldiers. We also got to see loads of awesome weapons and different equipment that they used to use.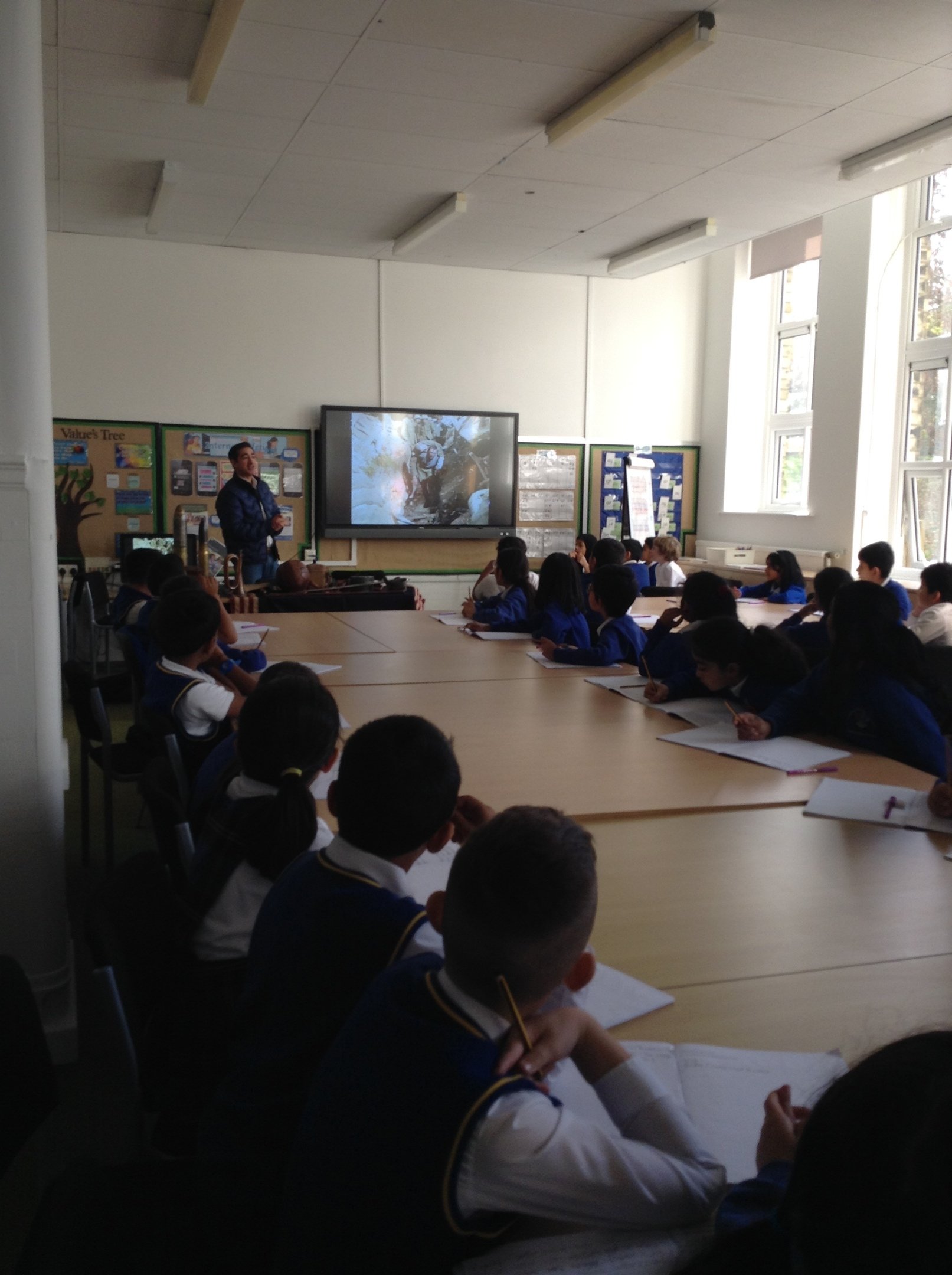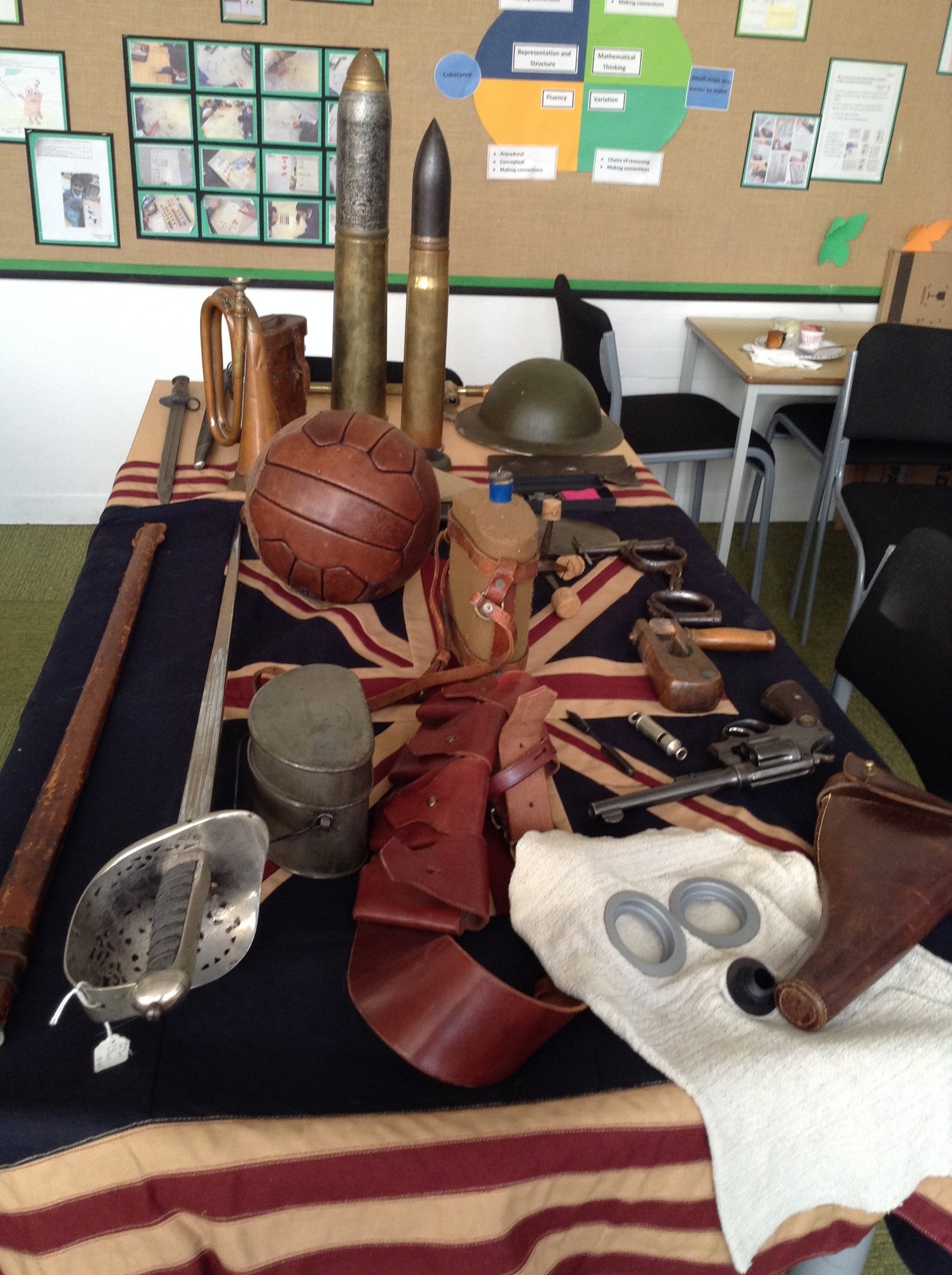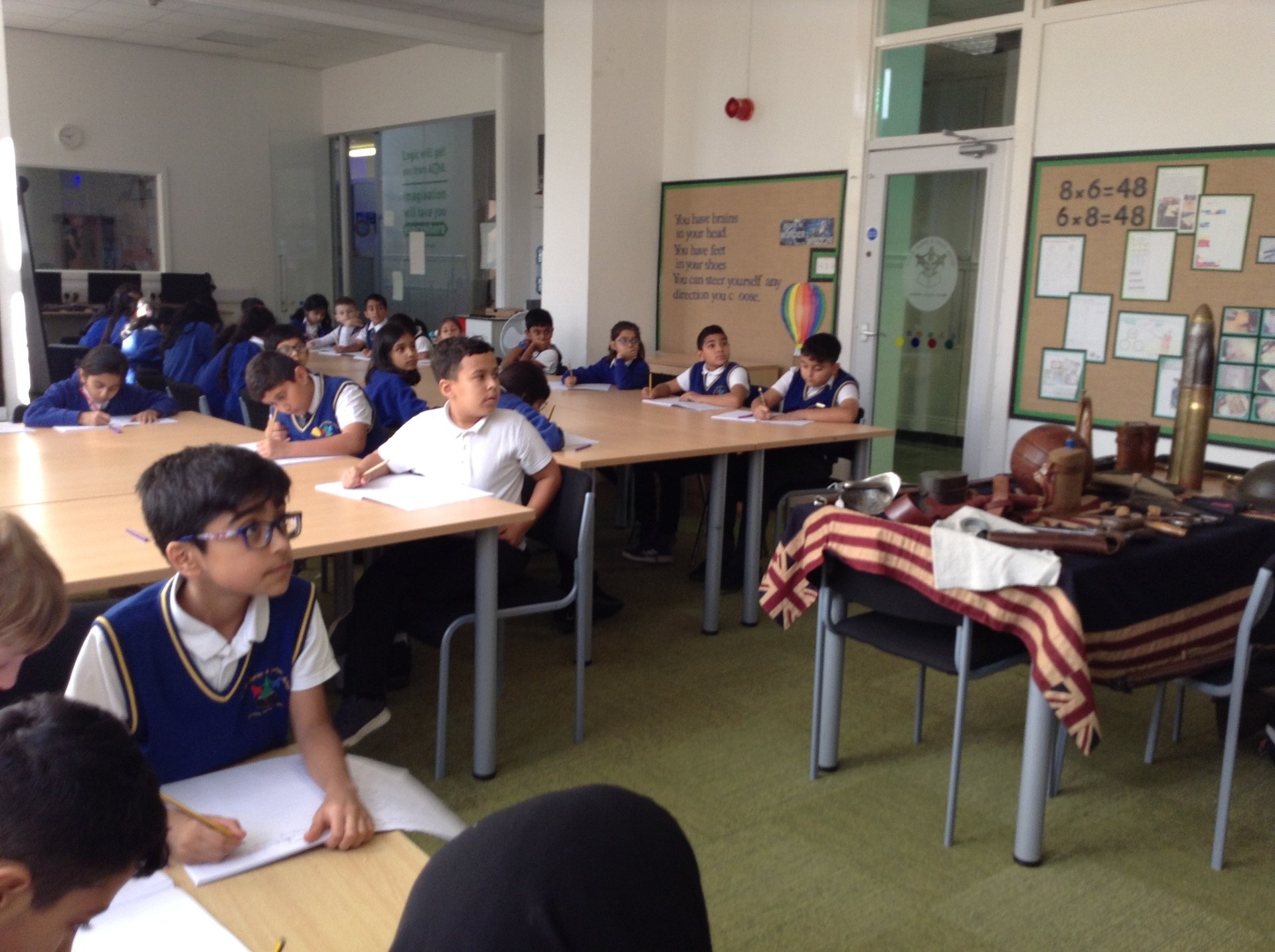 Remembrance Day
Today was Remembrance Day. At 11 o'clock, we all held a 2 minute silence to pay our respects to those who sacrificed their lives for us. Throughout the week, we learned about the importance of Remembrance Day and what different people do to pay their respect, including wearing poppies. On Friday 11th, we created our own acrostic poems and performed these to the class.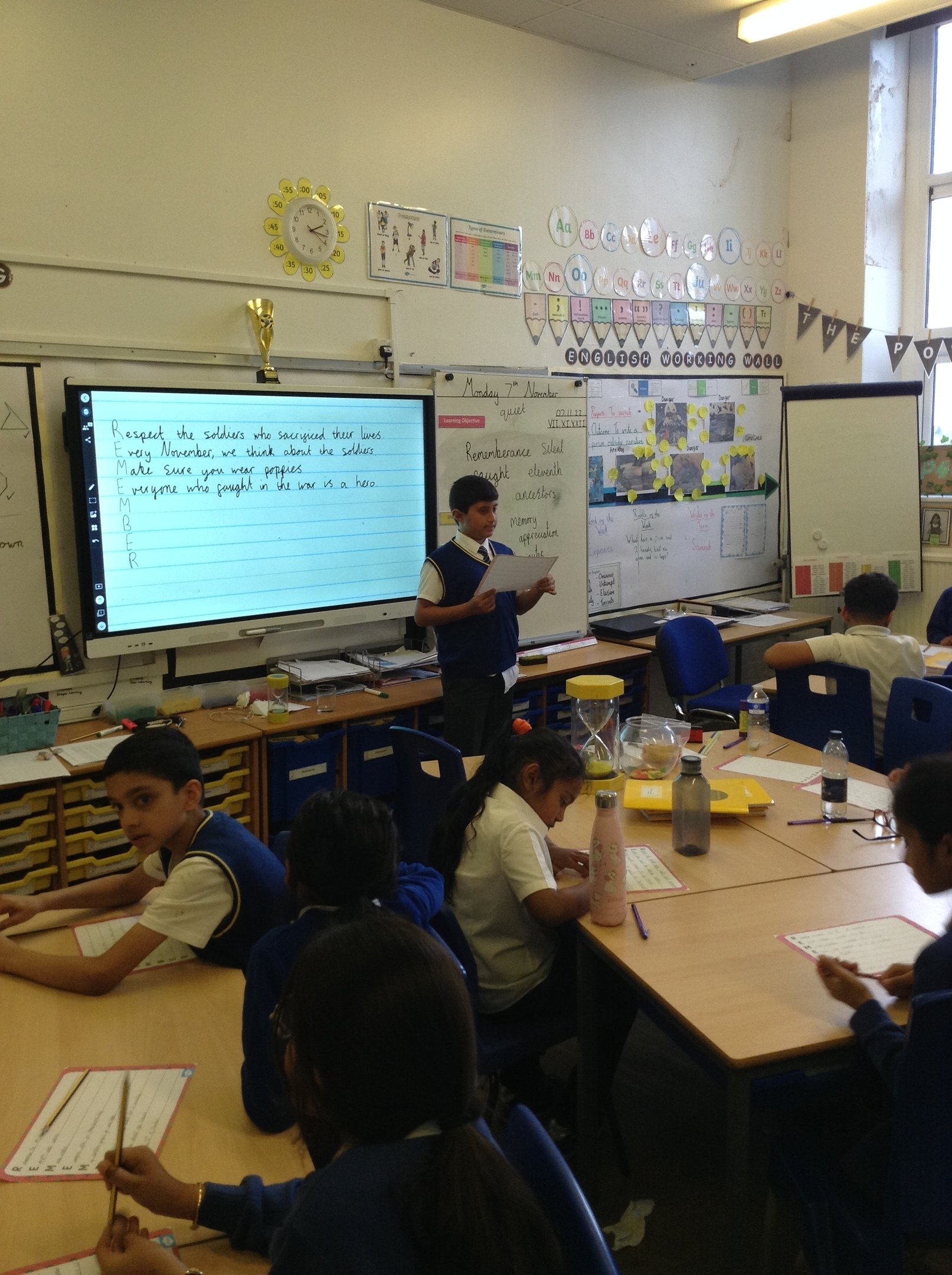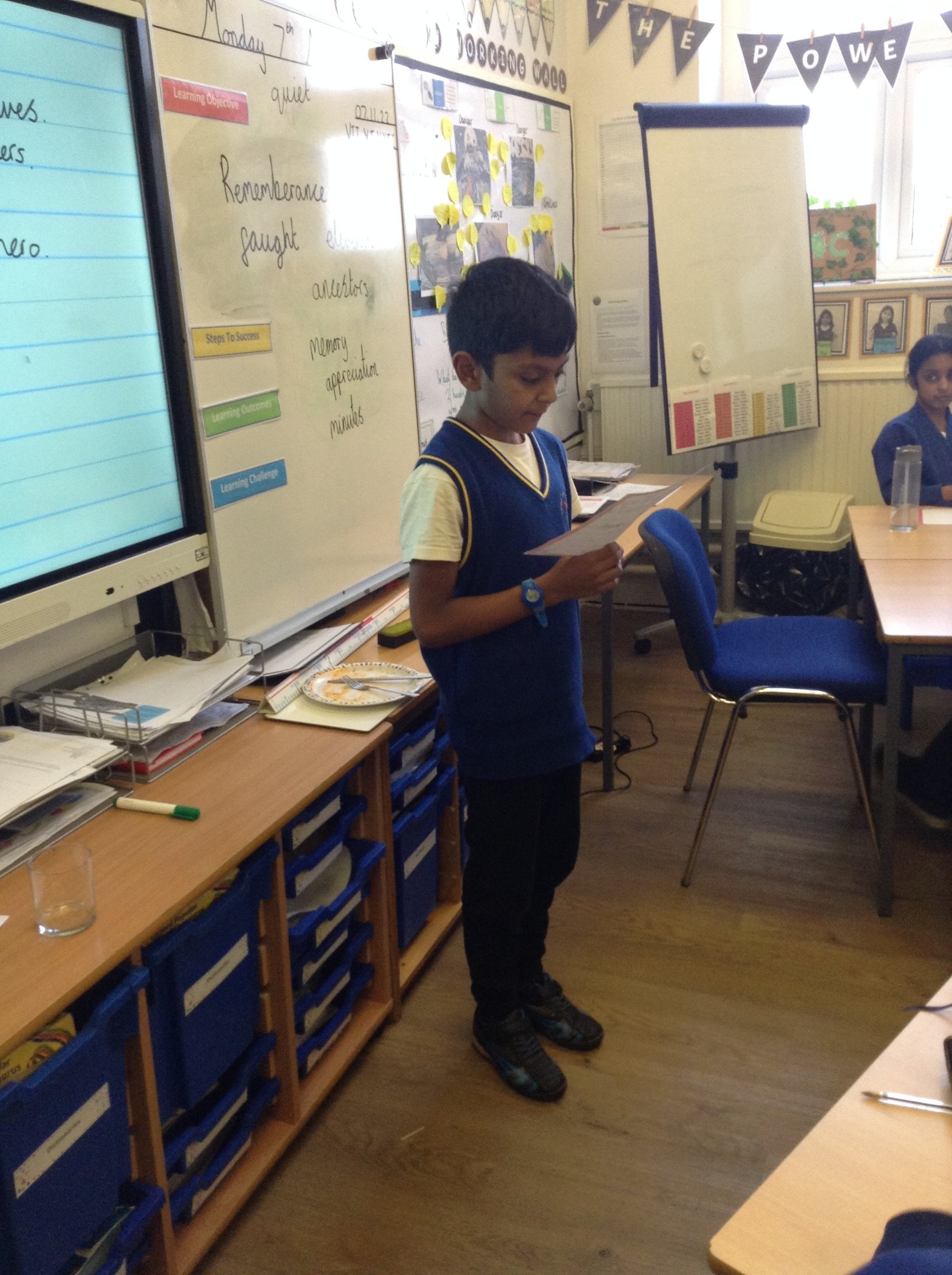 Why does chocolate melt on a hot day?
Today, in our science lesson, we performed an experiment. In this experiment, we observed chocolate at different temperatures and we discovered that chocolate melts faster when the temperature is hotter. We also worked out that this was because the heat makes the solid particles vibrate and disperse from each other.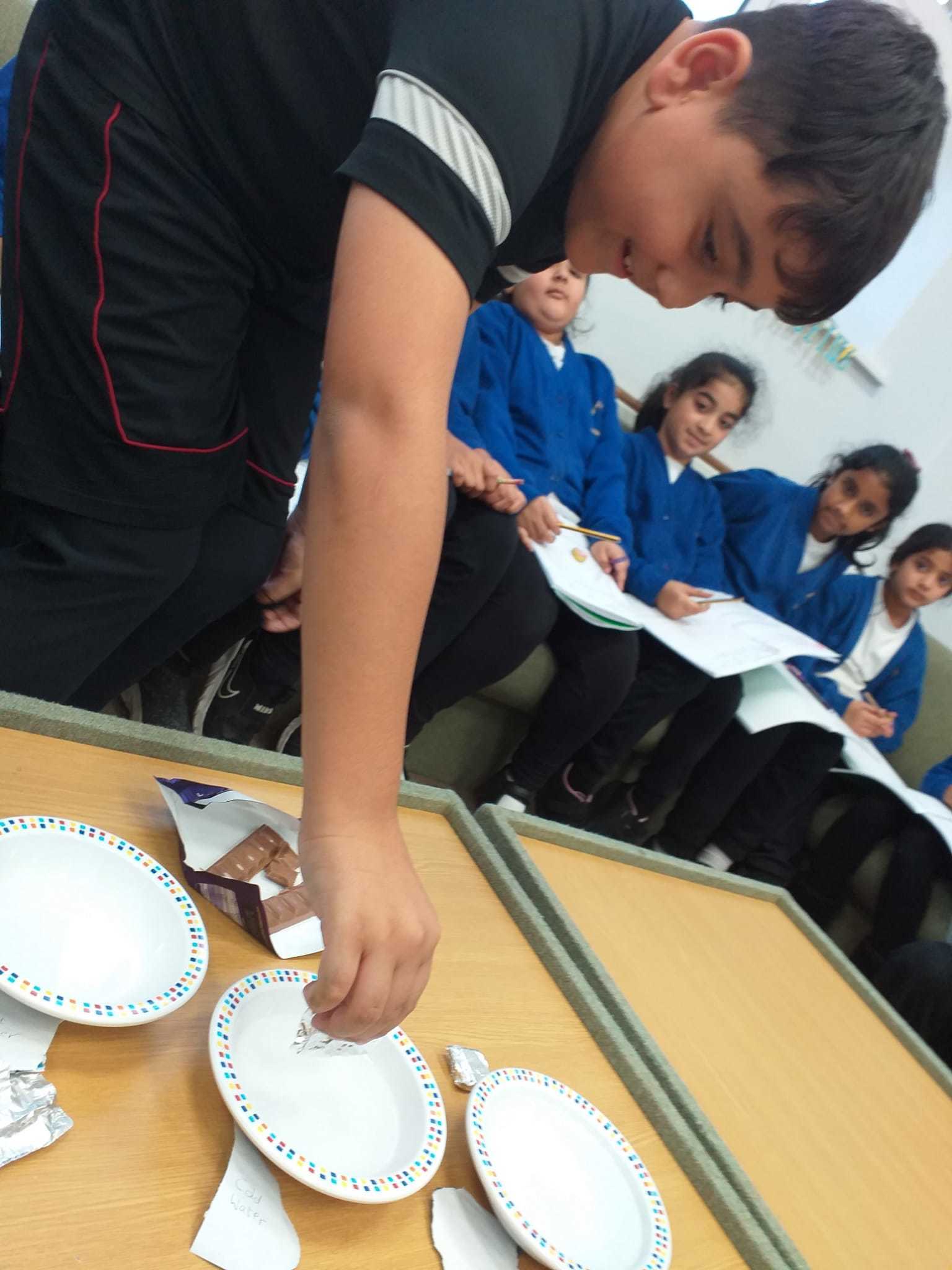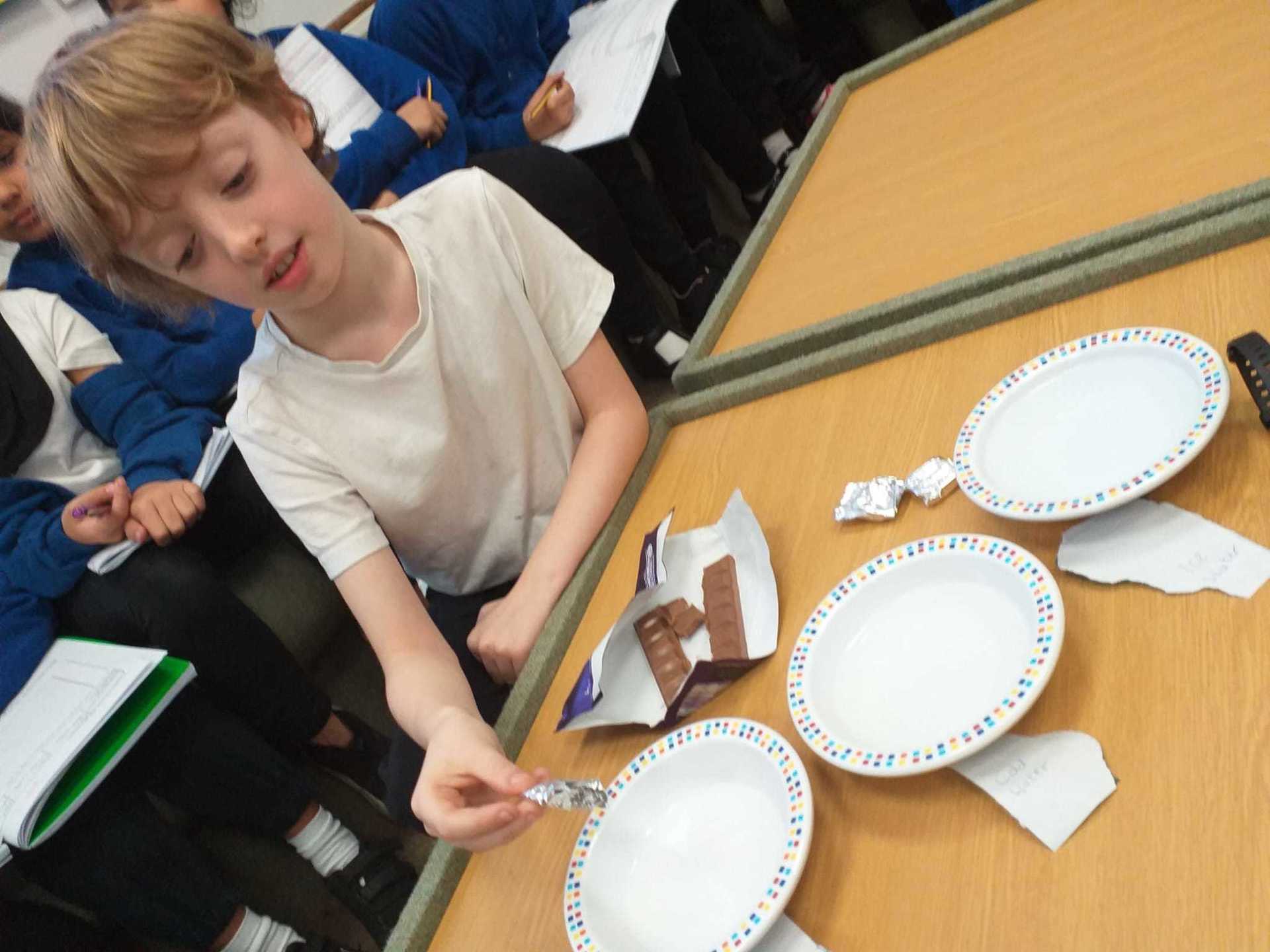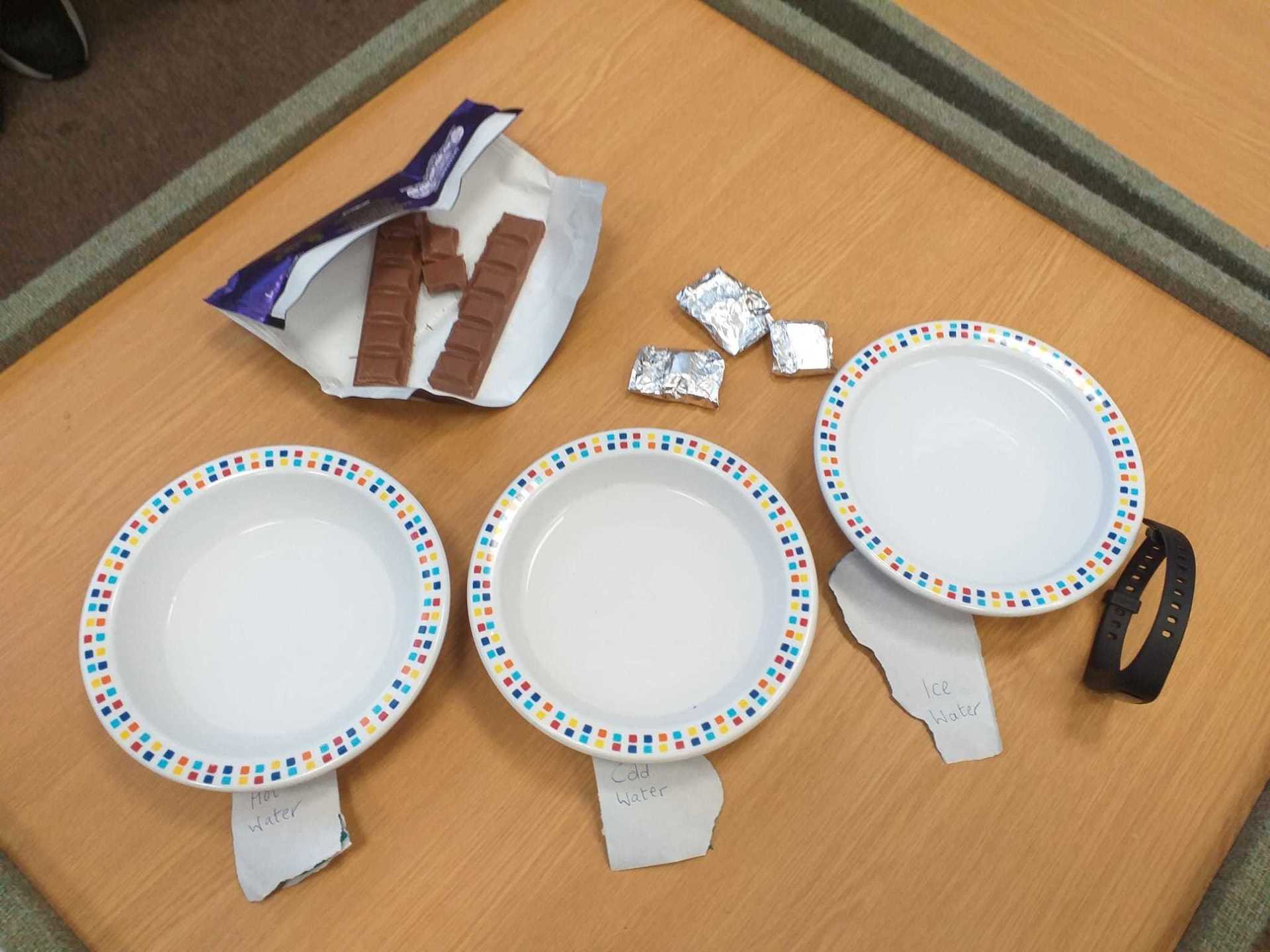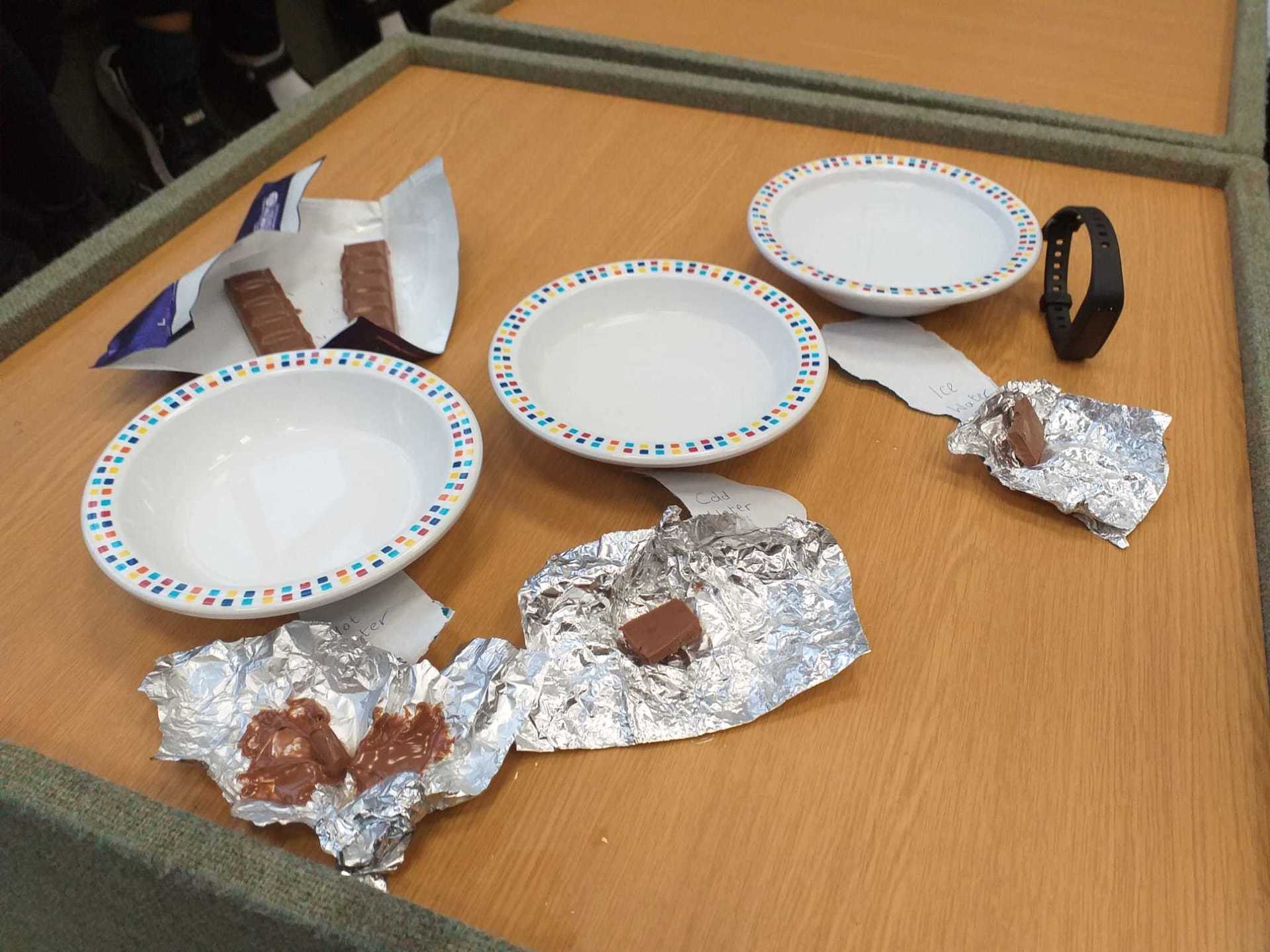 Patterns in the 3 times tables
Today, during our maths lessons, we looked at the three times tables. We practised these but then looked at all of the patterns we could find to develop a deep understanding We saw that every alternative product was even and we also managed to compare different times tables by seeing the difference between them.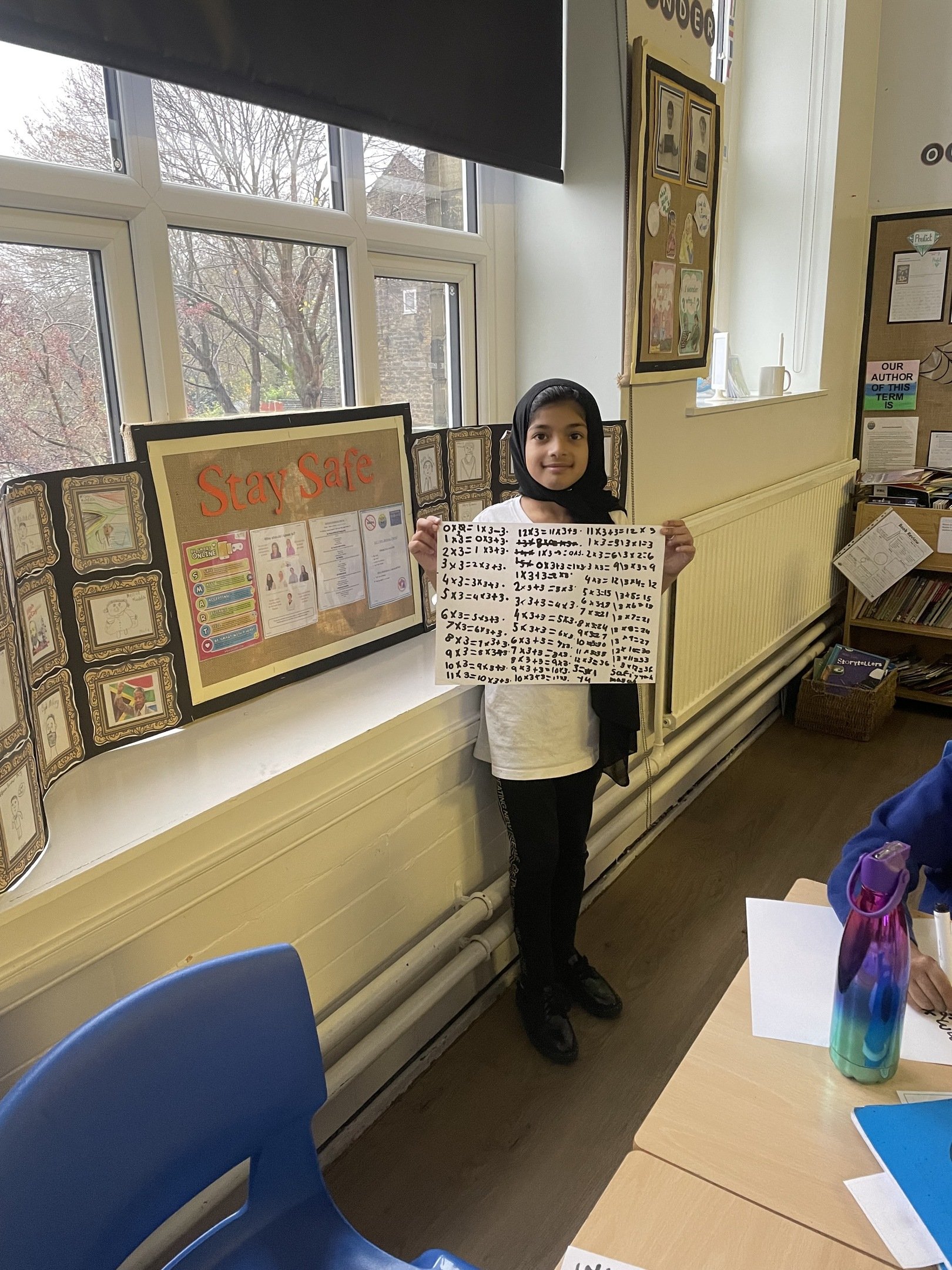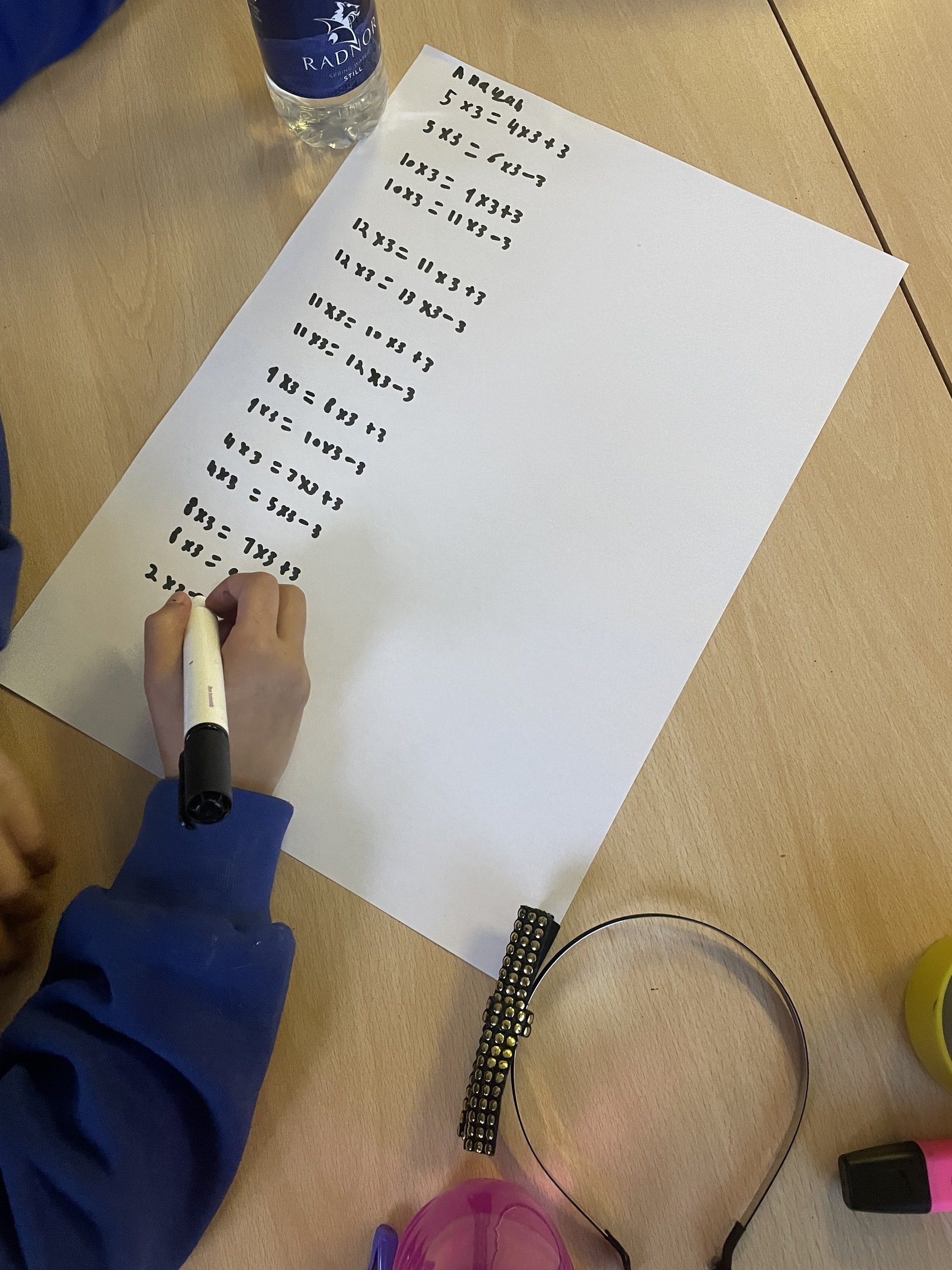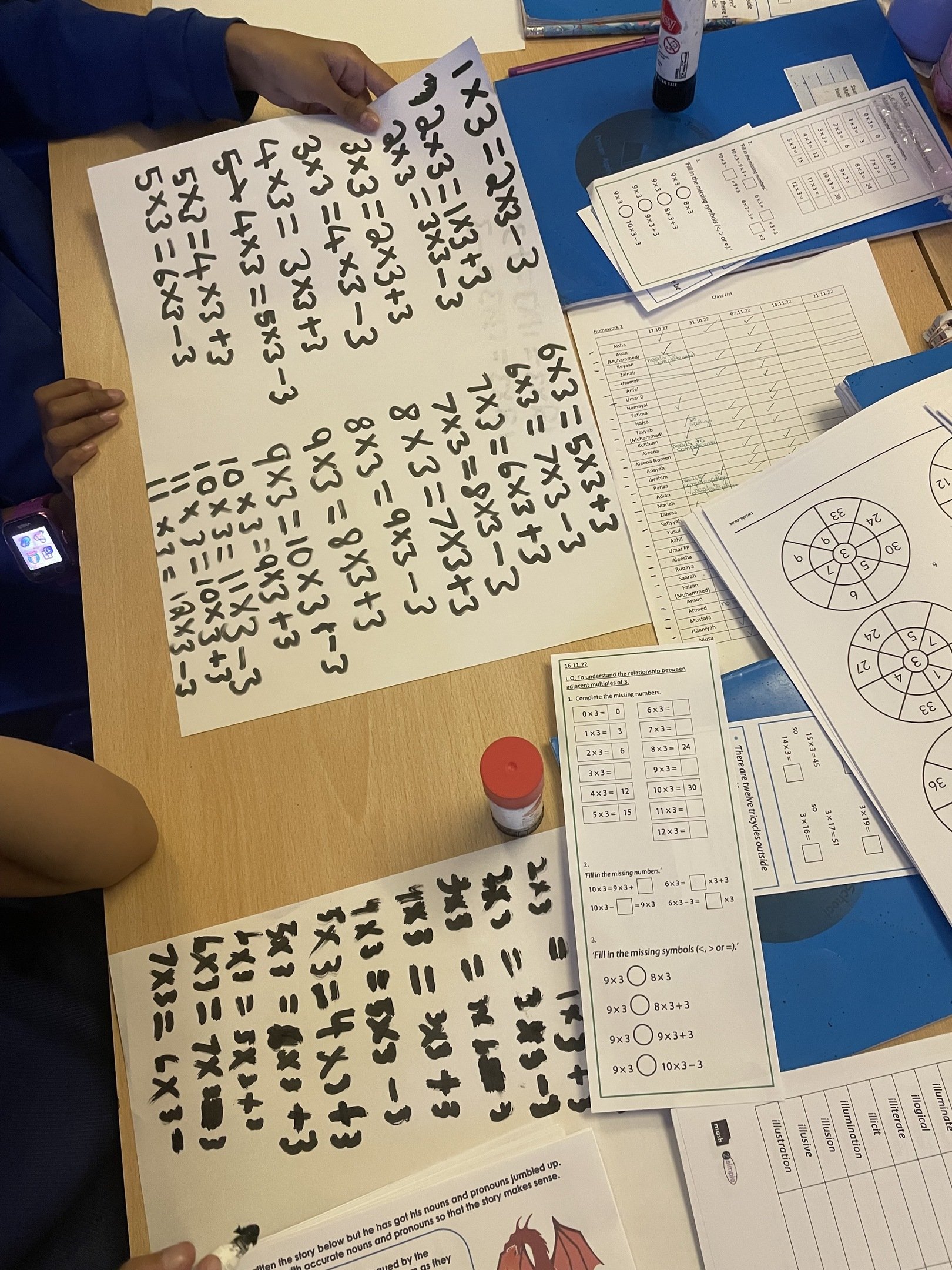 Making Lanterns!
Today, we had an arts and crafts workshop where we were able to make our own lanterns. Using coloured cellophane, we created our own colourful designs to be stuck onto our lanterns and then created the base for our lantern to stand on. Finally, we put it all together, attached the light and we had our own working lanterns! These will be used to represent our school as they are paraded around Dewsbury in the near future.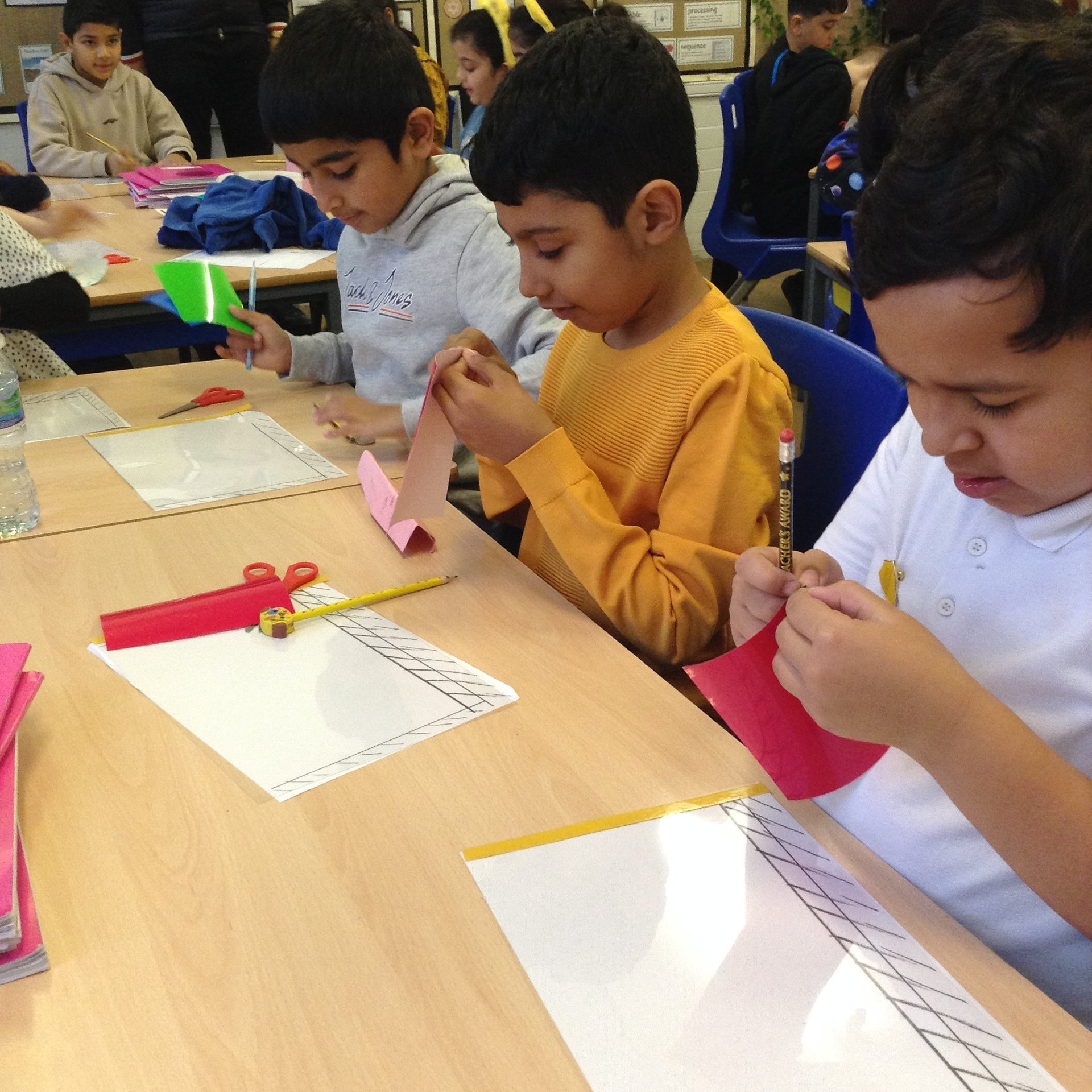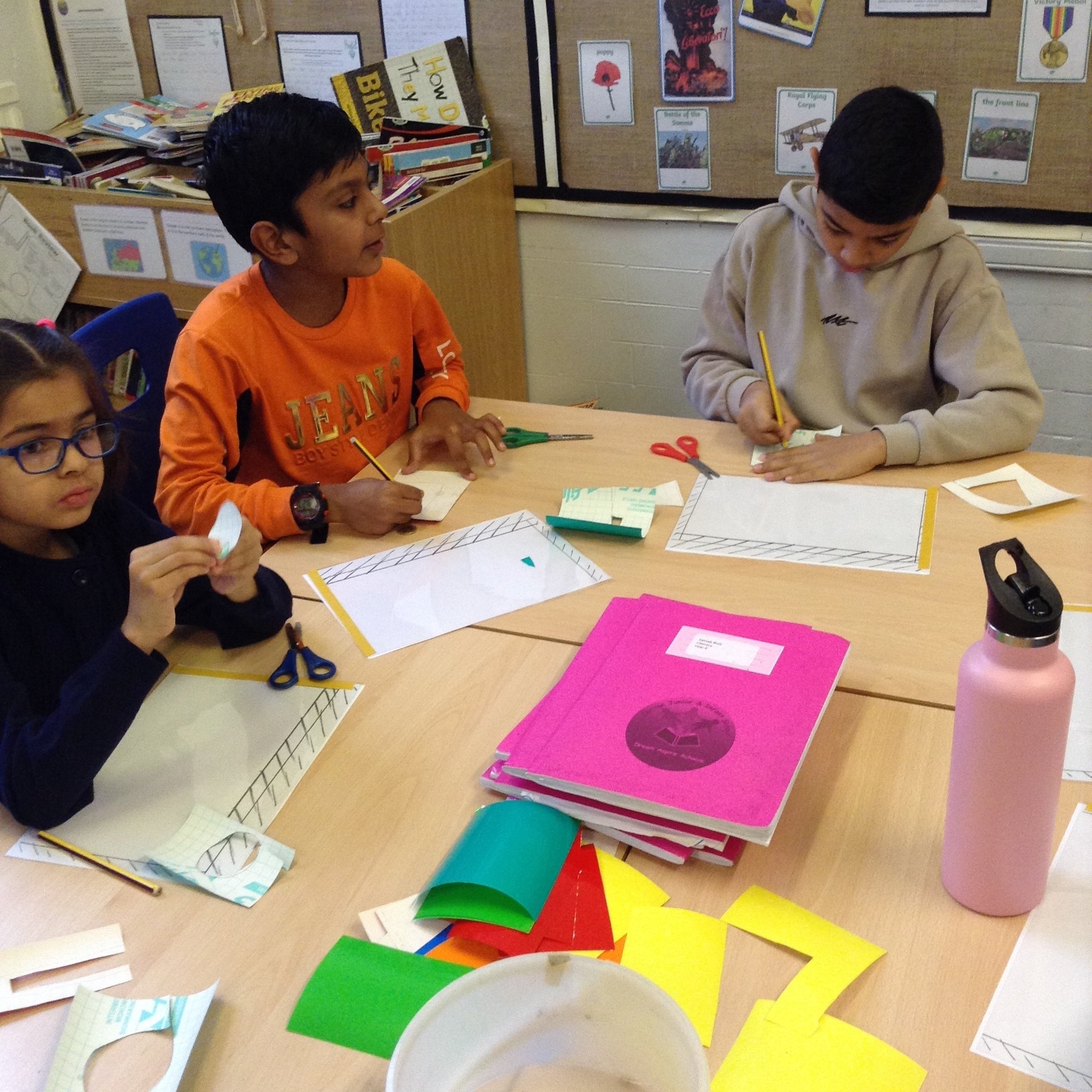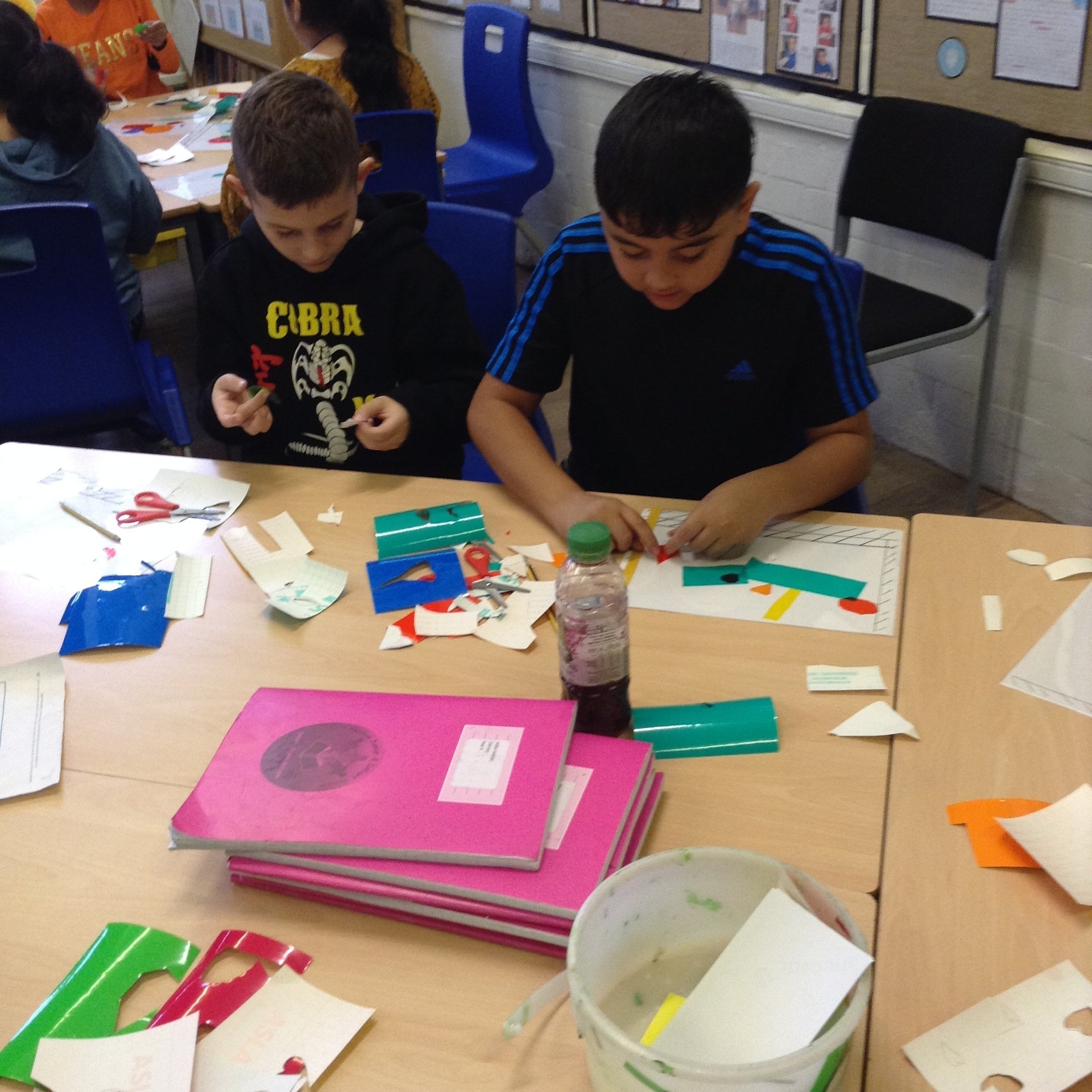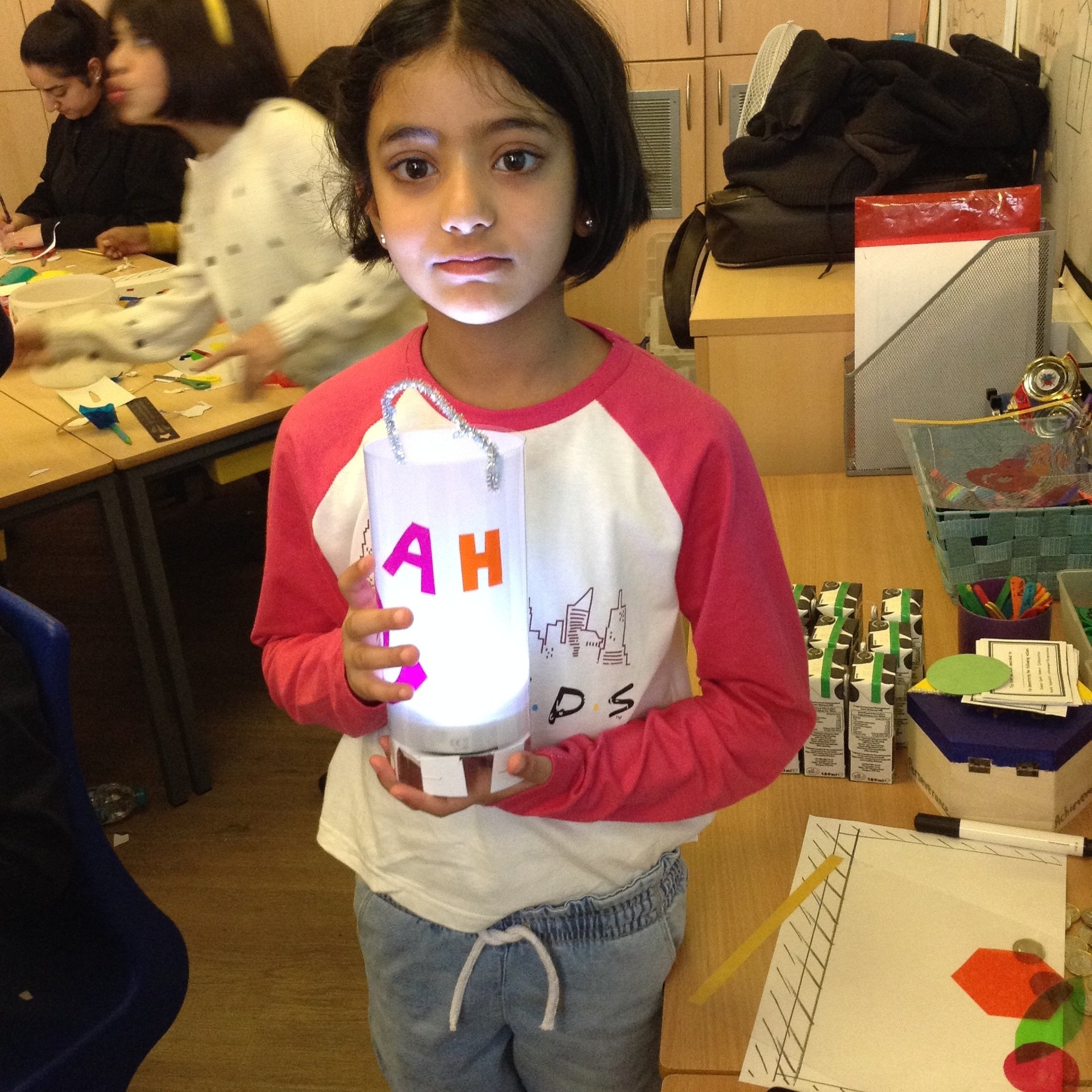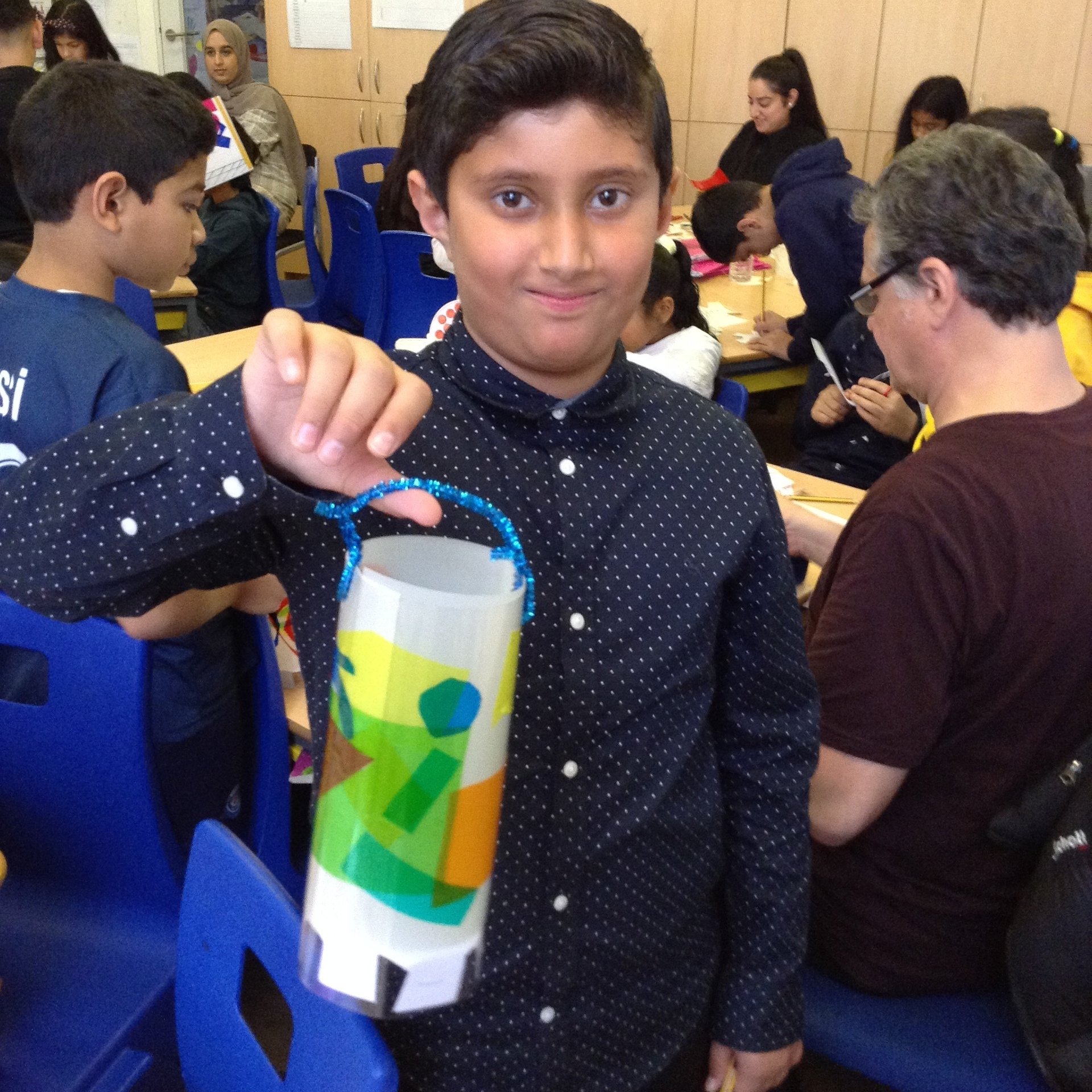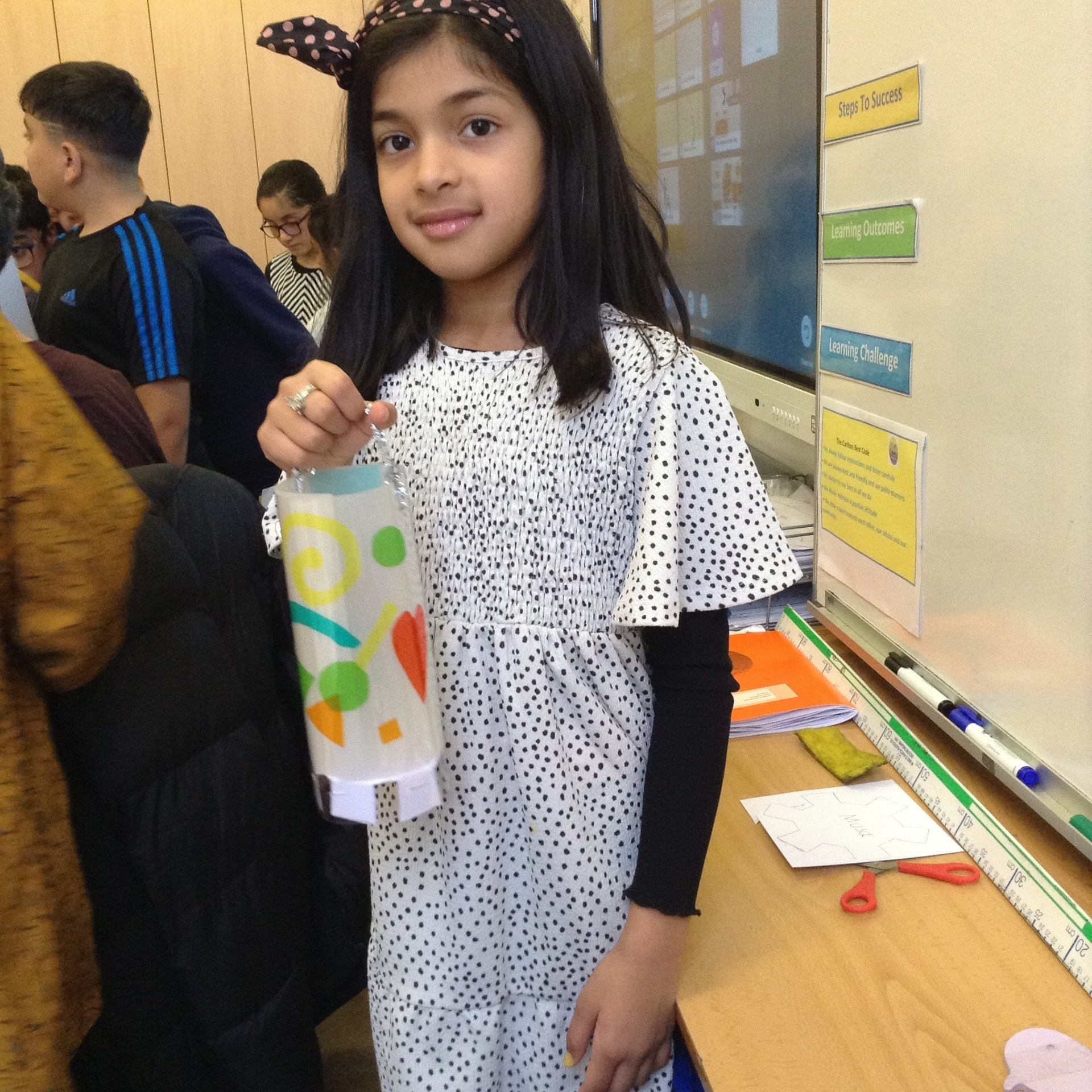 Talking Sticks!
Today, we created our own talking sticks just like the native American tribes. We made these to help represent our own identity and show others who we are.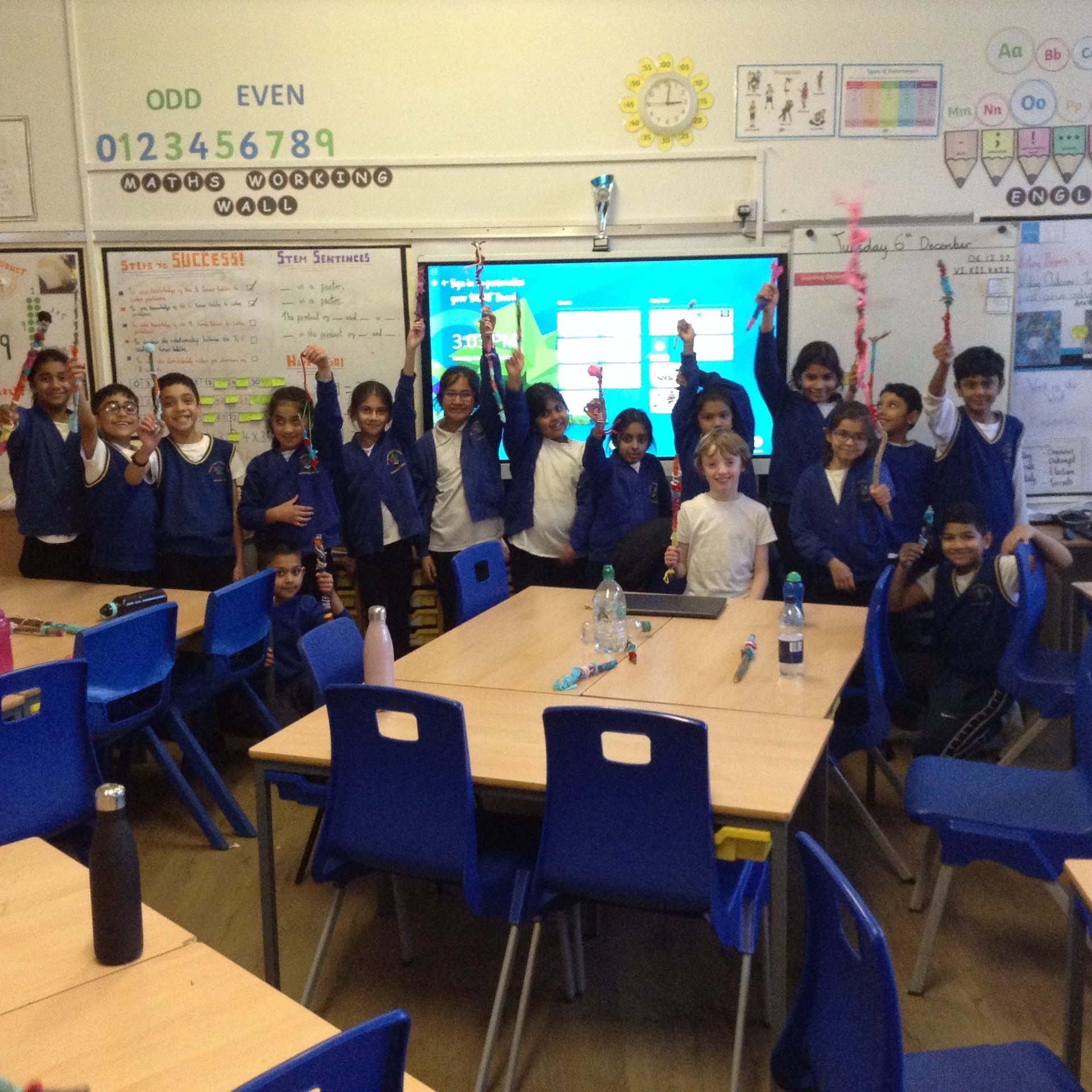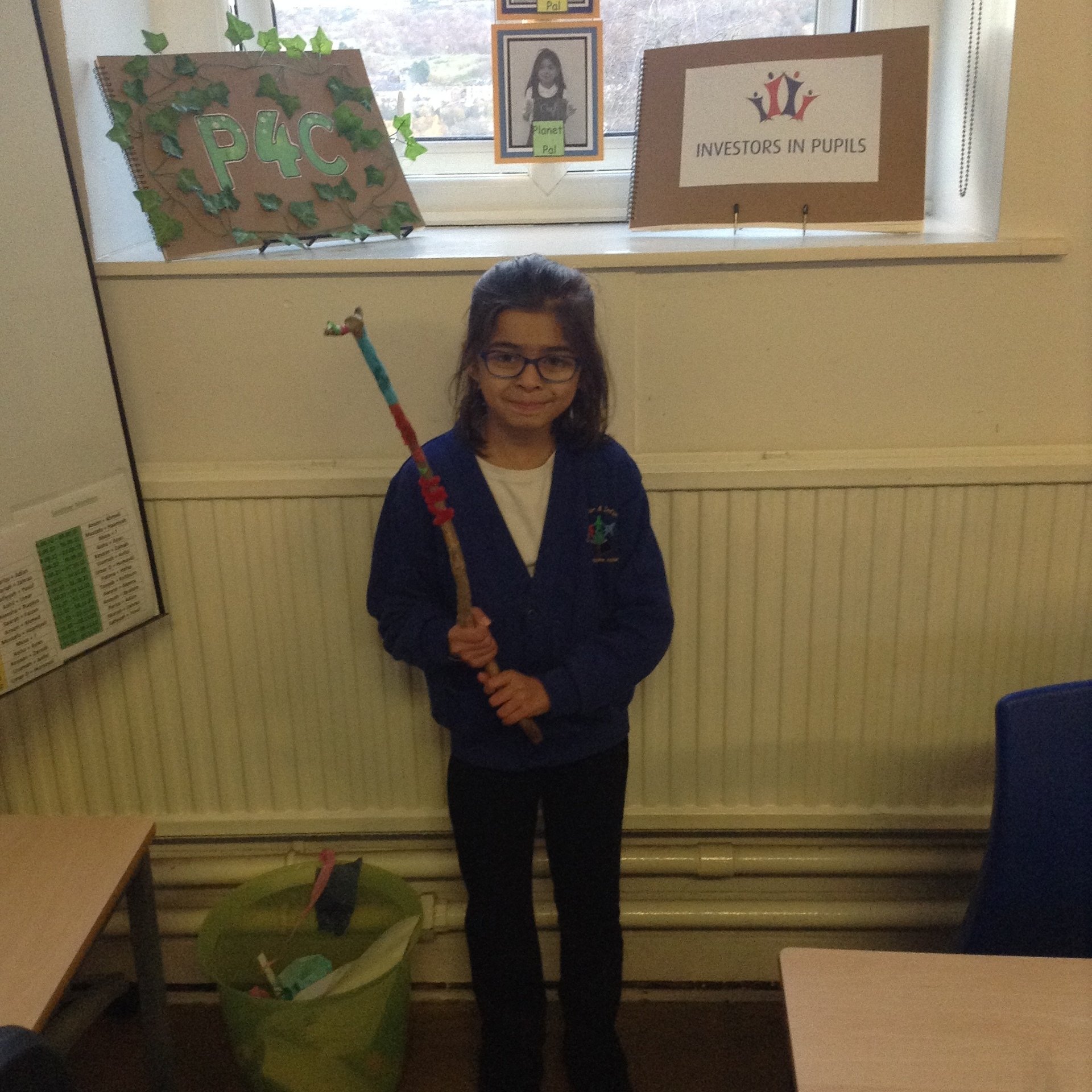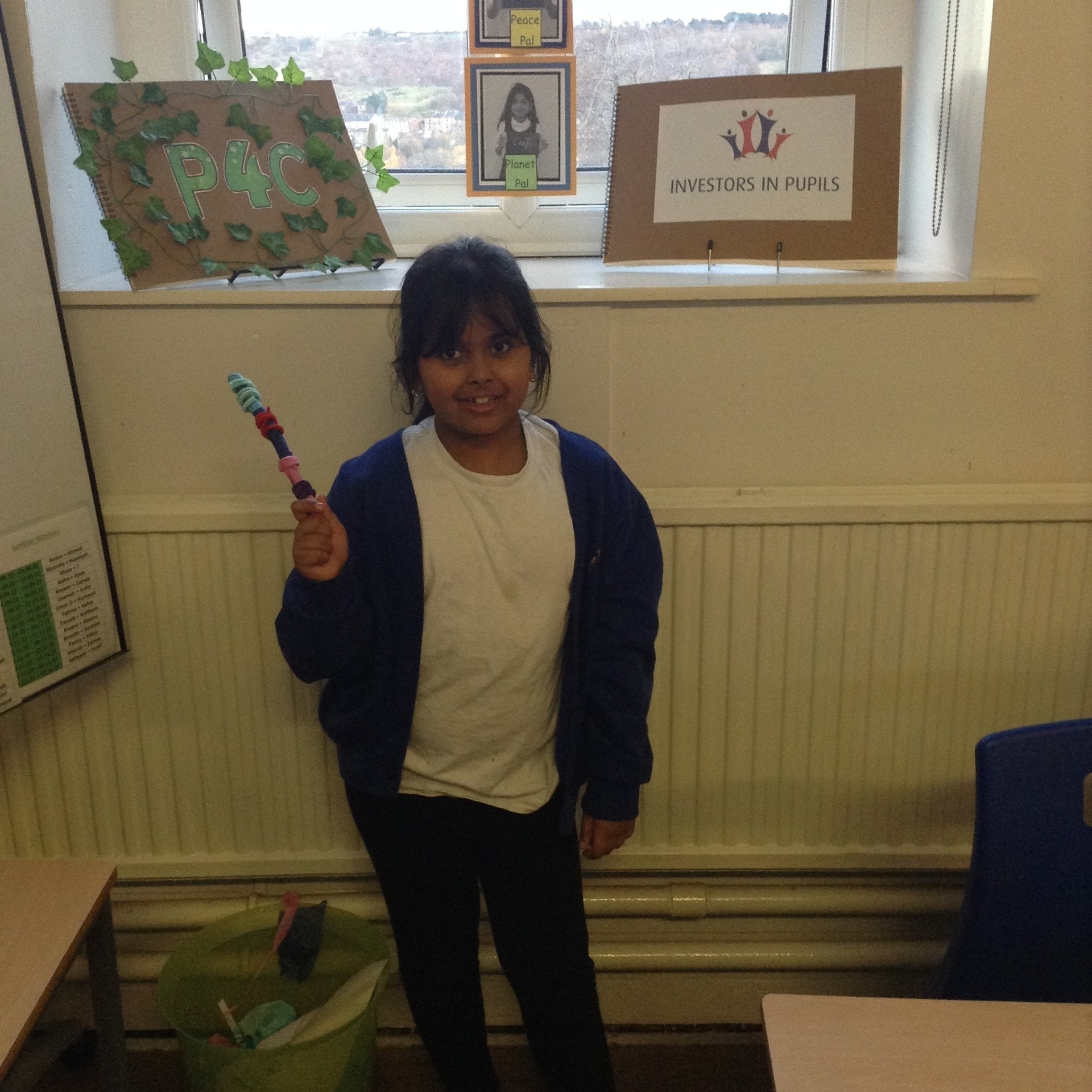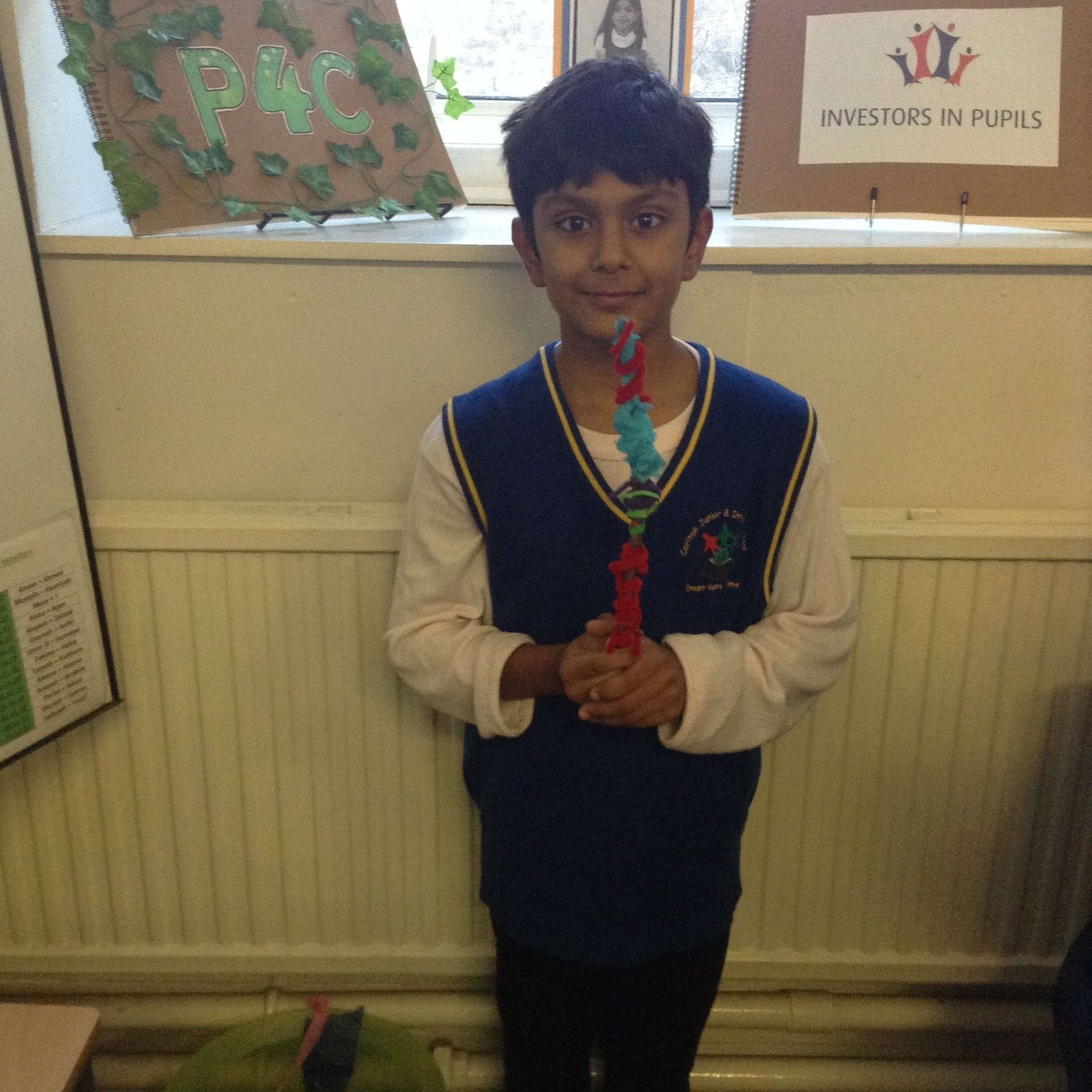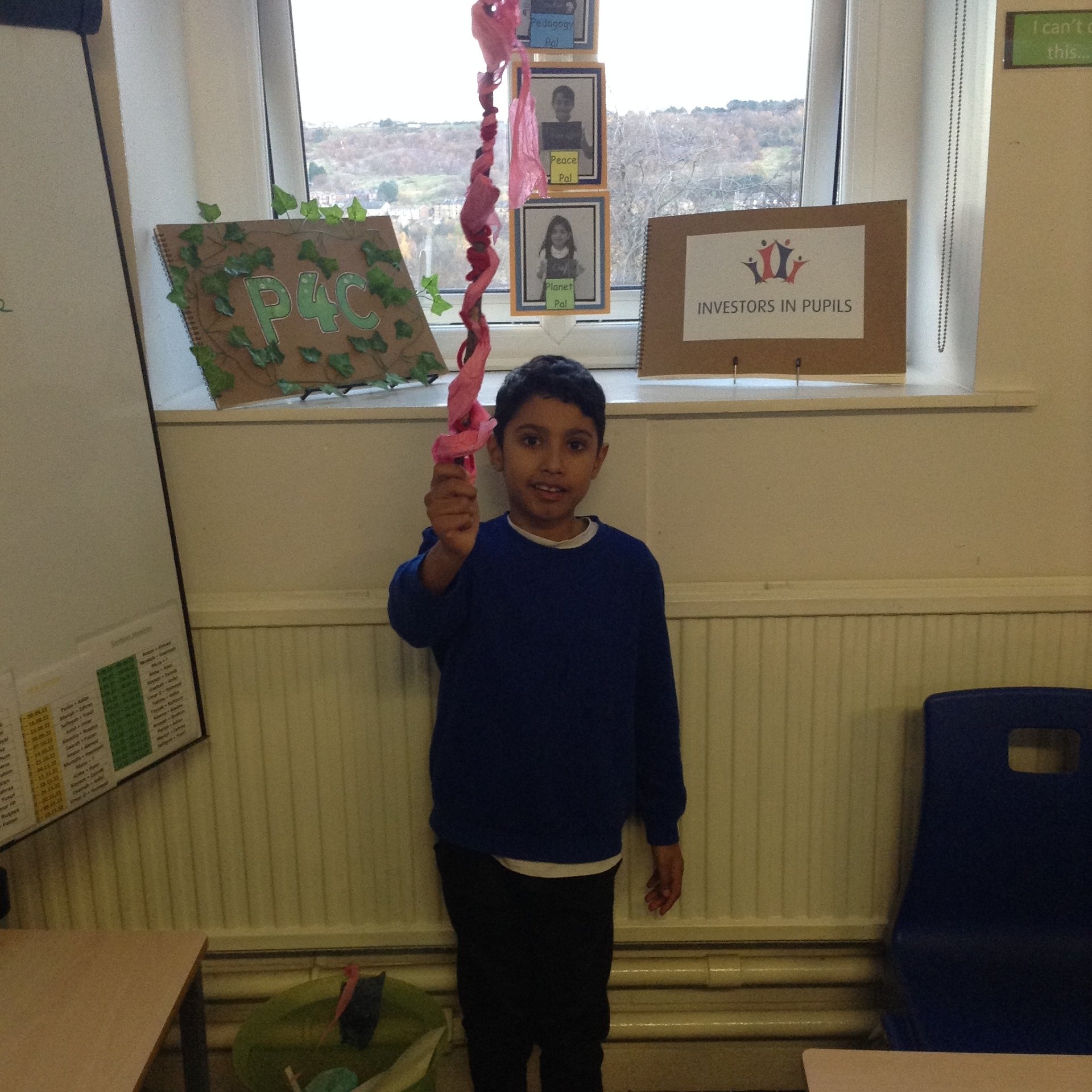 The Water Cycle
Today, we looked at the water cycle and learnt about evaporation, condensation and precipitation. We then created our own 'Mini World' to see if we could make our own water cycle. We will continue observe until the holidays to see what happens!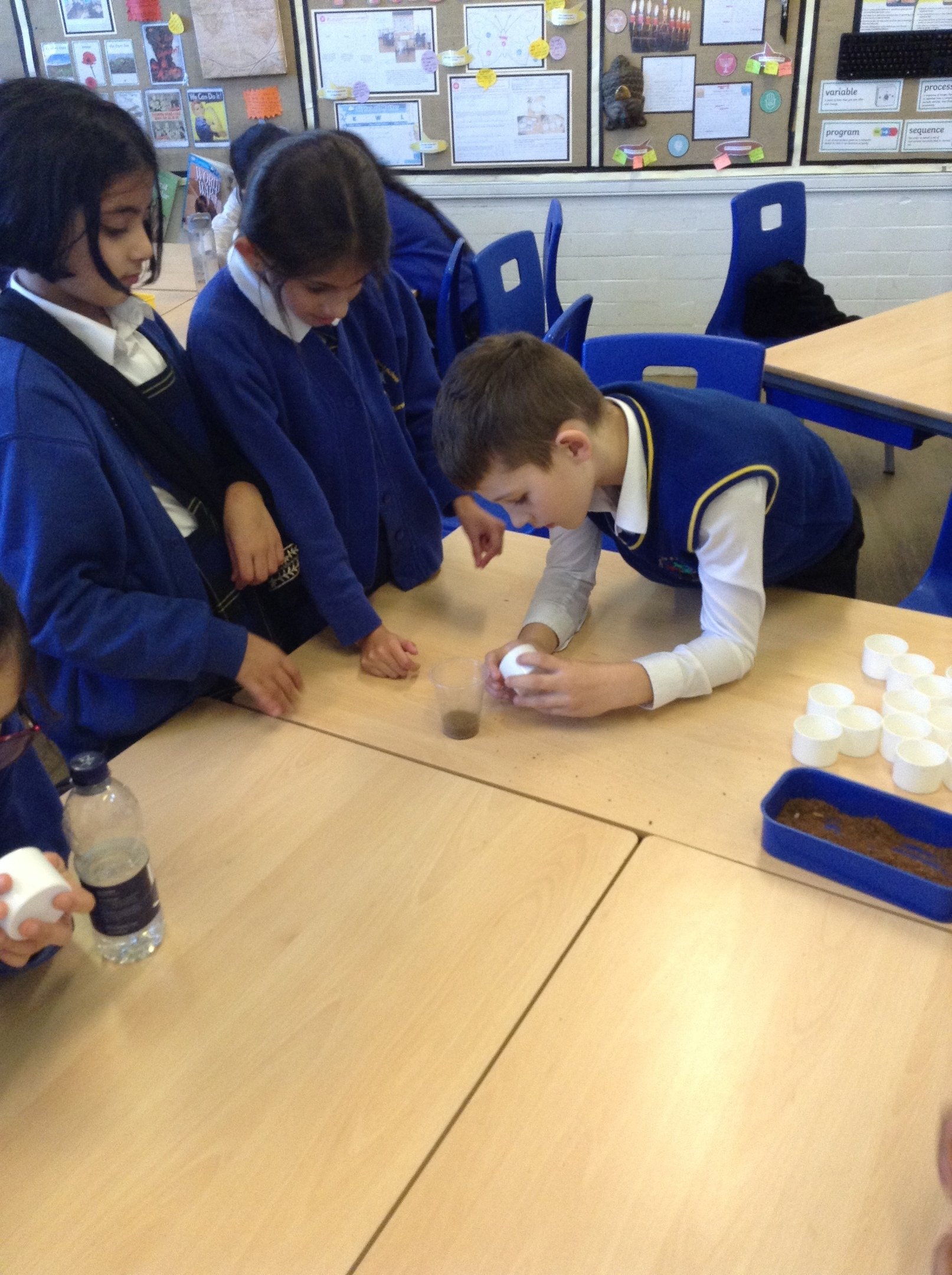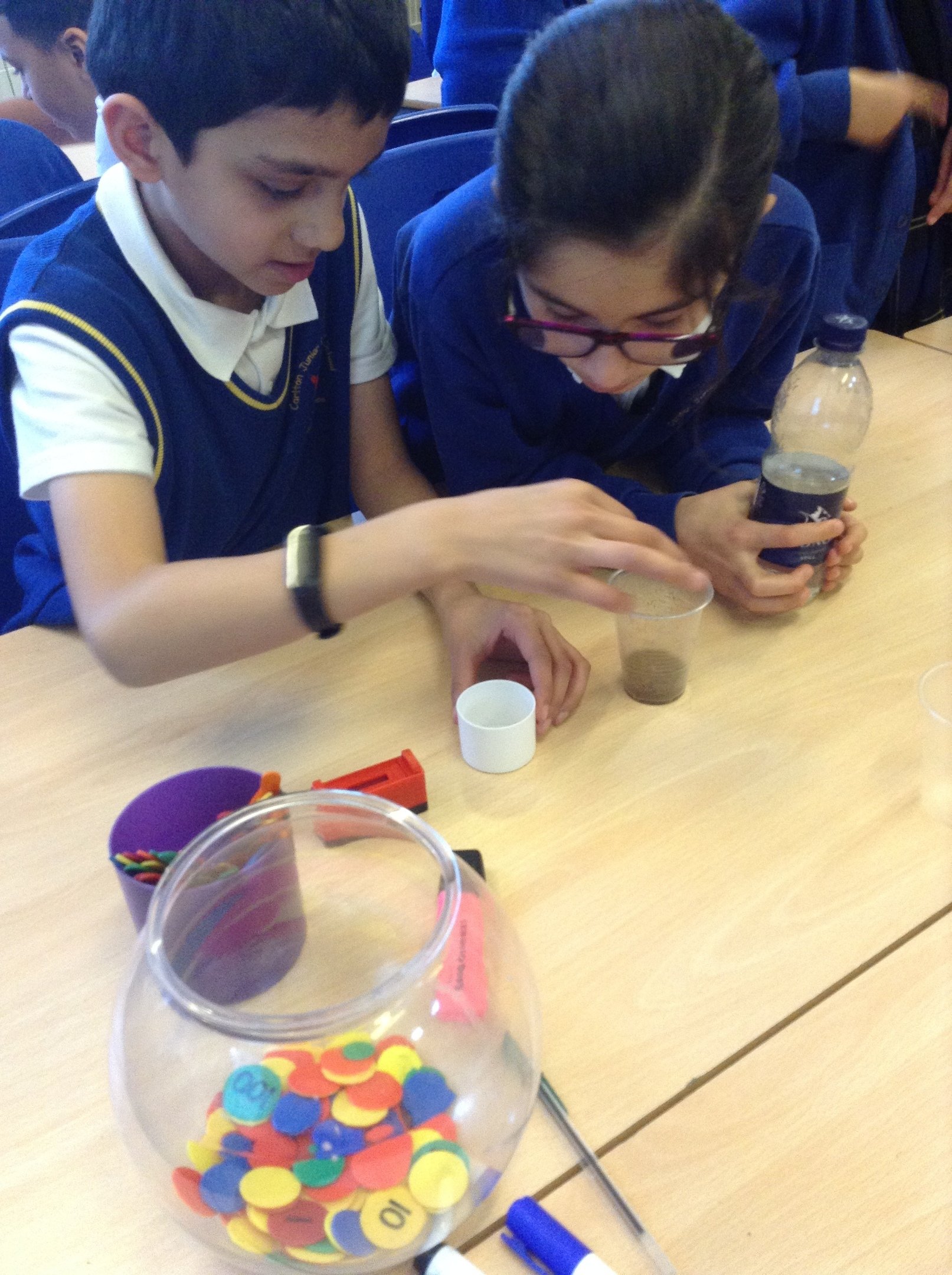 Composer of the Term
This term, Year 4 have been focusing on the composer Igor Stravinsky. We have looked at his music in detail as well as also studying his life.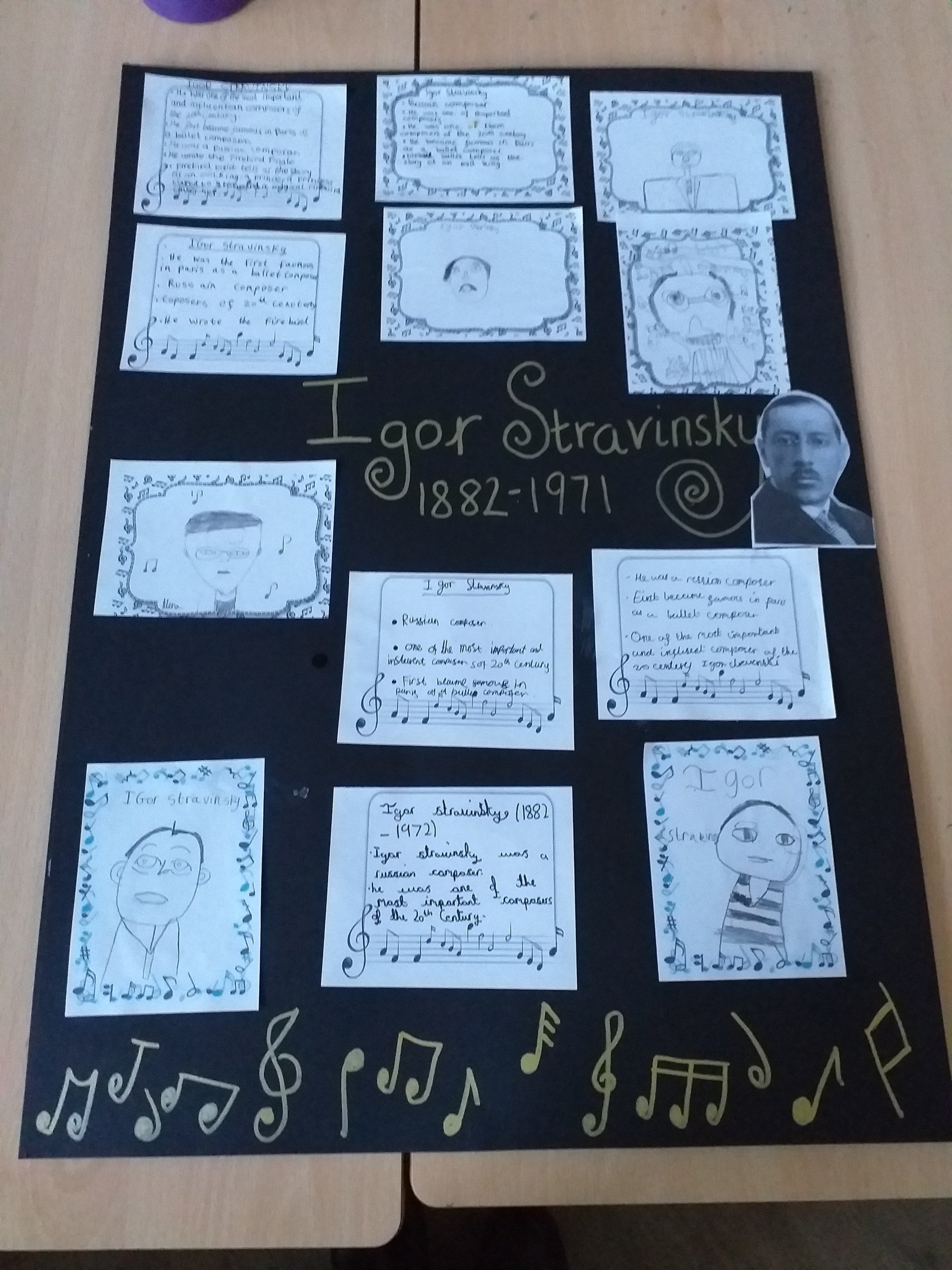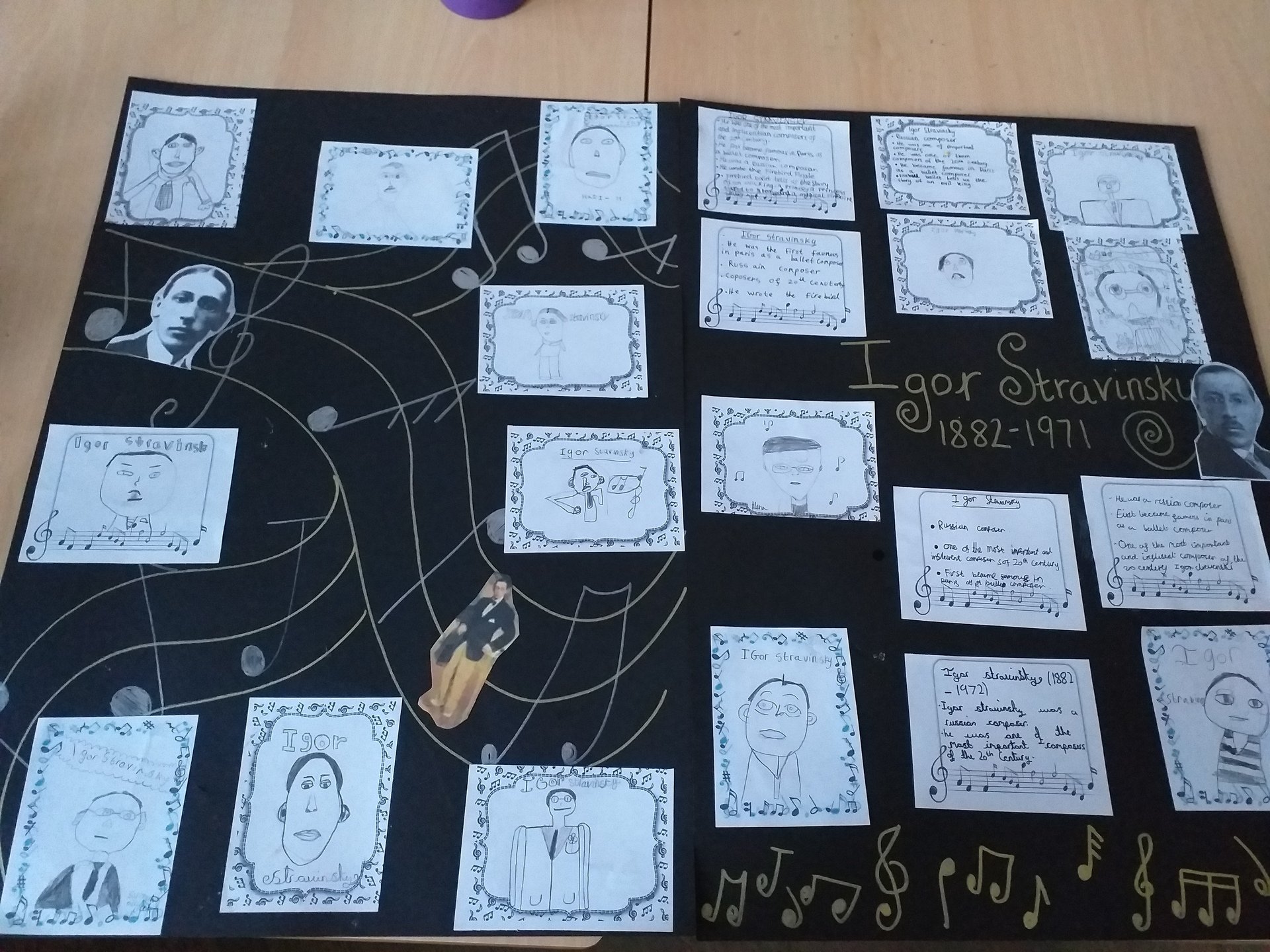 The Water Cycle (Part 2)
A couple of weeks ago, we set up an experiment creating our own 'Mini World' which focused on the water cycle. Today, we had a look at our 'Mini Worlds' and this is what we noticed!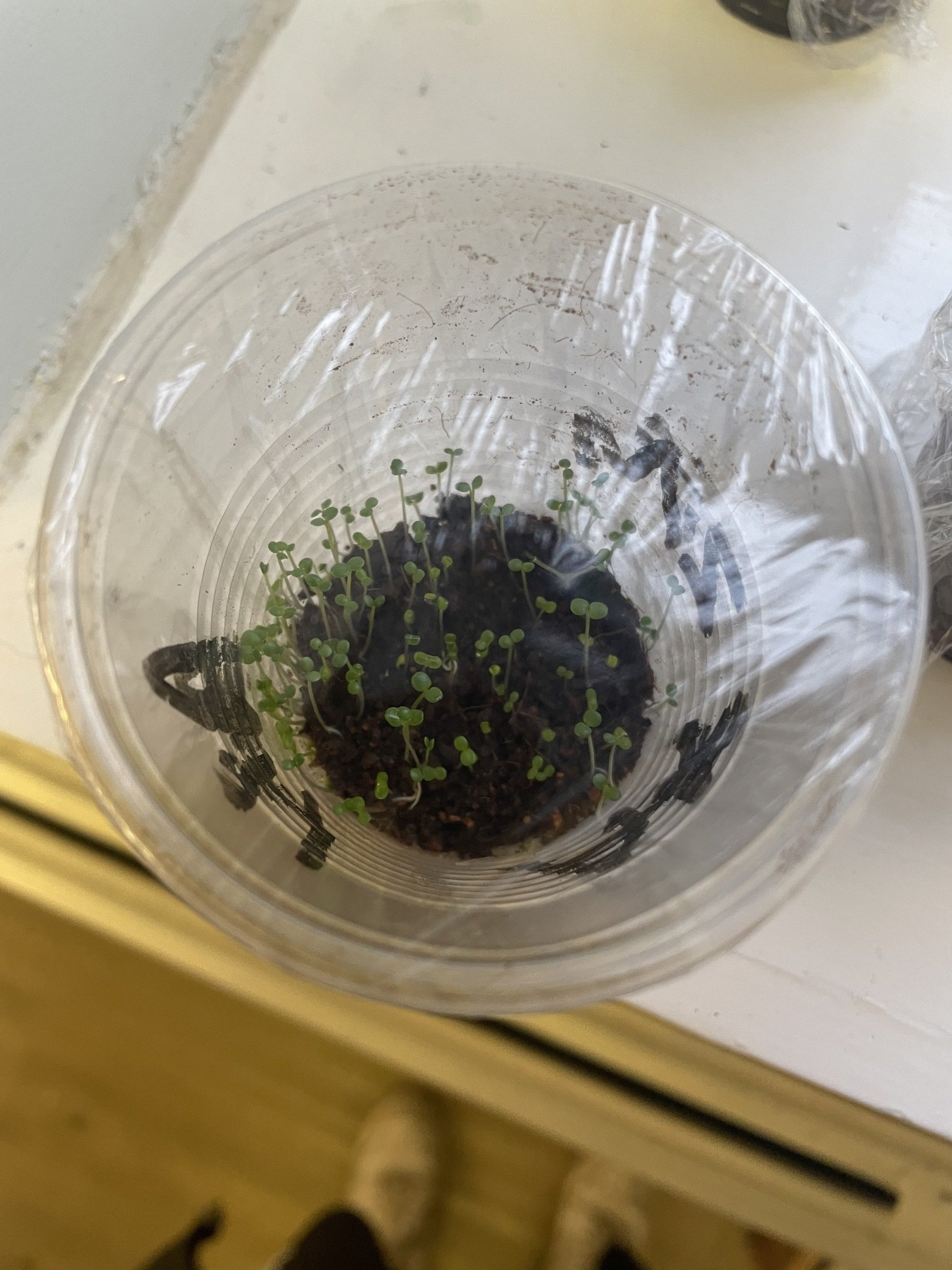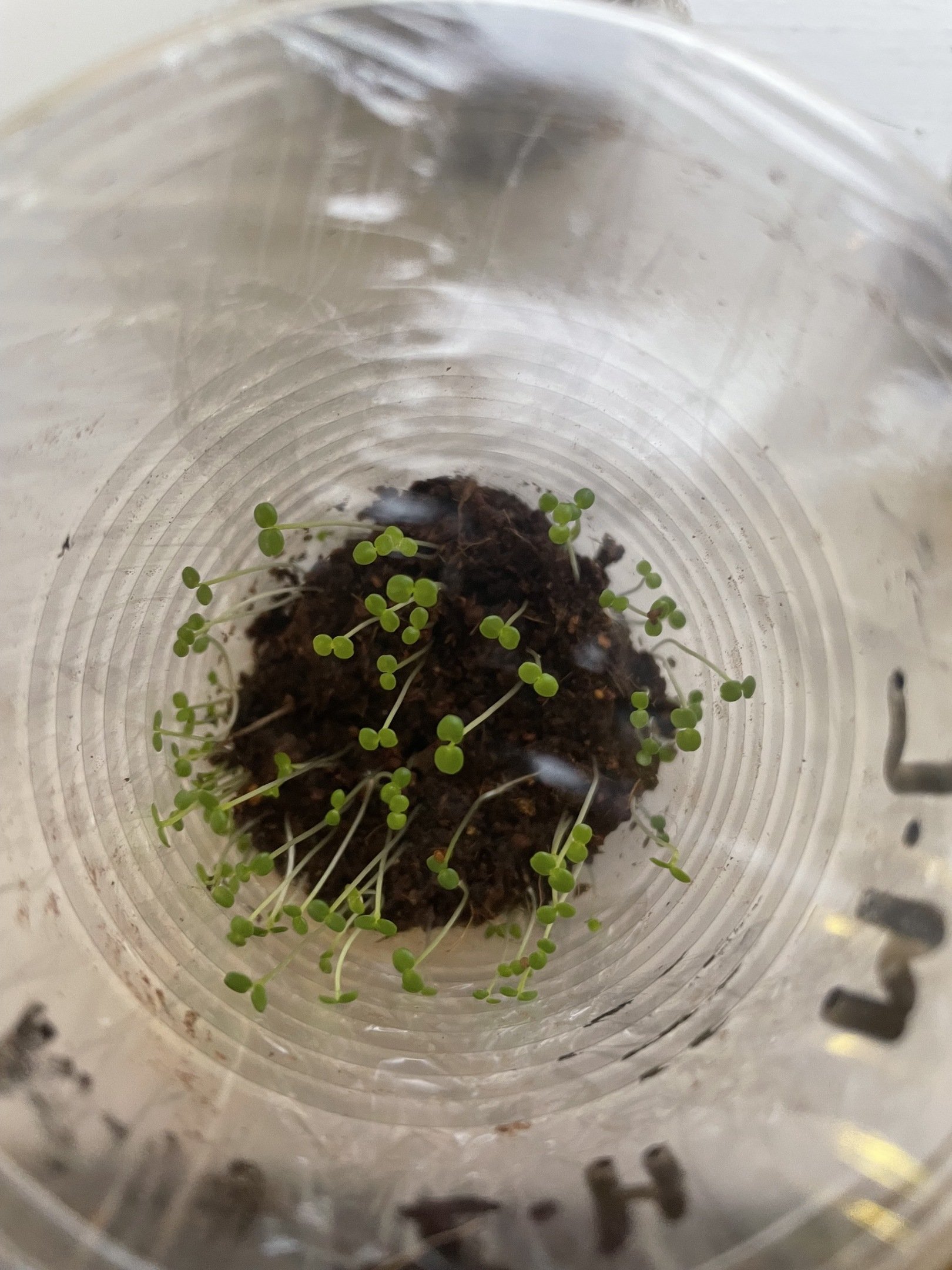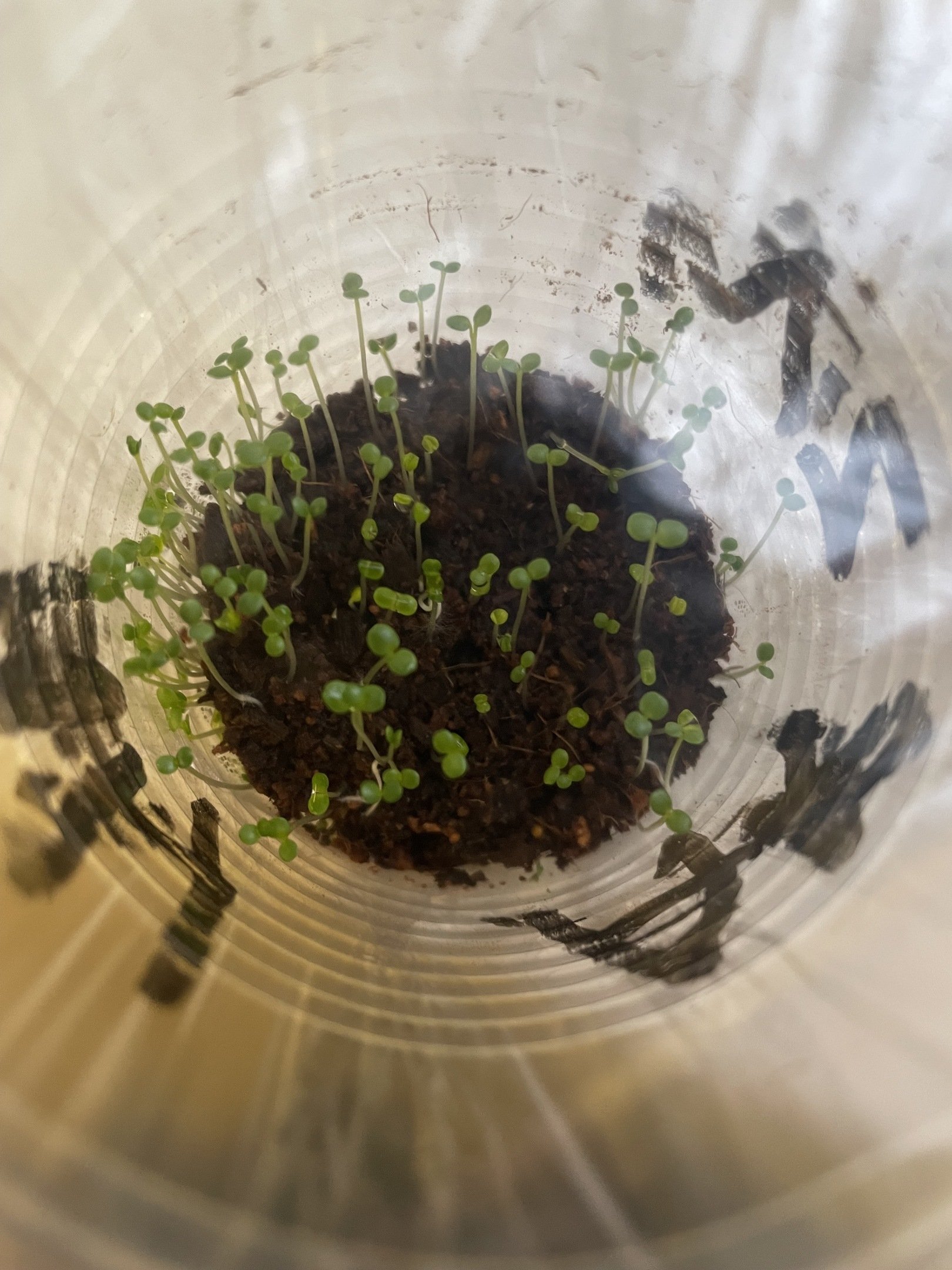 Spring 2023
Drama in English!
Today, in our English lesson, we explored different characters feelings in different settings. We discussed how they might feel and then we had the opportunity to act these out in front of our classmates.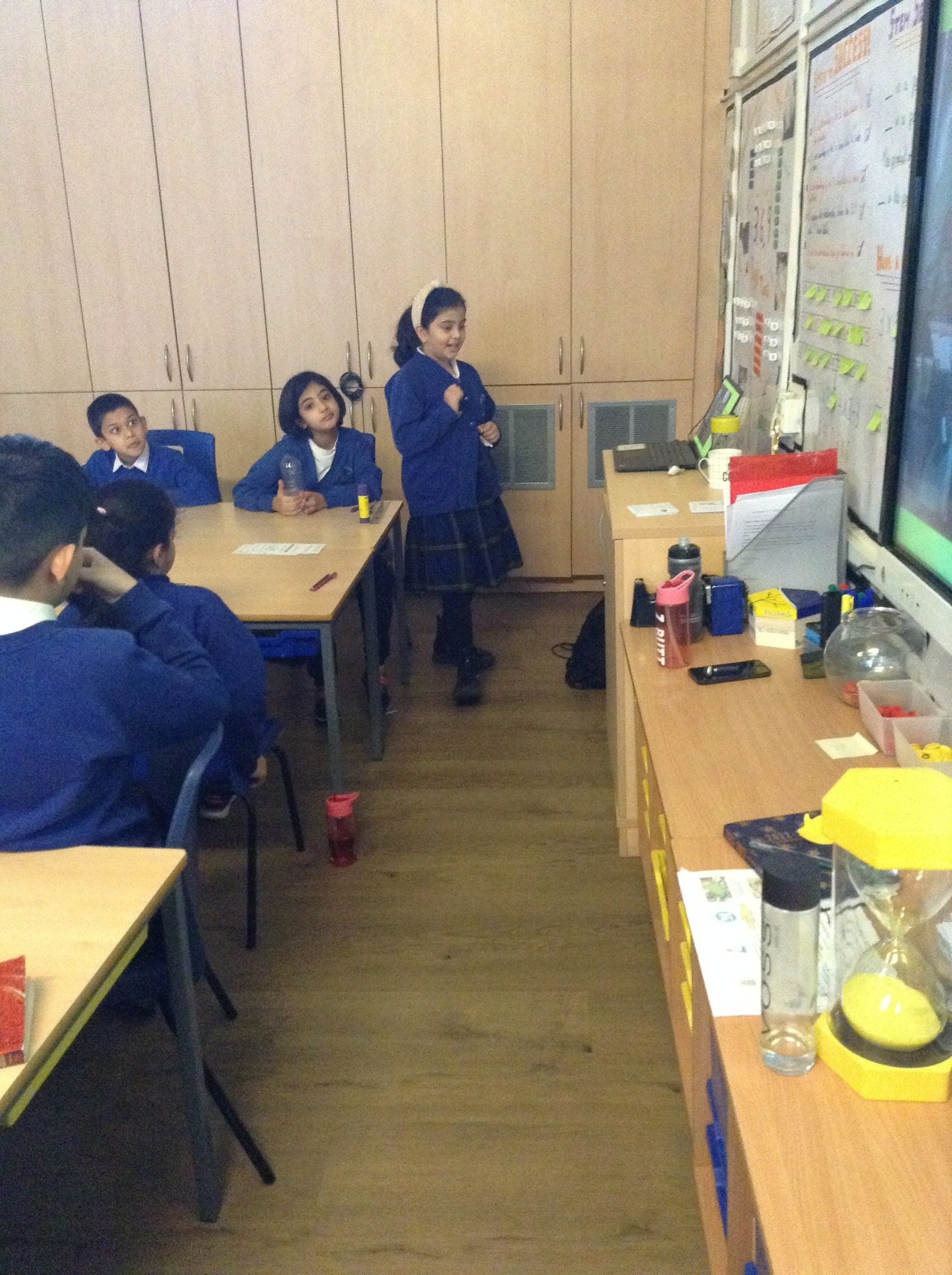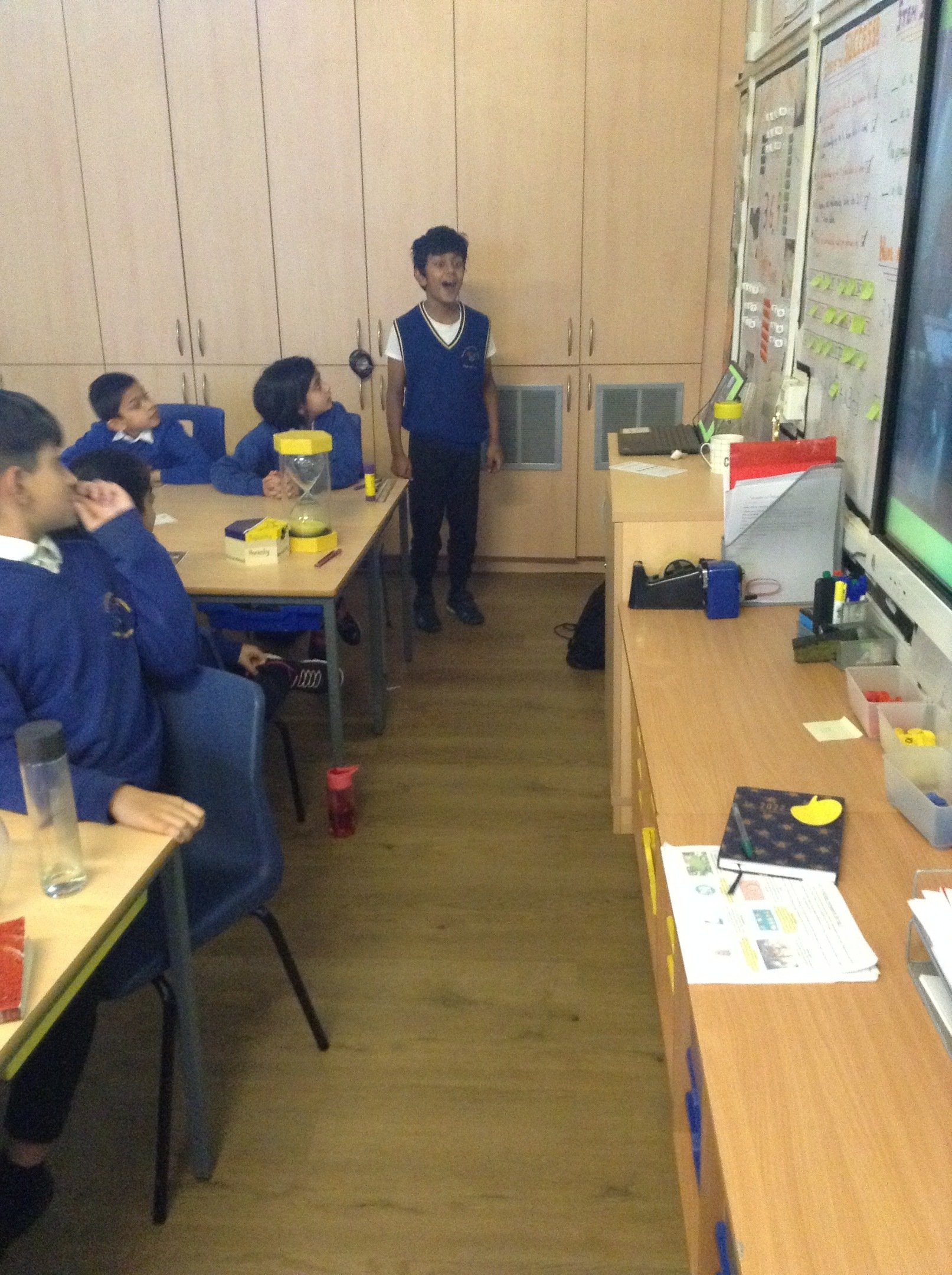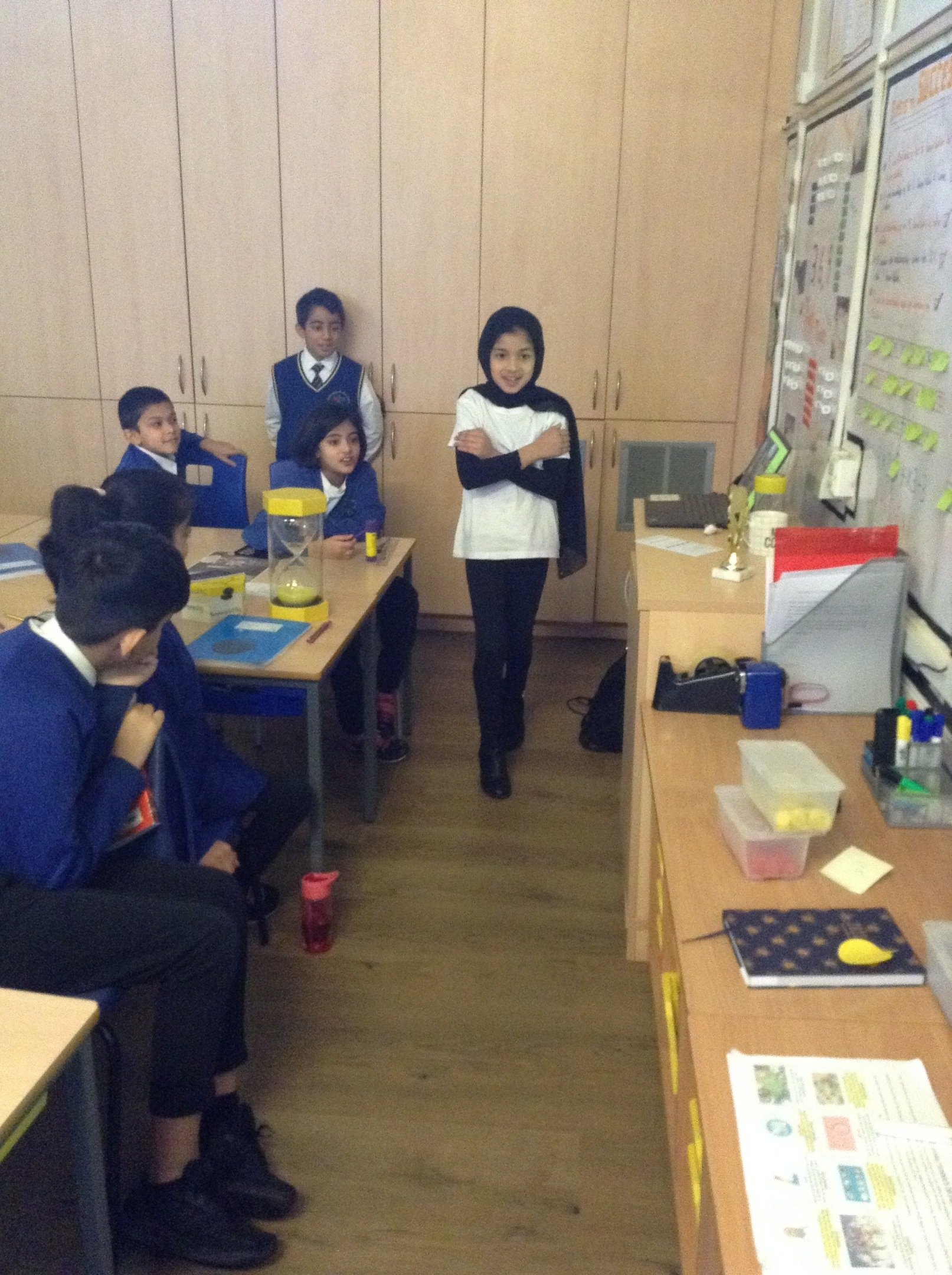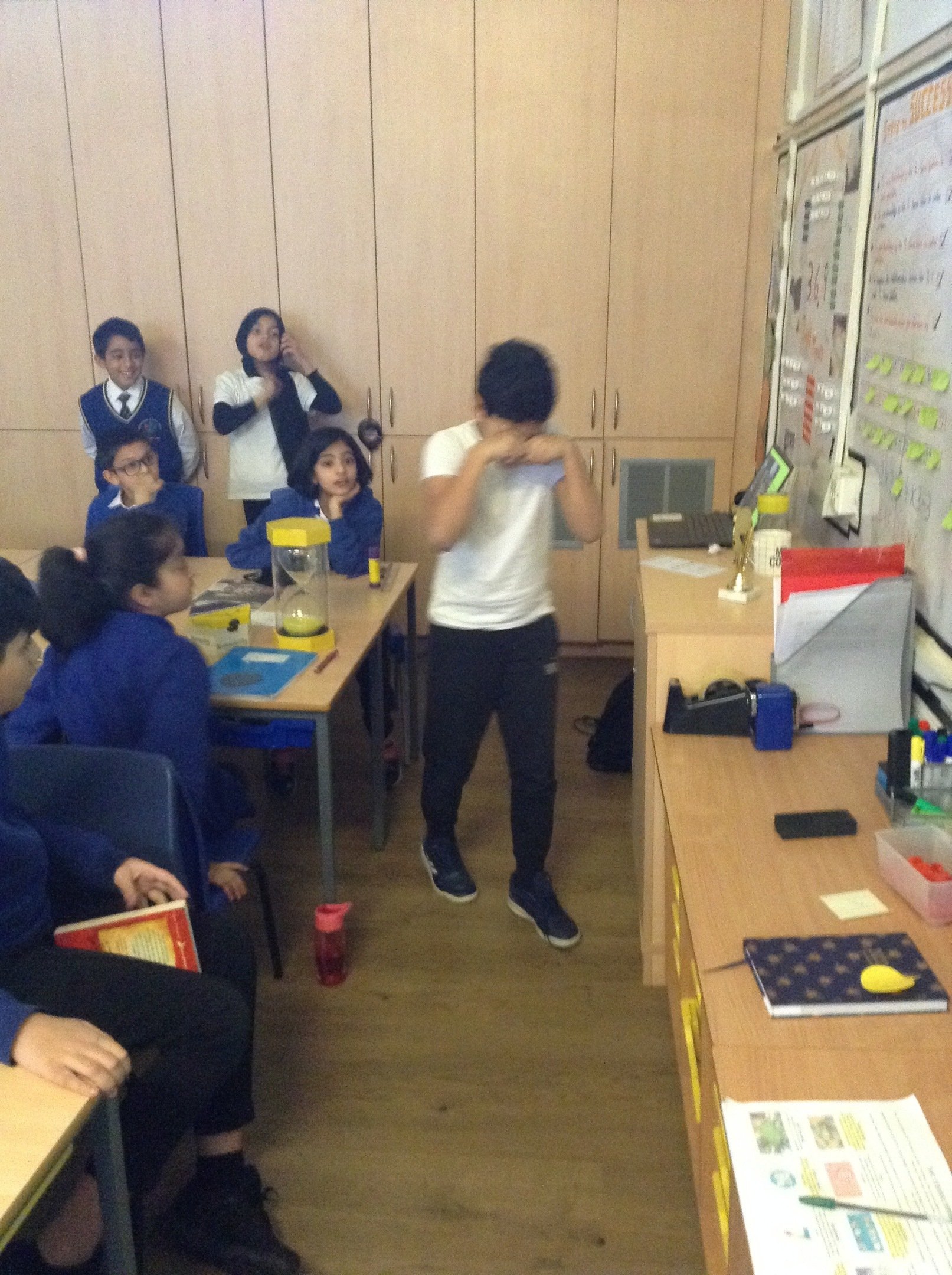 Summarise this!
In our Reading for Meaning today, we looked at the first chapter of our new book 'How to Train Your Dragon'. After reading the first chapter, we summarised the main events by using our drama techniques.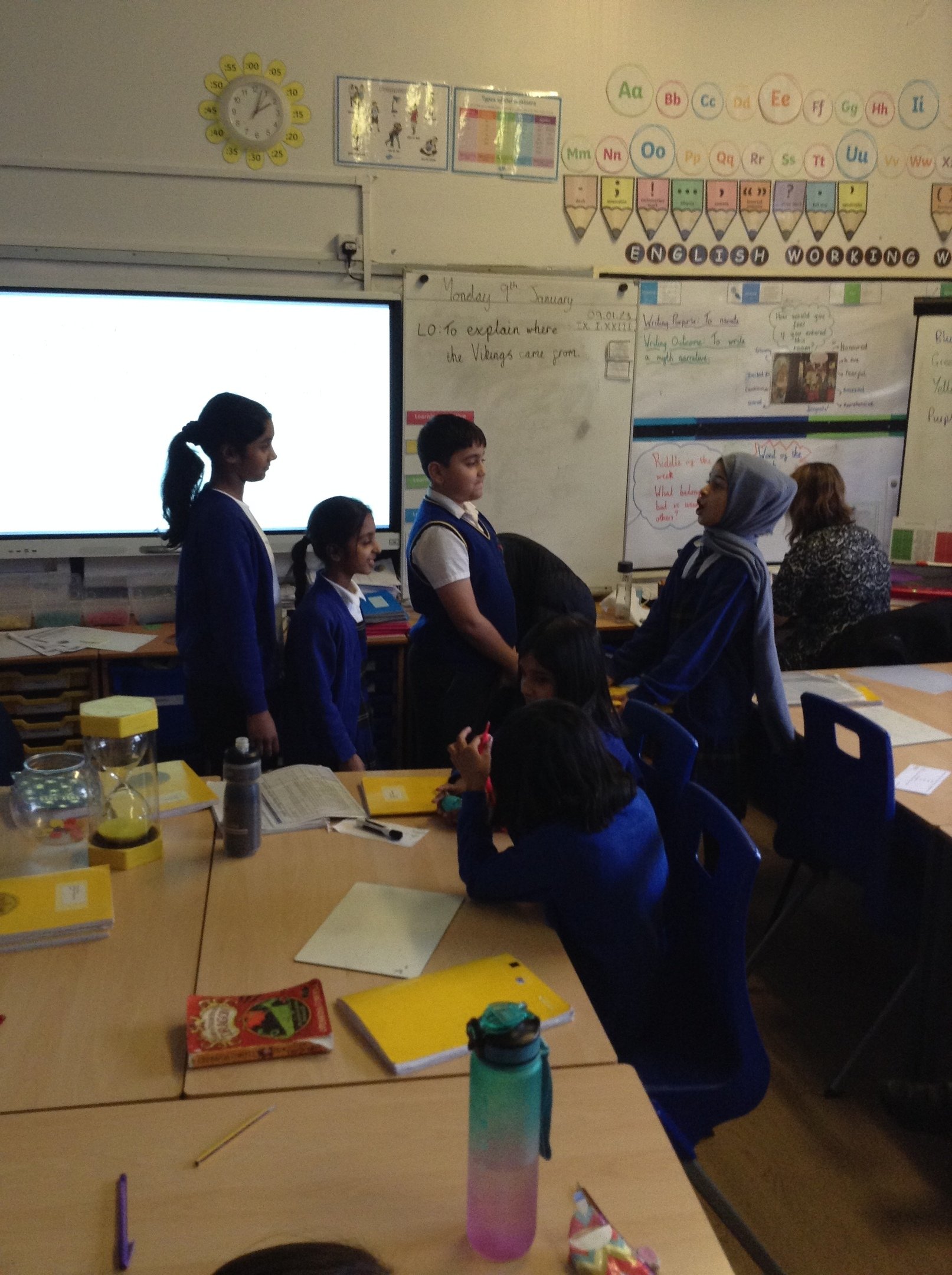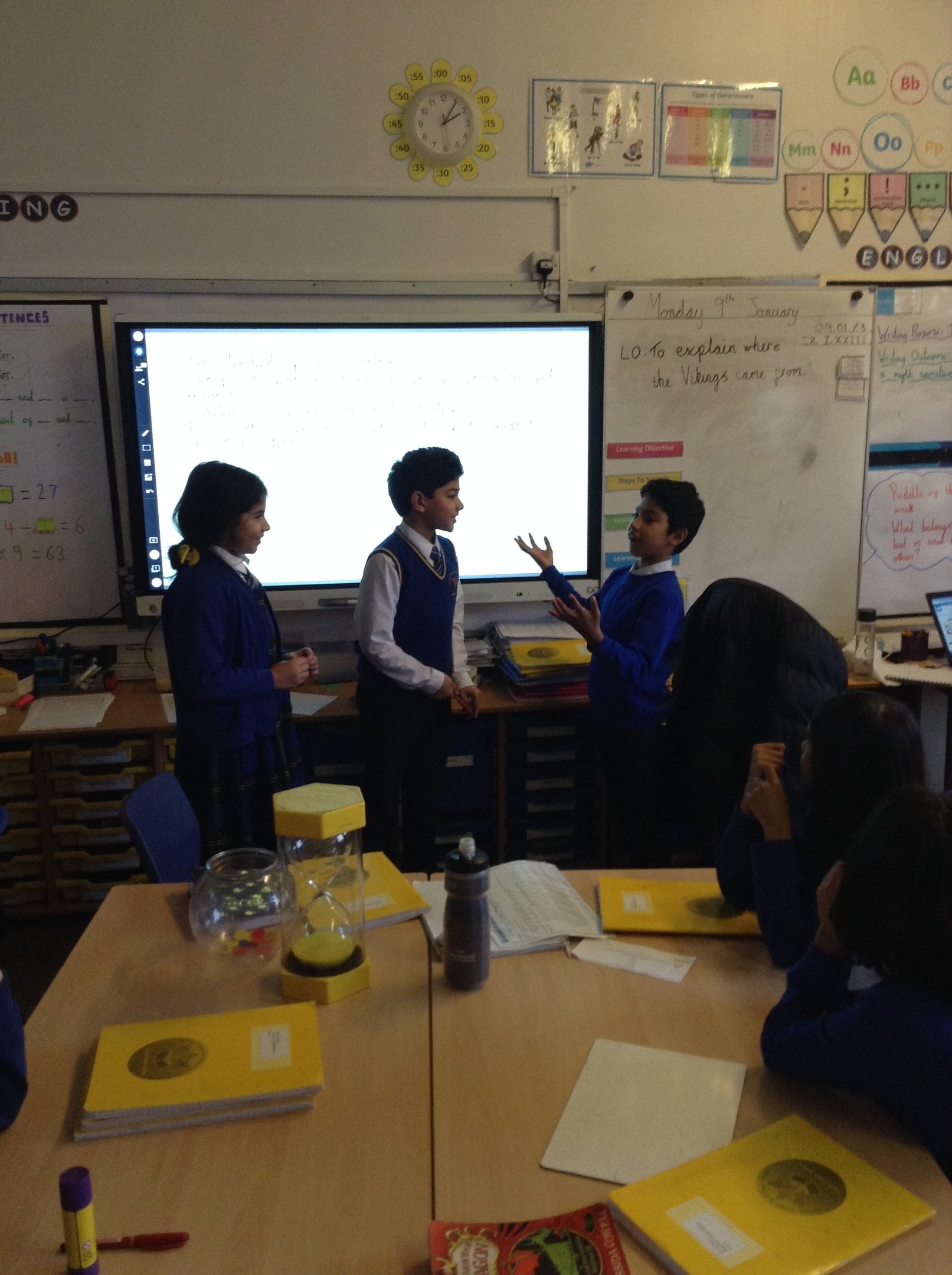 Solving 7s
Today in maths, we looked further into the 7 times tables. We solved all different types of problems relating to the 7s and also created our own problems for others to solve!
Introducing Vikings!
Today we began looking into the historic warriors - the Vikings. We looked at their timeline to understand what happened during their tenure and then, in pairs, acted out different stages on the timeline.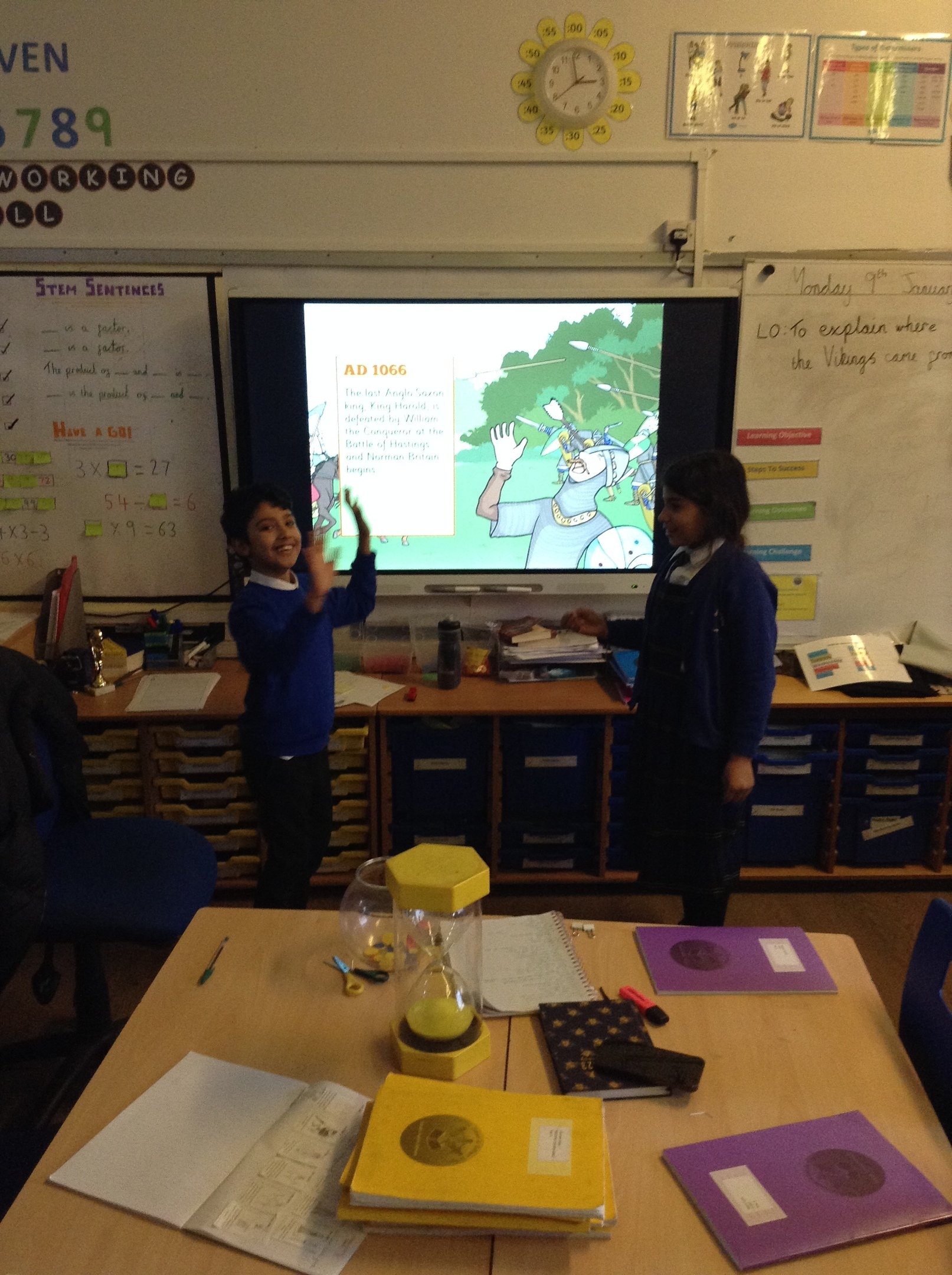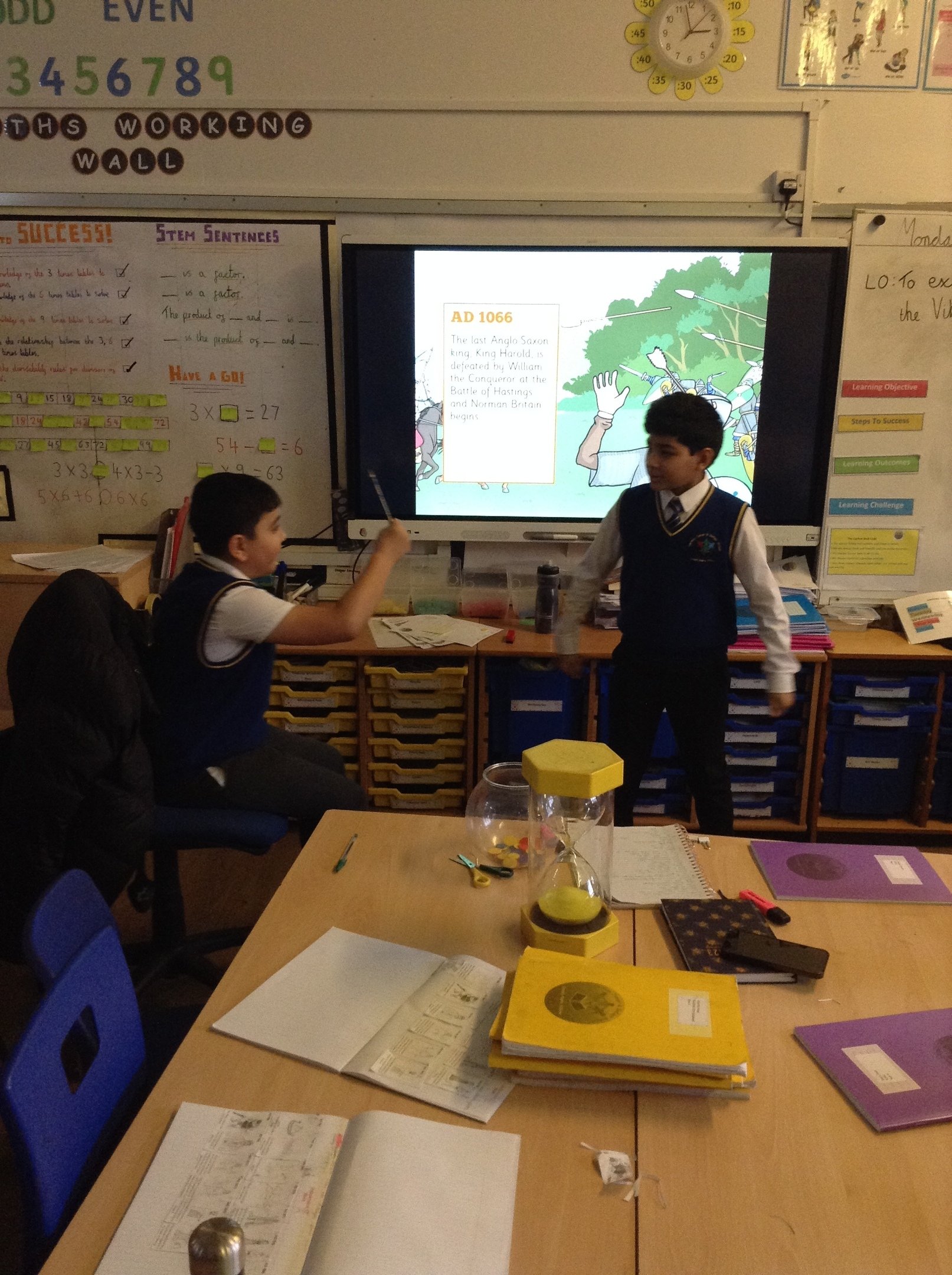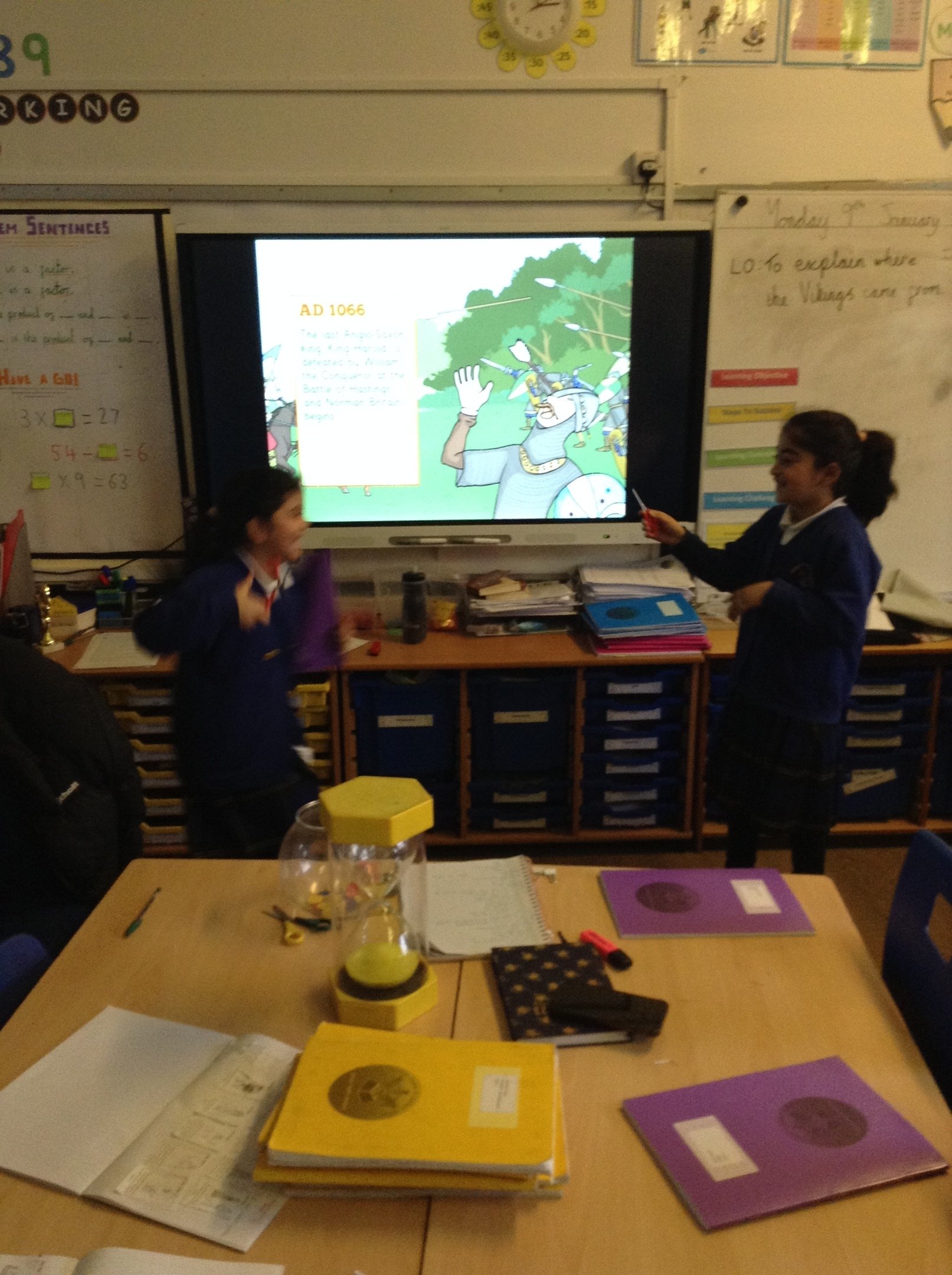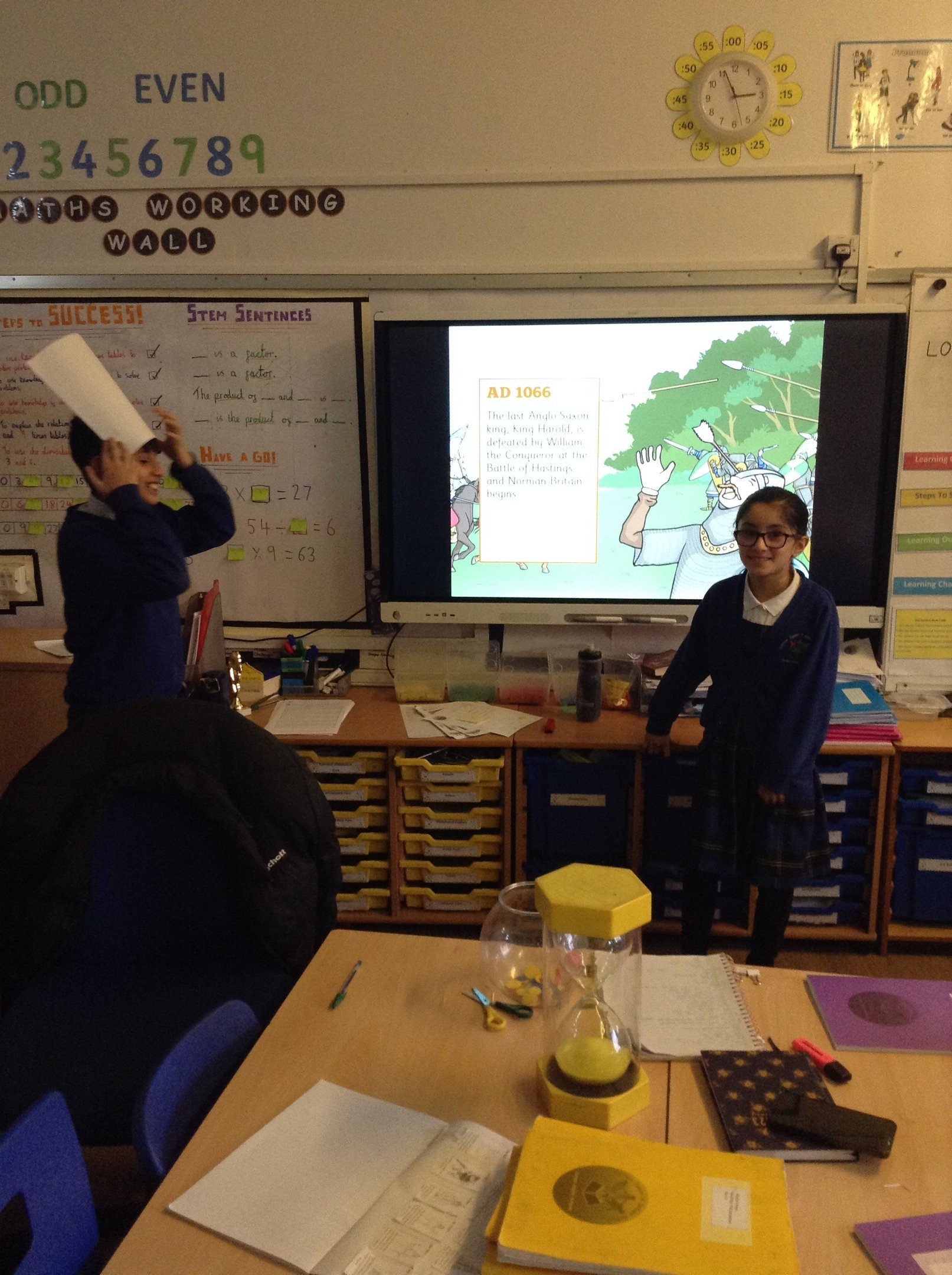 Dance-Off!
Today, we had our first dance session of the term! We practised the first part of our dance routine to the song 'Shivers - by Ed Sheeran' which we will perform in our end of term dance assembly!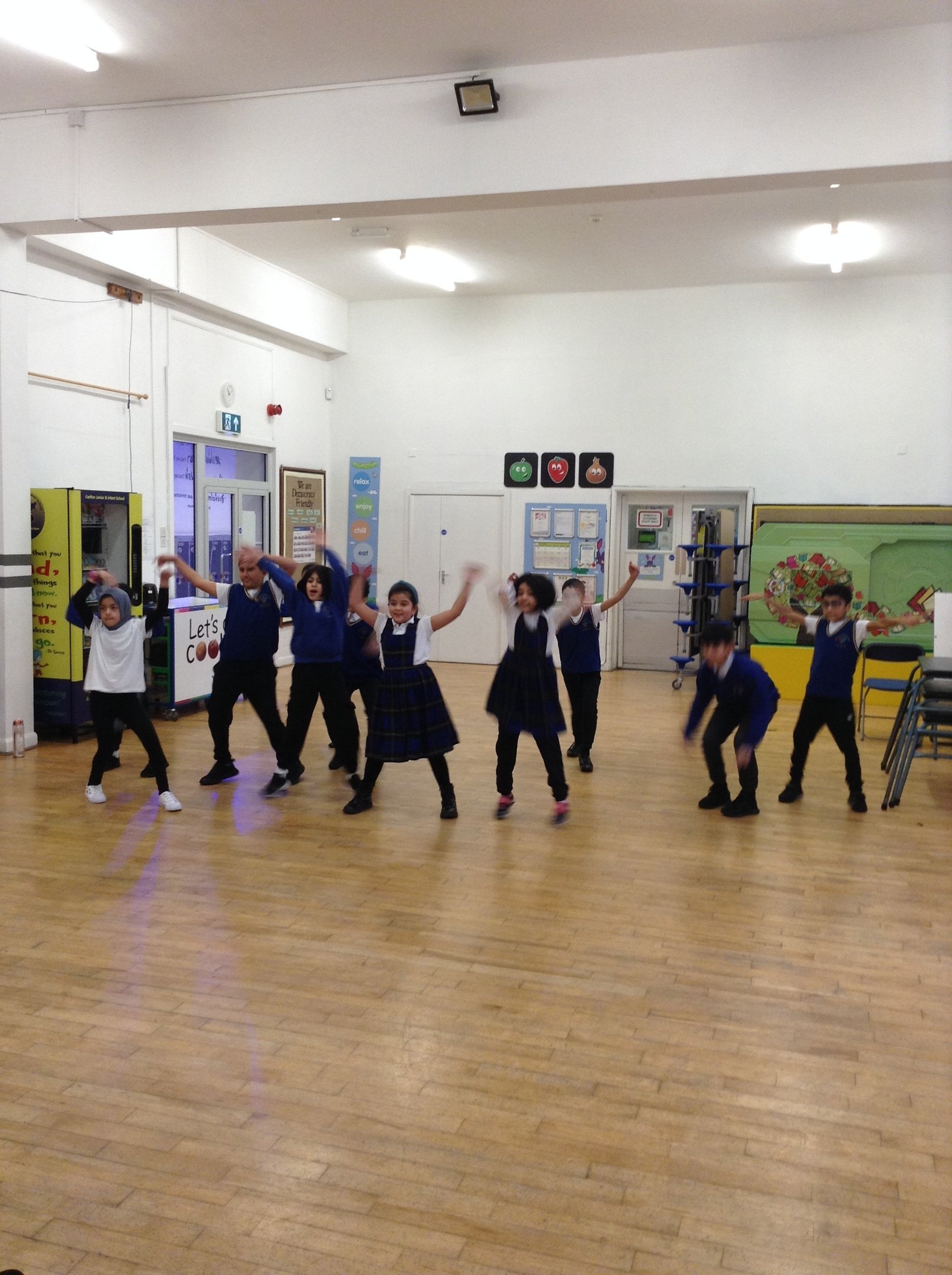 Odd or Even?
In our maths lessons, we used a mix of Numicon and Tens Frames to discover patterns in our times tables. We noticed that whenever you multiply by an even number, the product will always be even.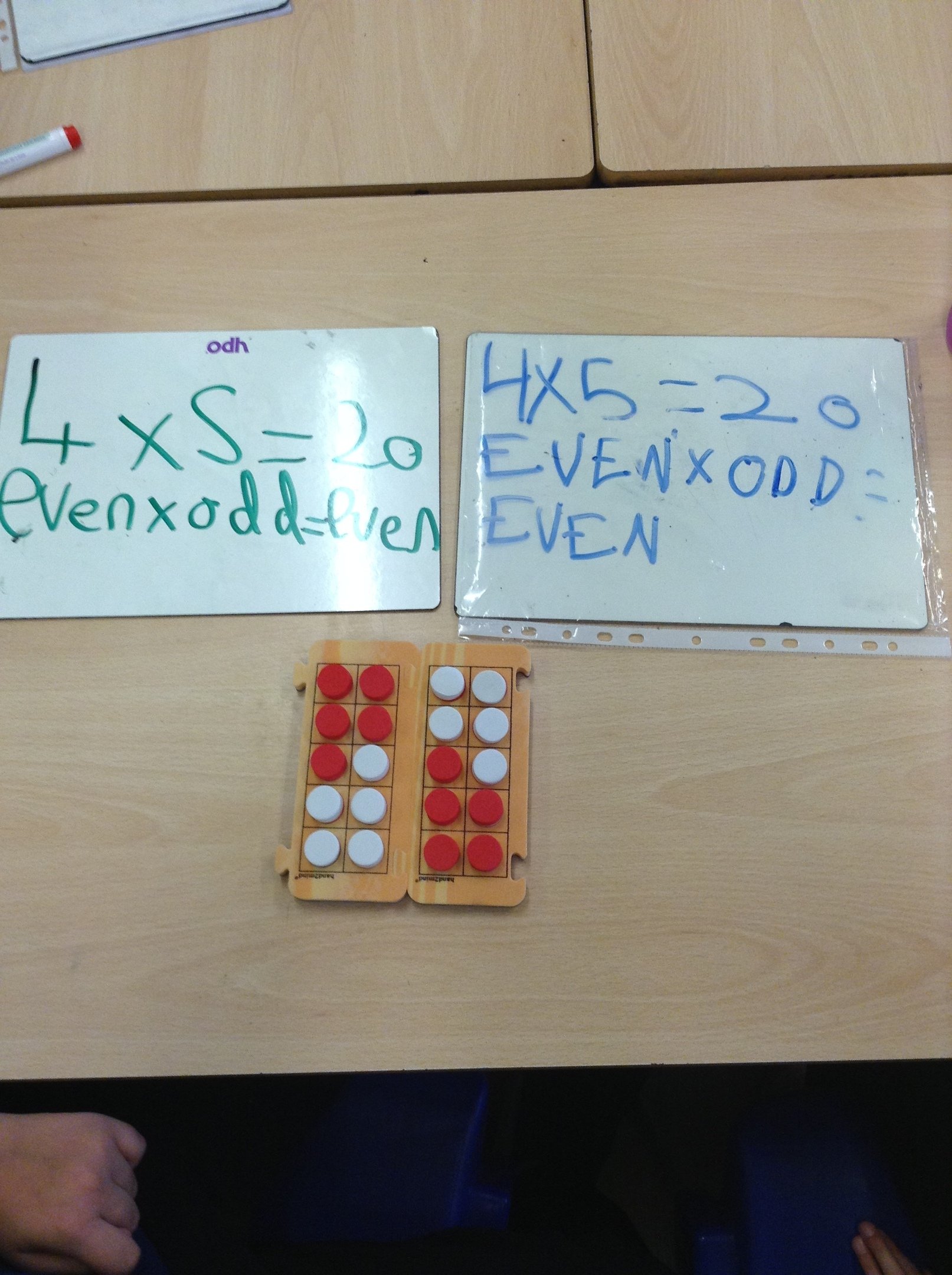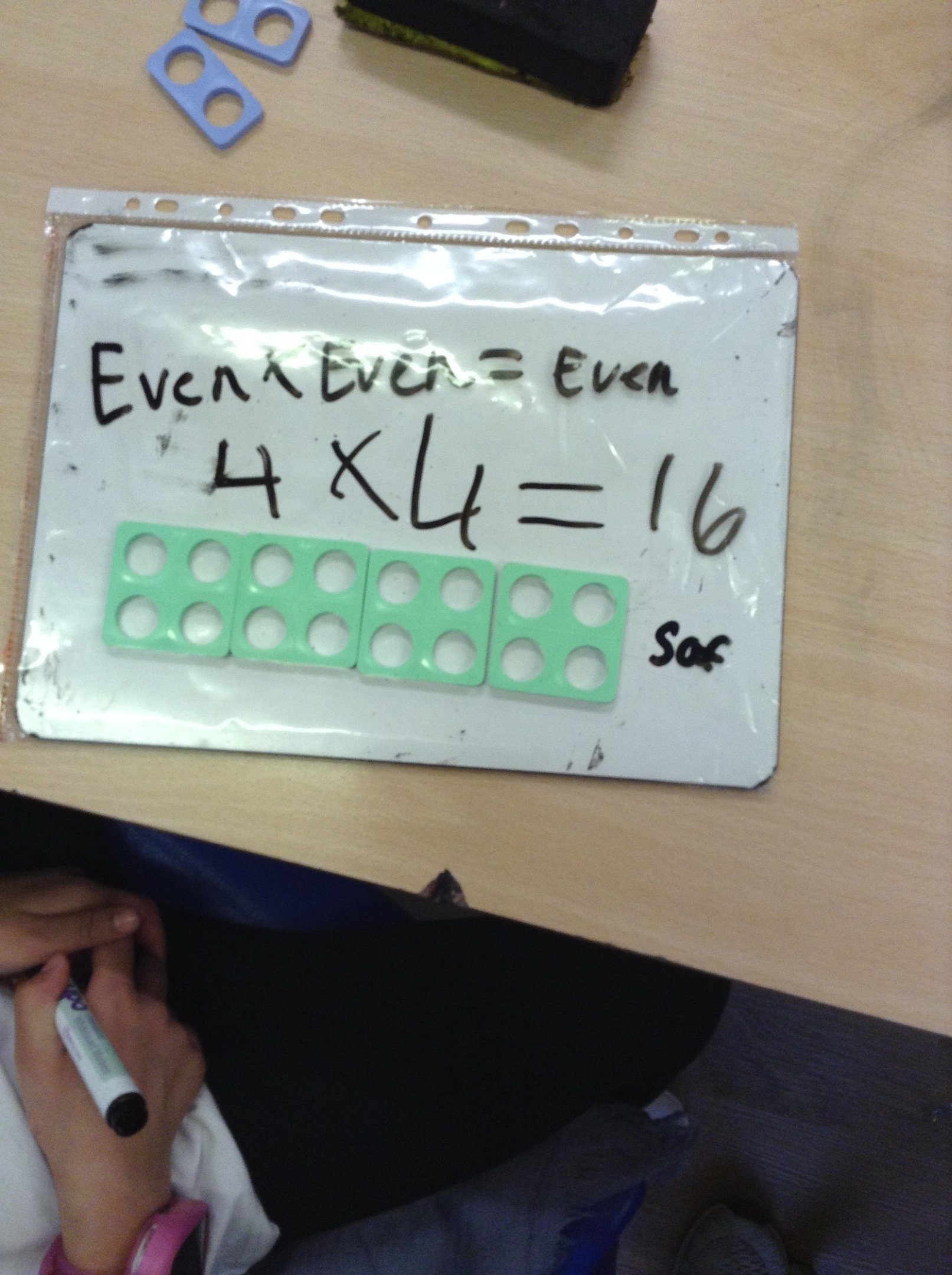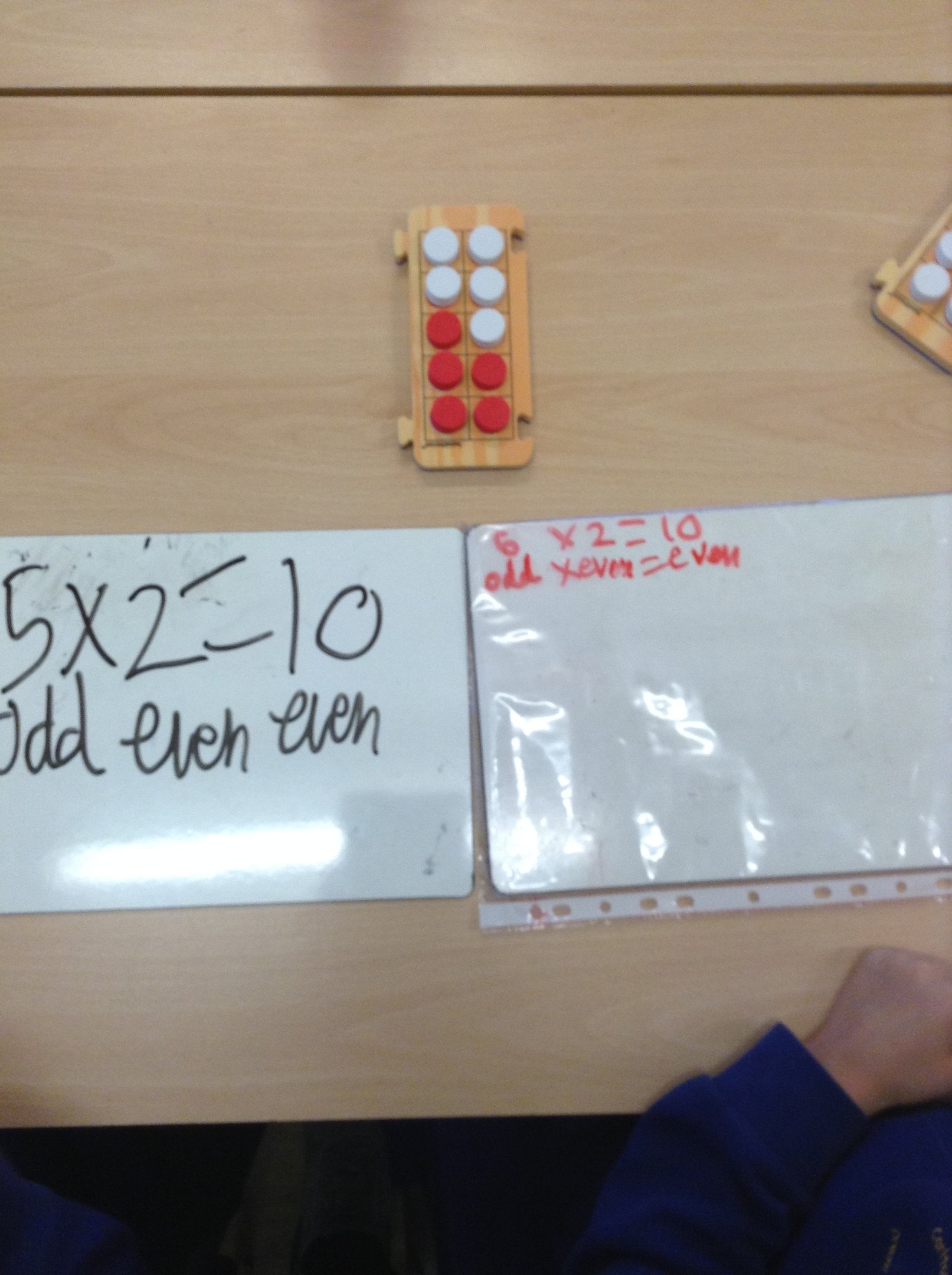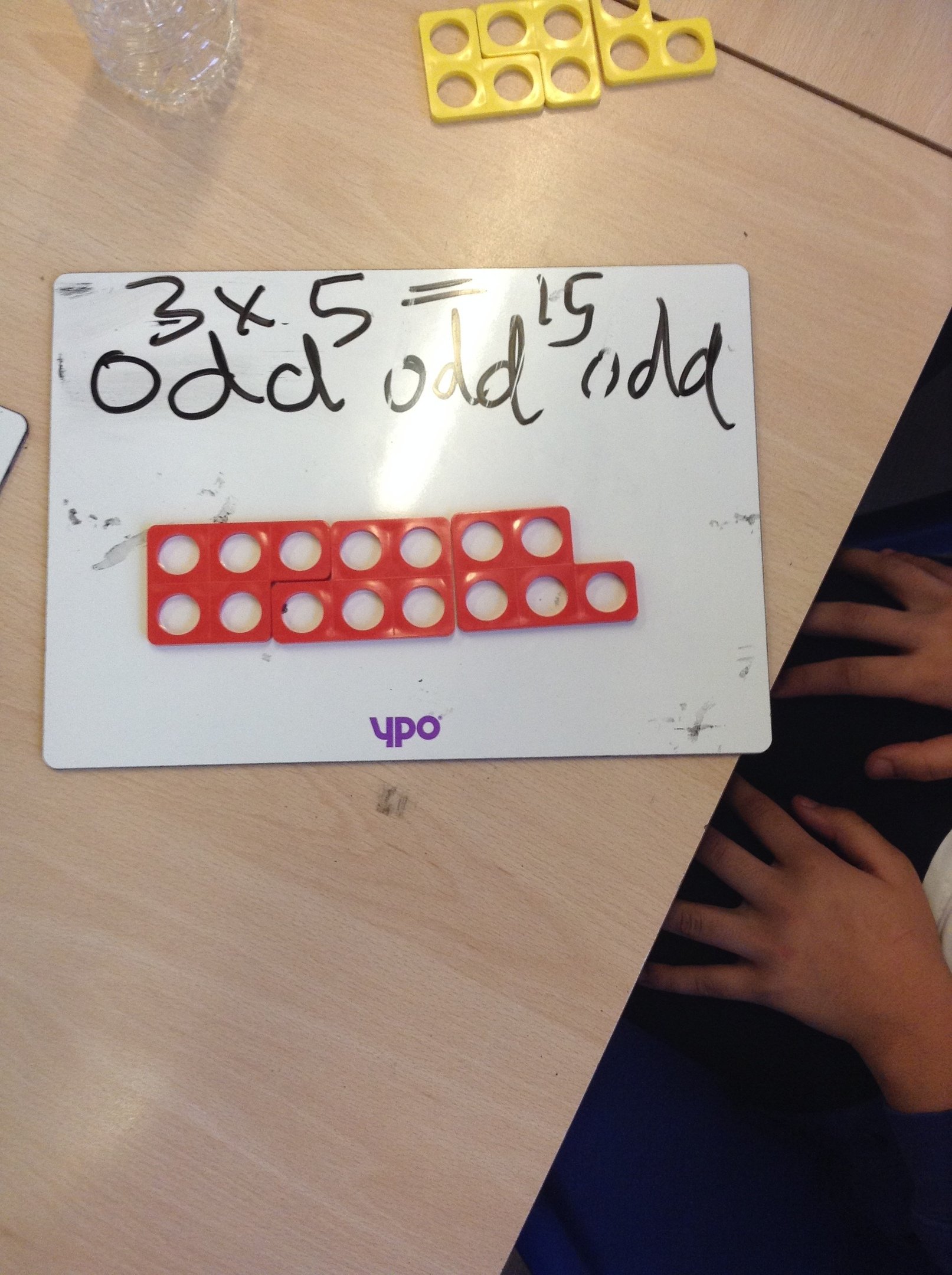 Playing with Glockenspiels
This term in music, we are looking at using glockenspiels. This has involved us practising famous music pieces as well as also having the chance to create and and perform our own pieces too!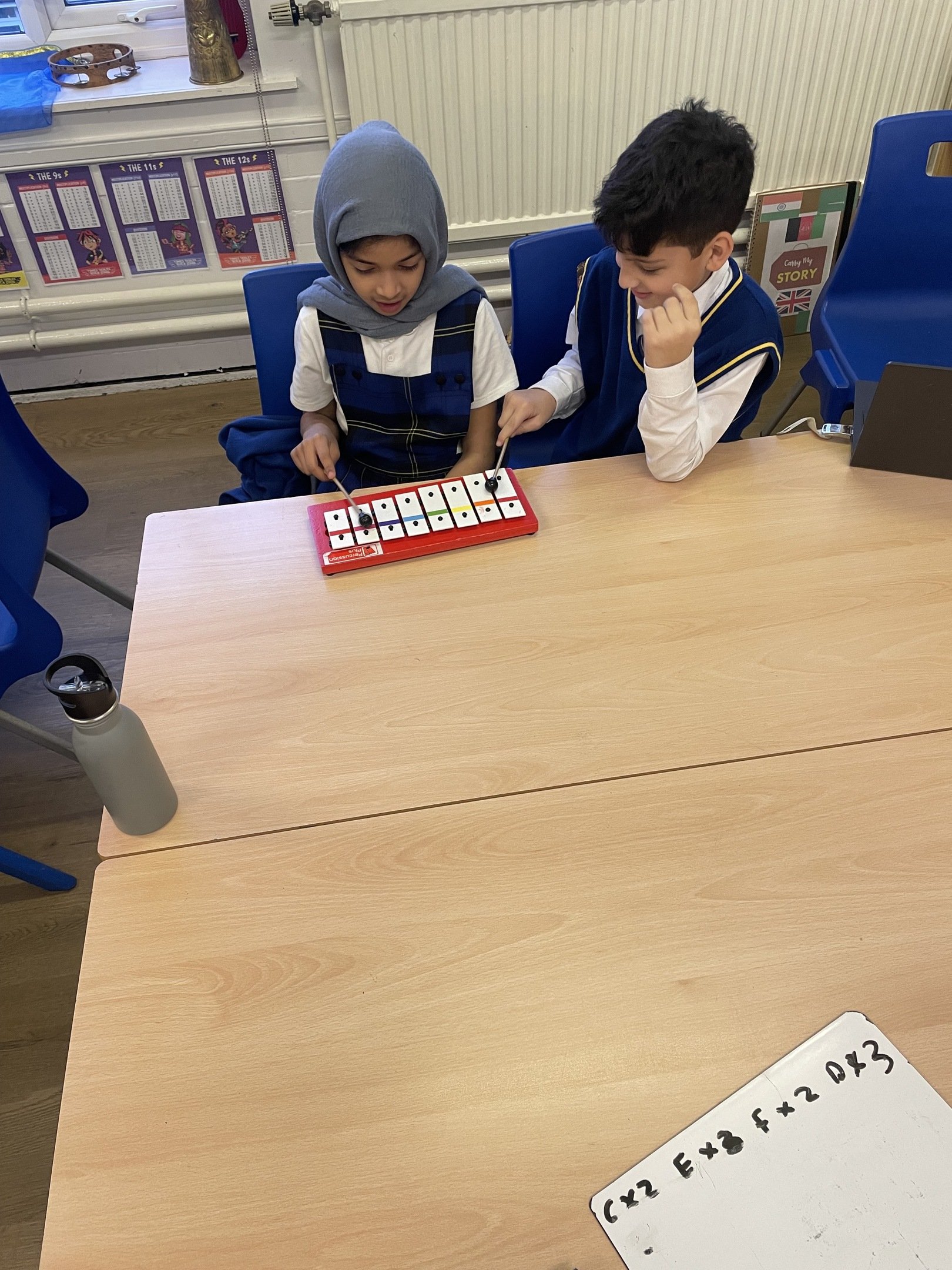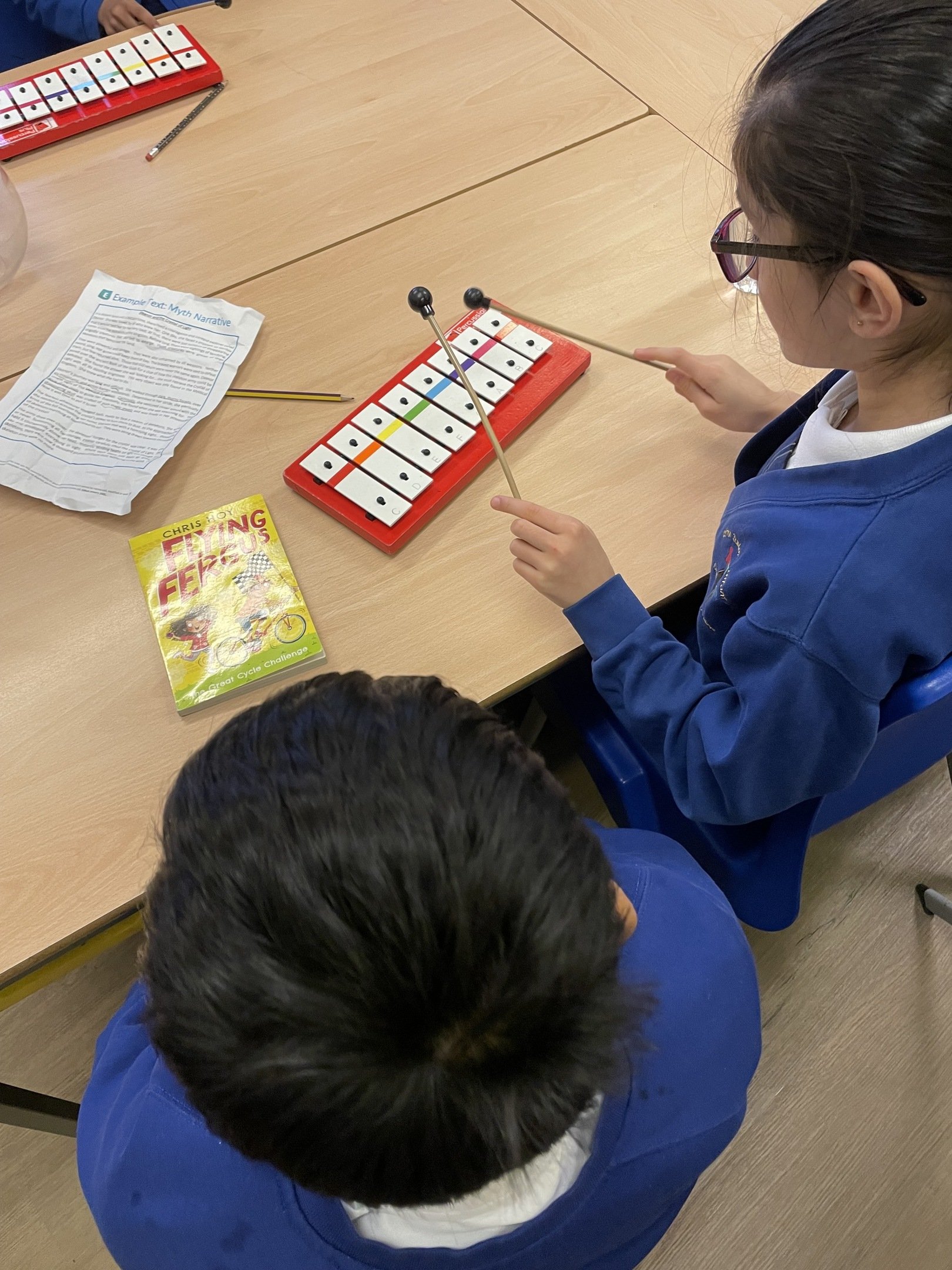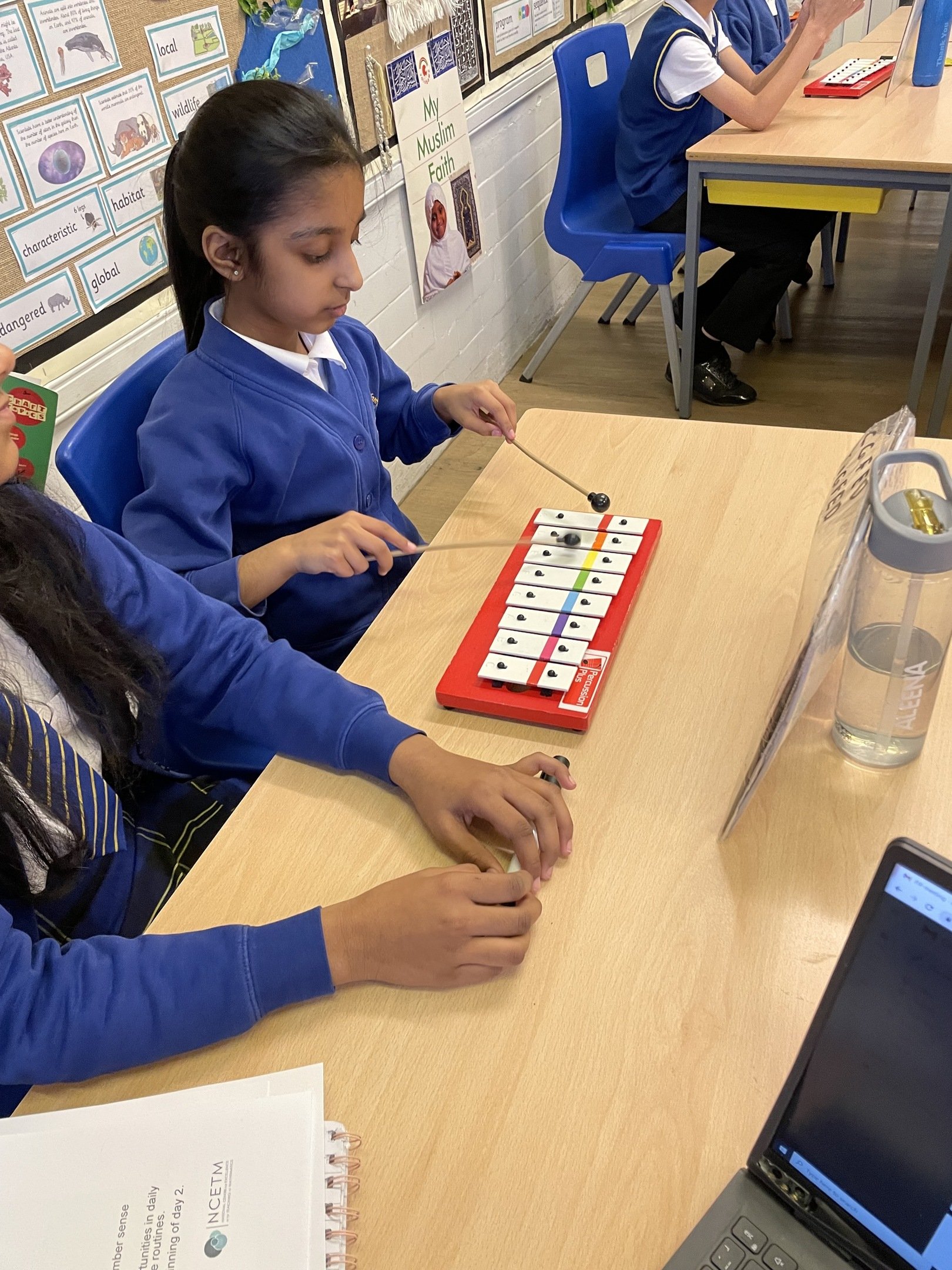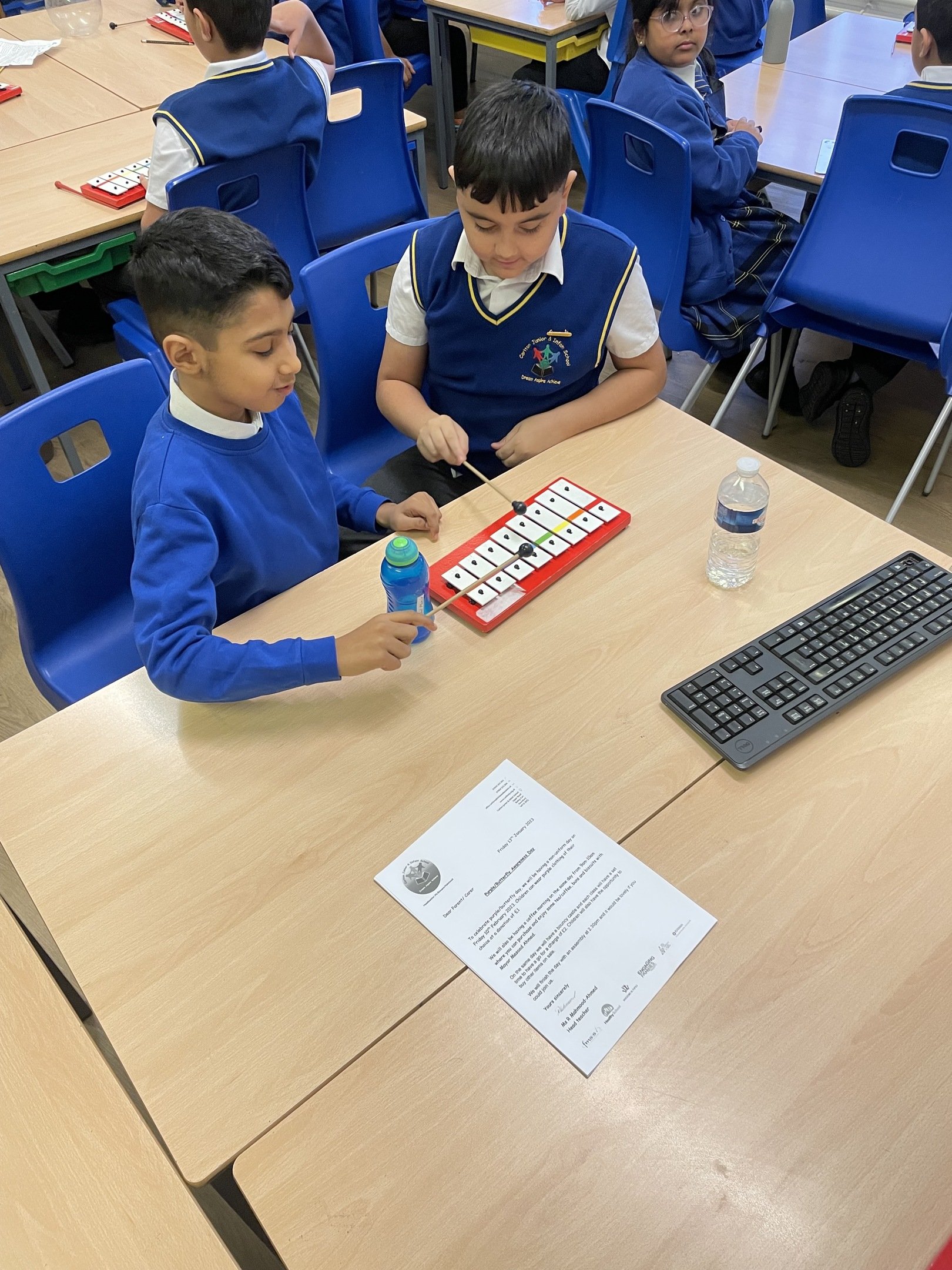 Relationships in maths
Today in our maths lesson, we looked at the relationship that multiplication equations had with their matching division equation. We also looked at using some new mathematical language too.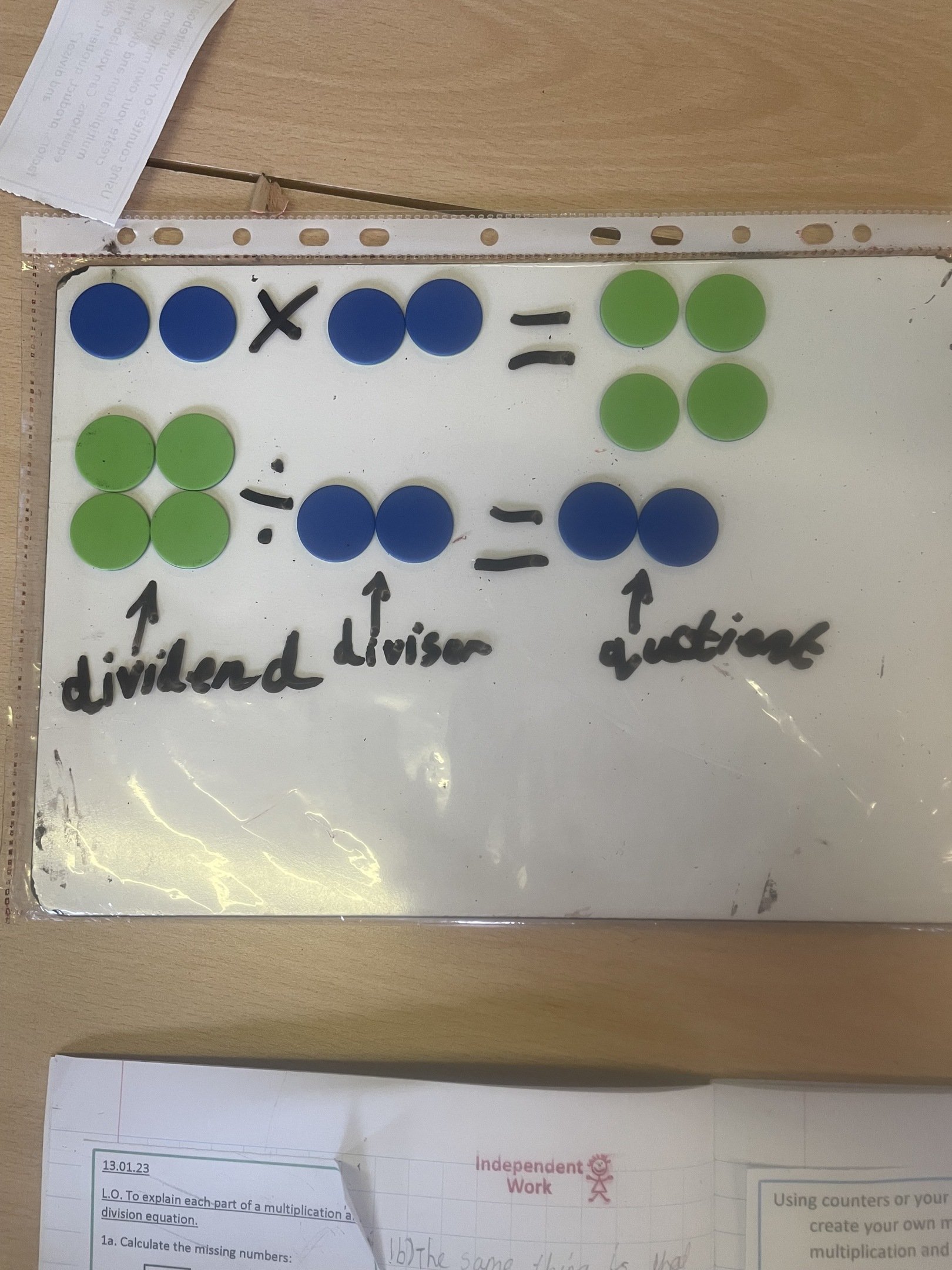 Our Times Tables Rock Stars
This week, we had some Times Table Competitions for children to take part on between themselves and their classmates. These are this weeks winners!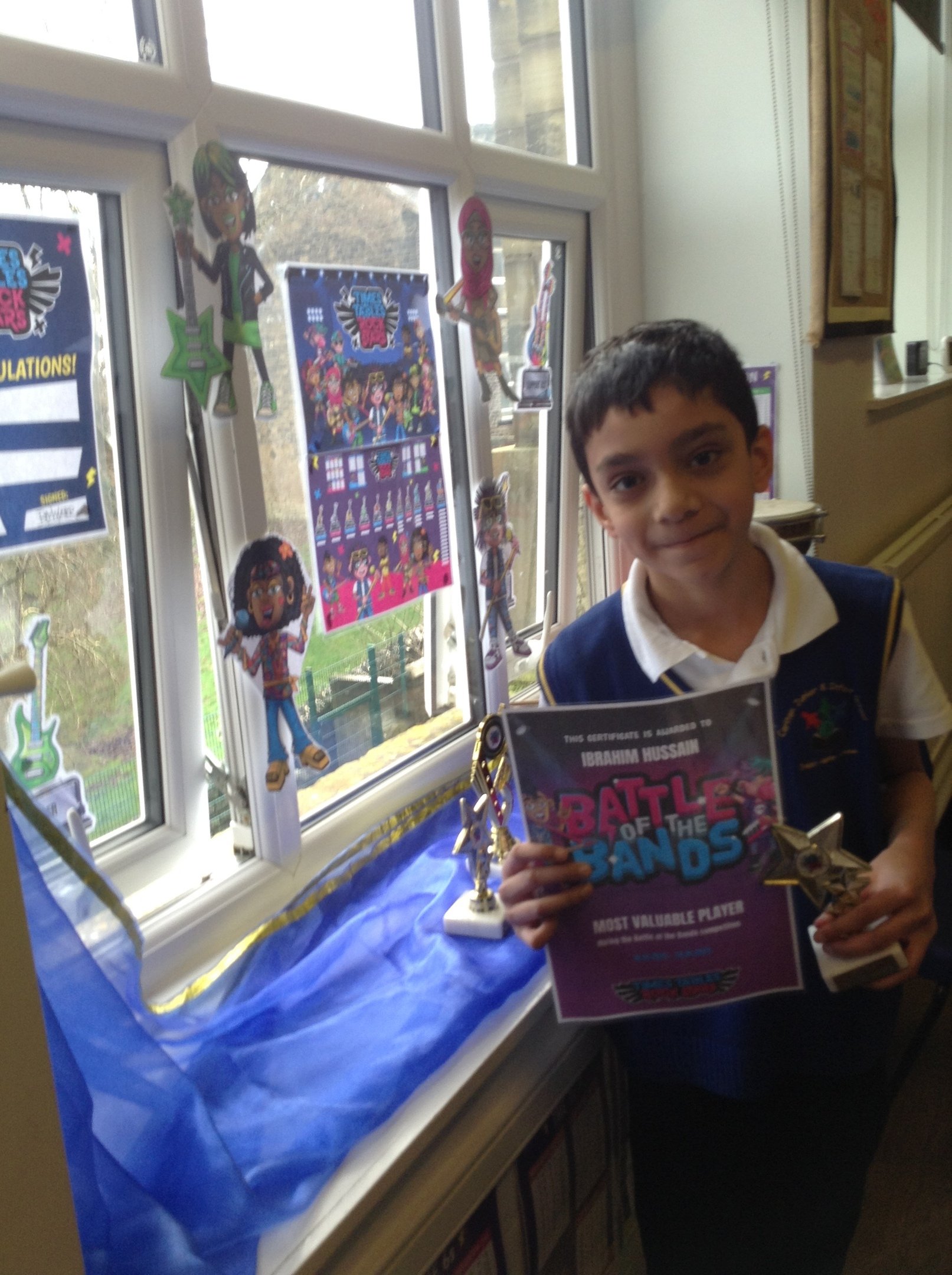 Viking Poetry
In today's Topic lesson, we looked at Viking poetry and had the chance to out different scenes to a famous Viking poem.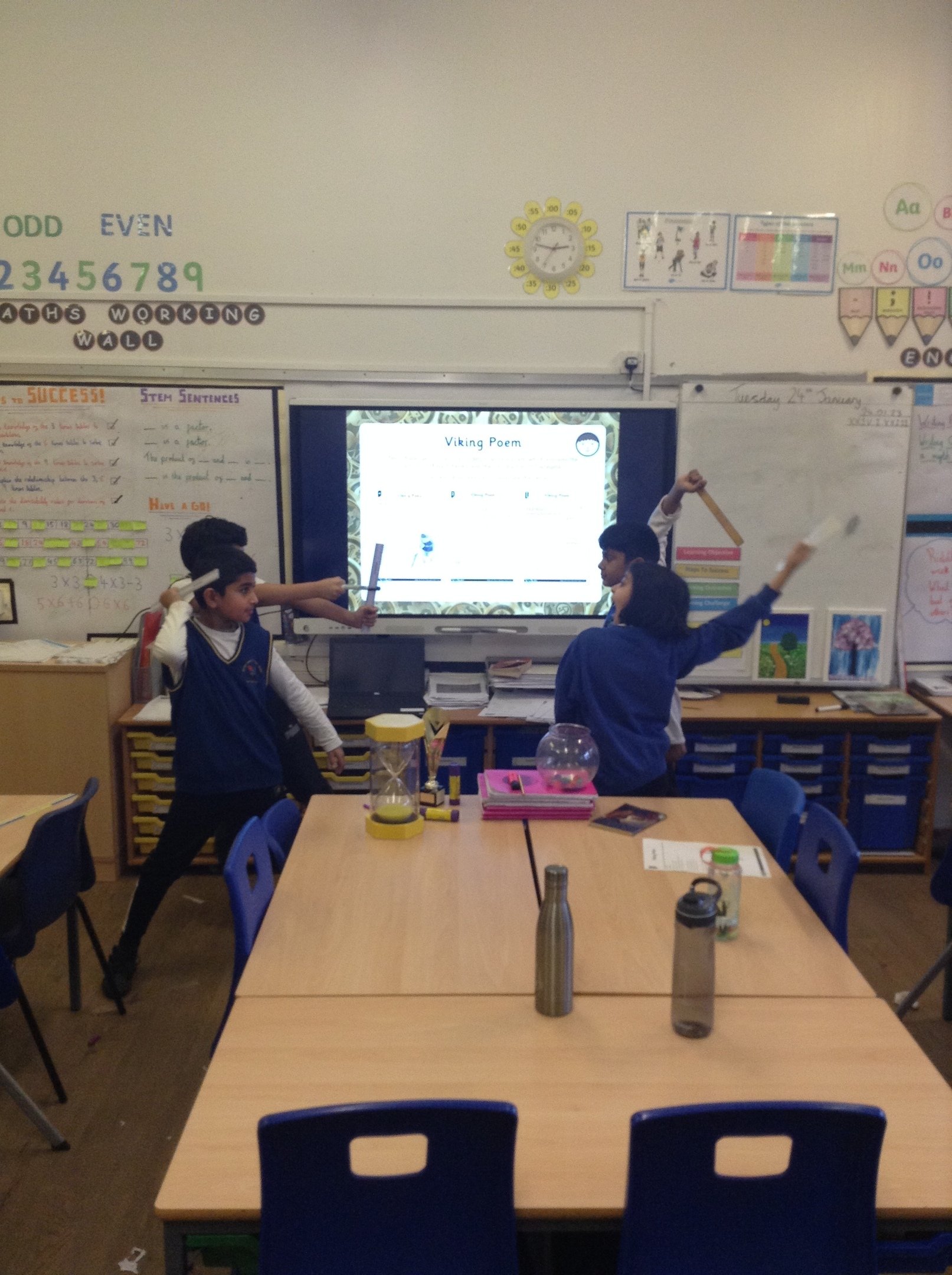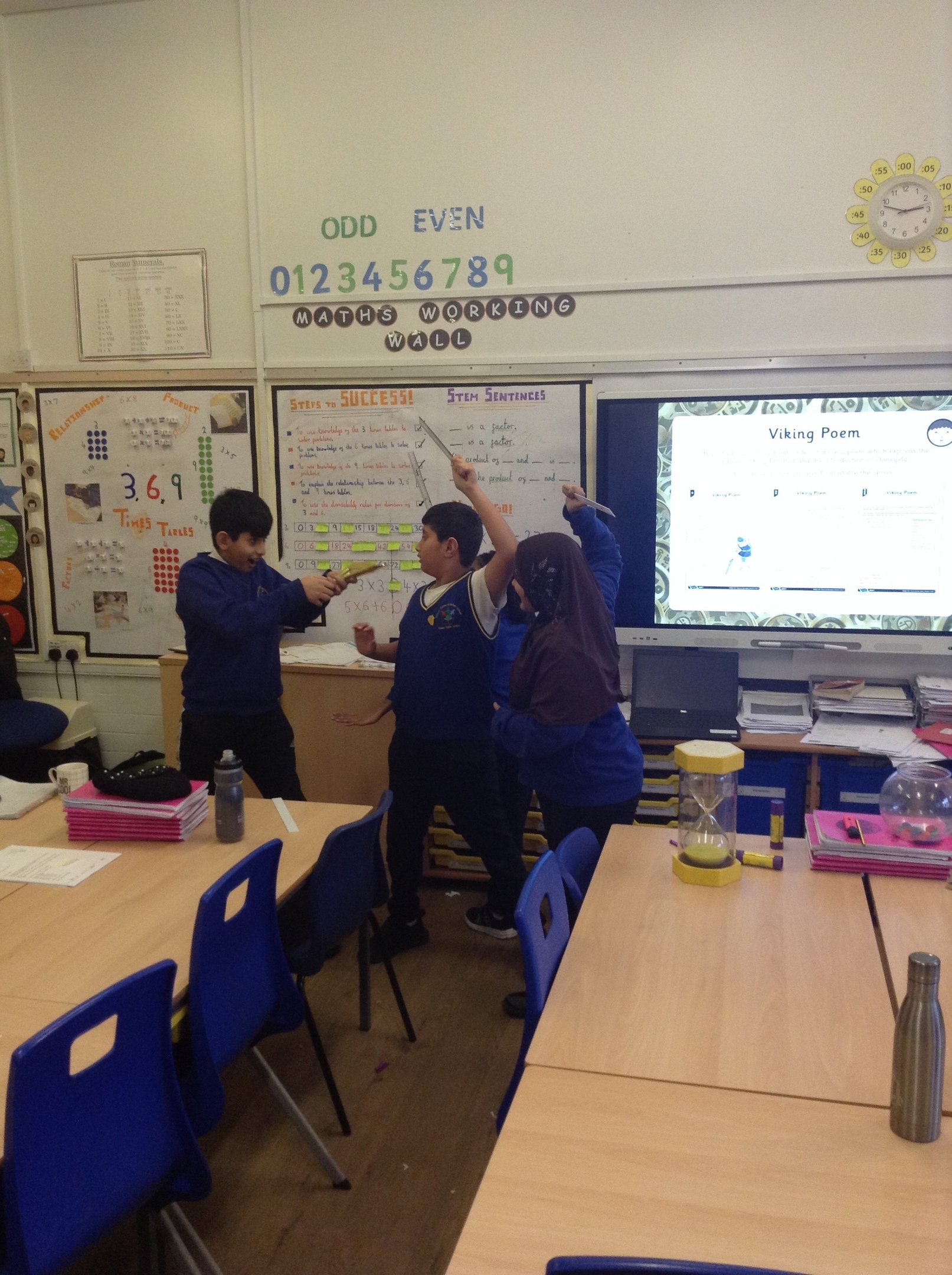 Dragonball
This half term, we have been practising a new sport called Dragonball. Here are some pictures of us playing it.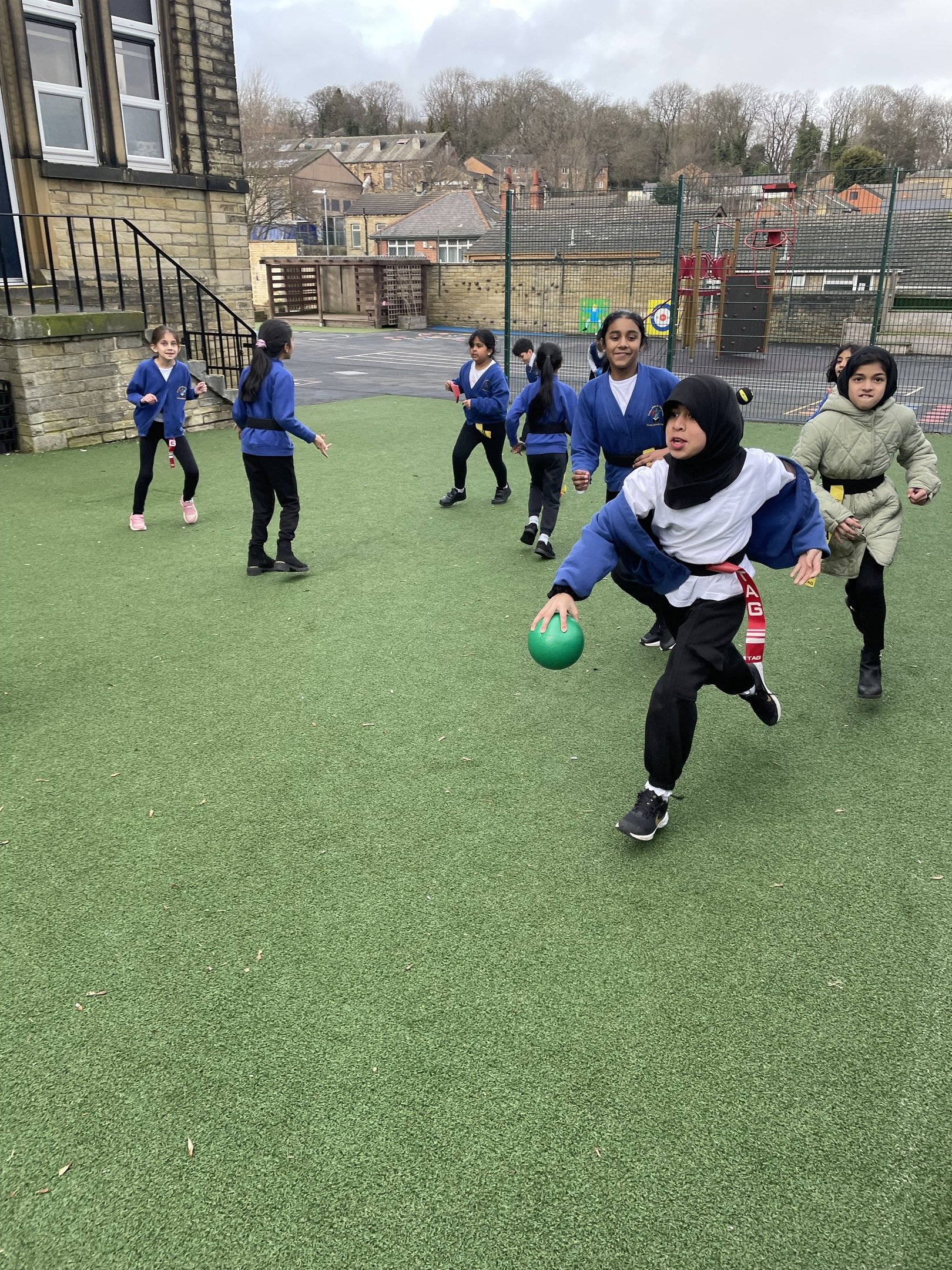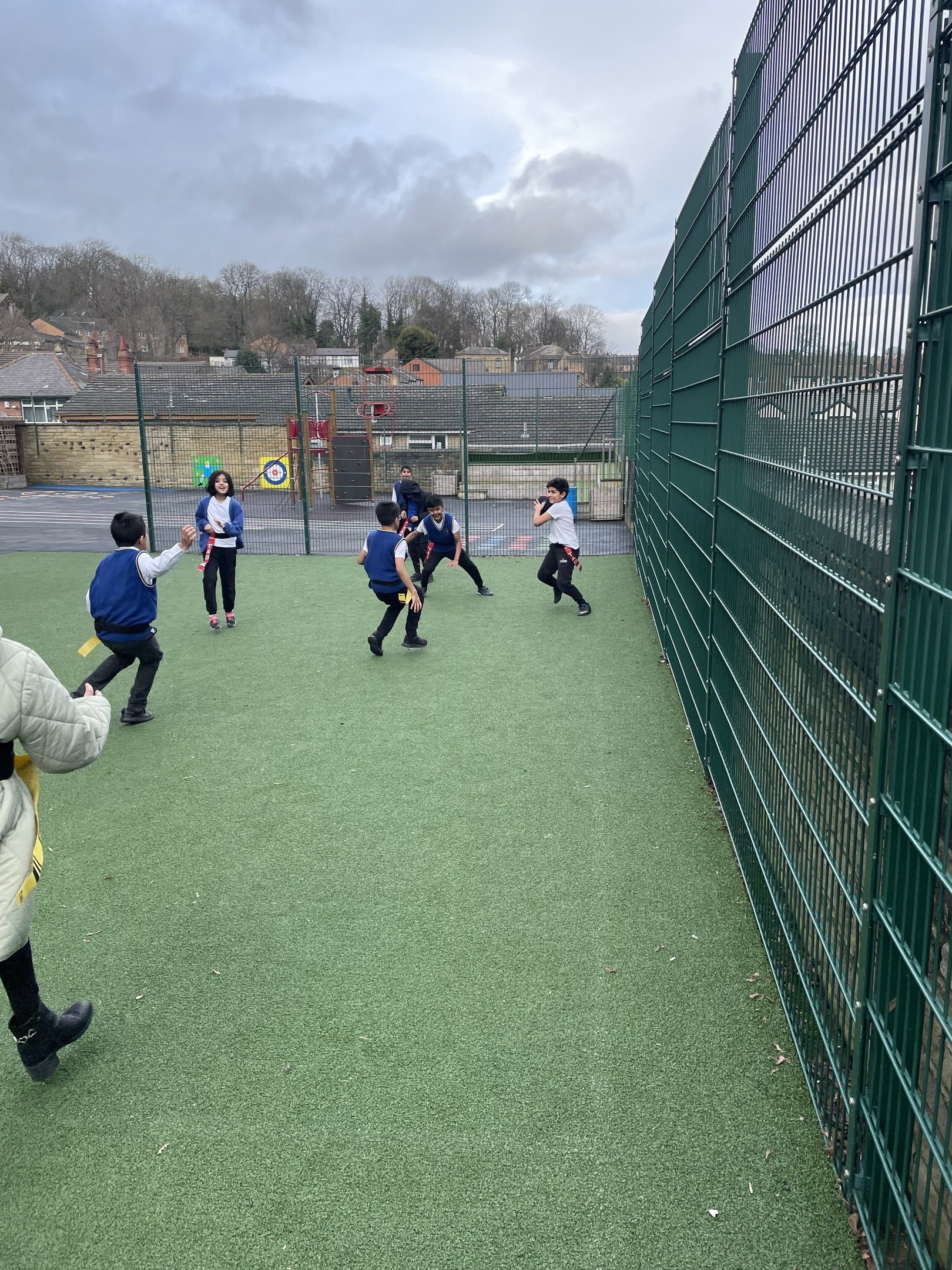 Number Day!

Today was Number Day. We played different number activities and dressed as a number to help raise awareness of Speak out Stay safe.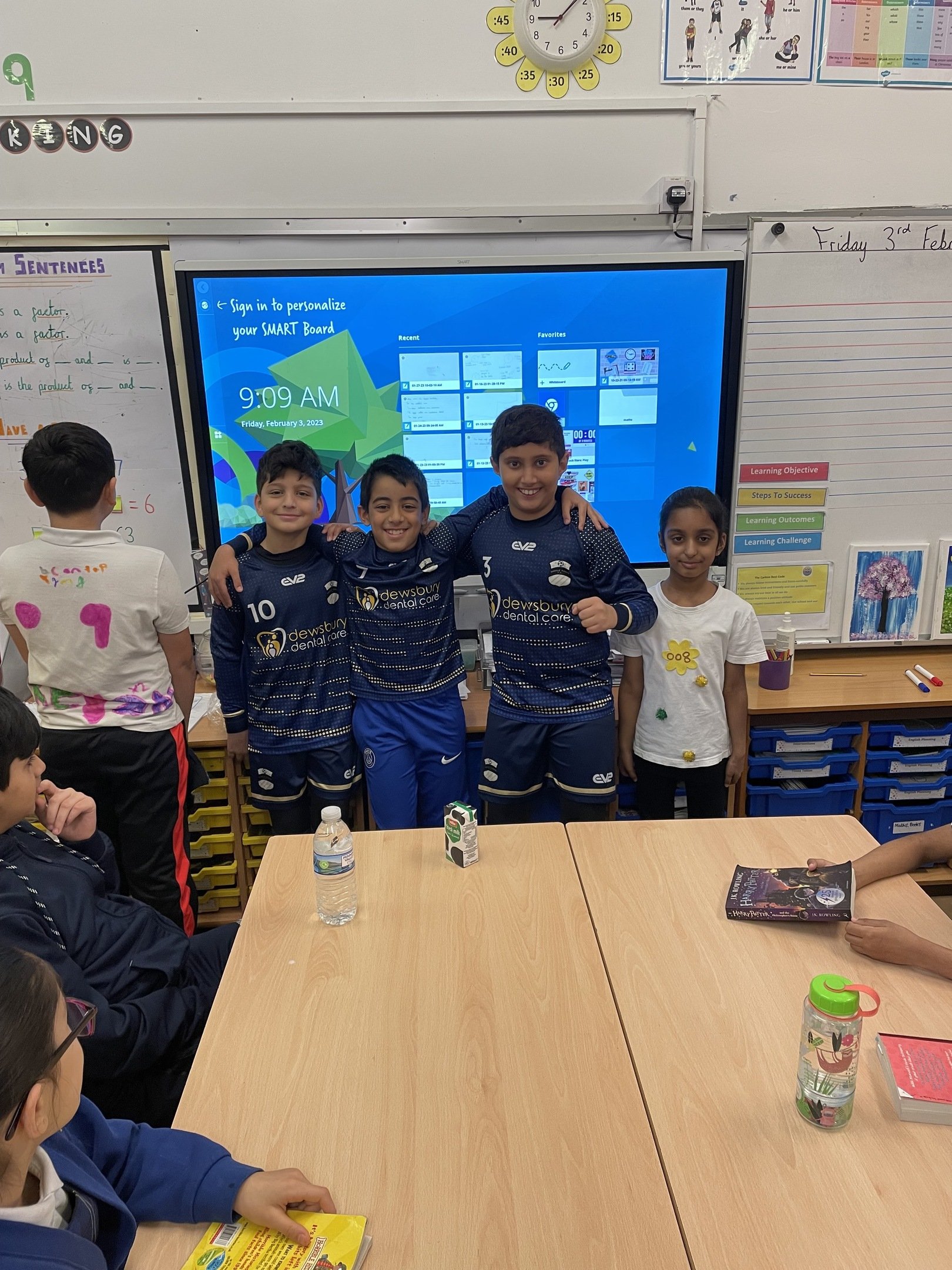 Characters in Music
In today's music lesson, we created our own characters and made music to match them.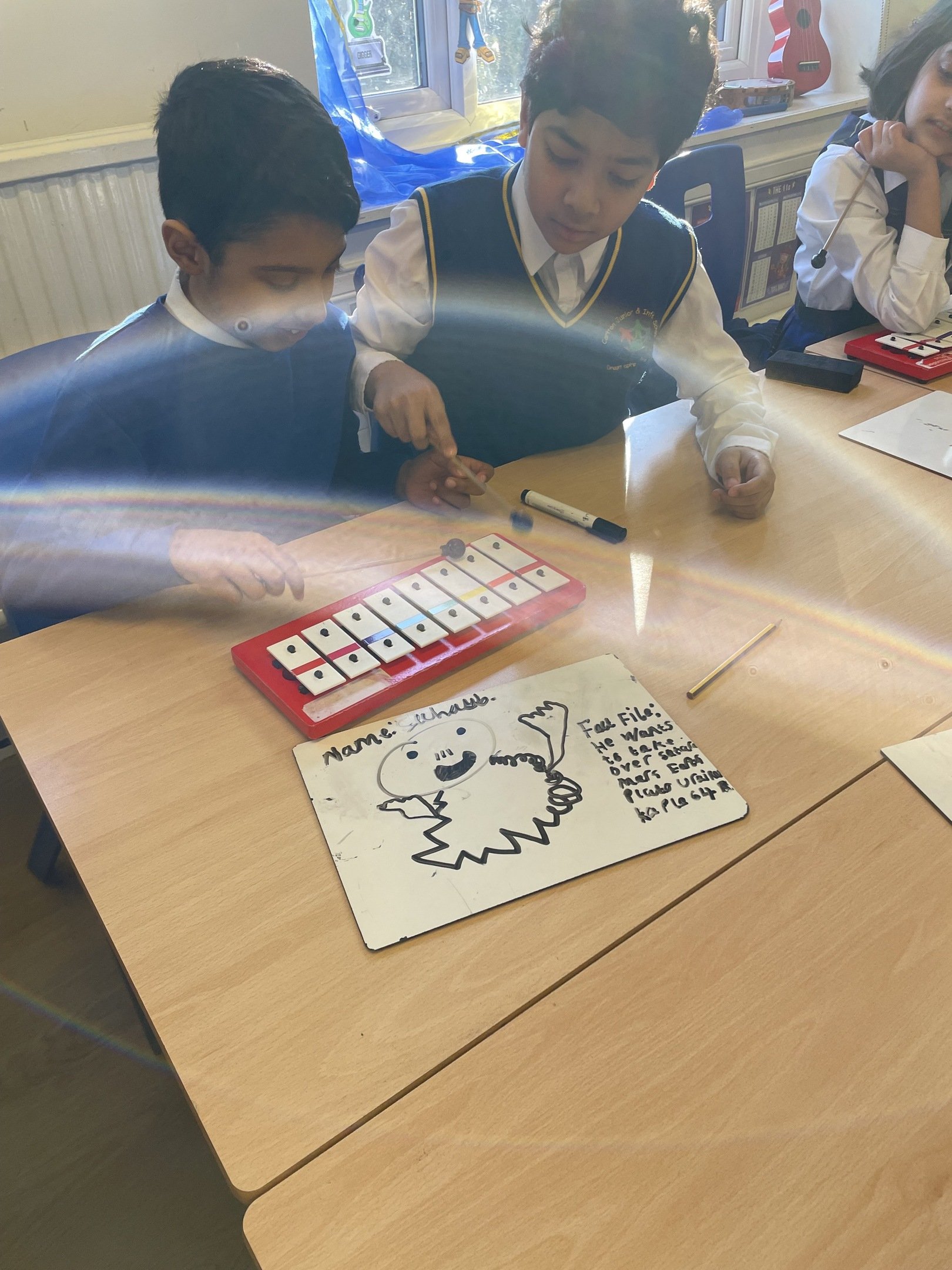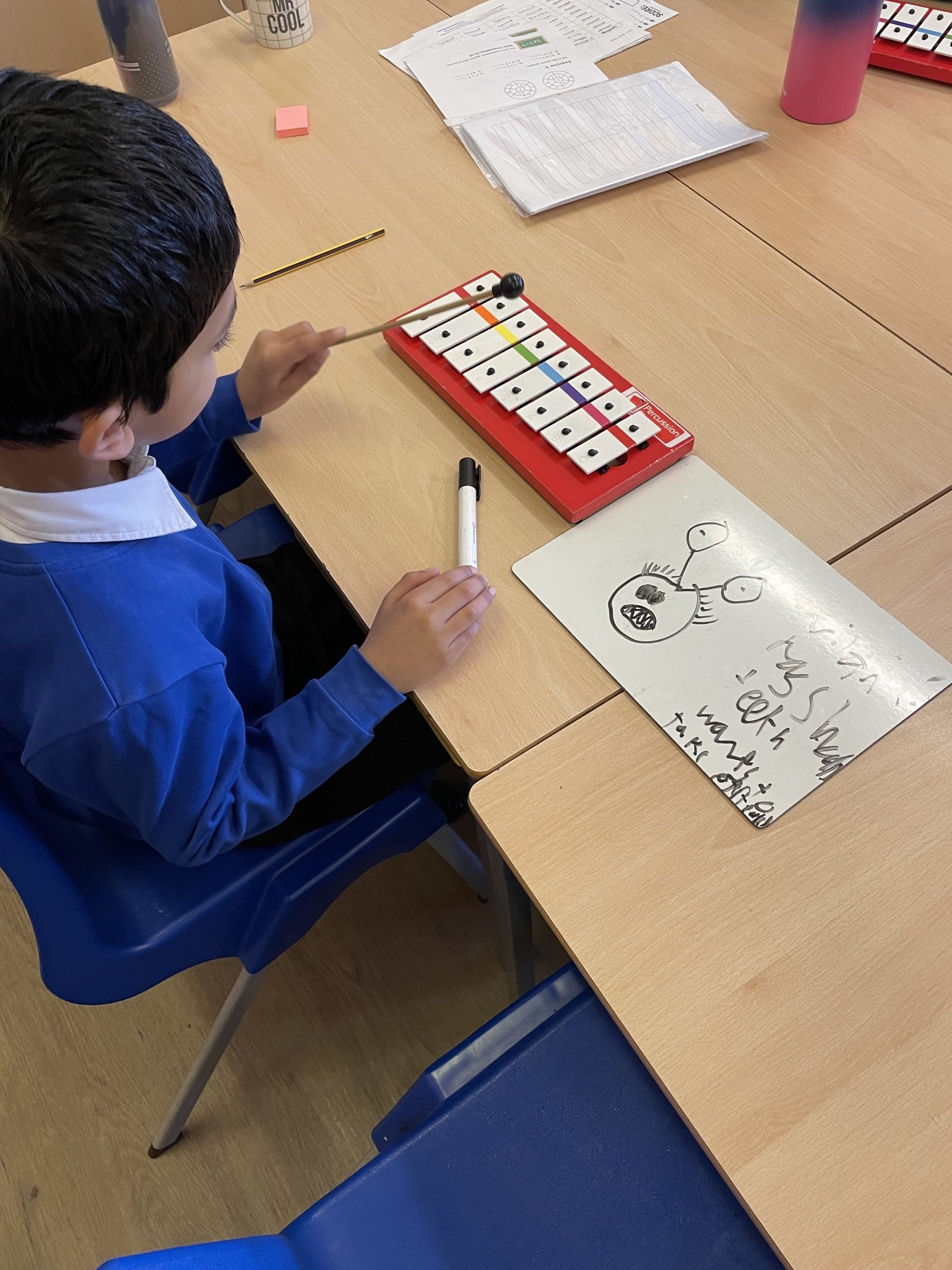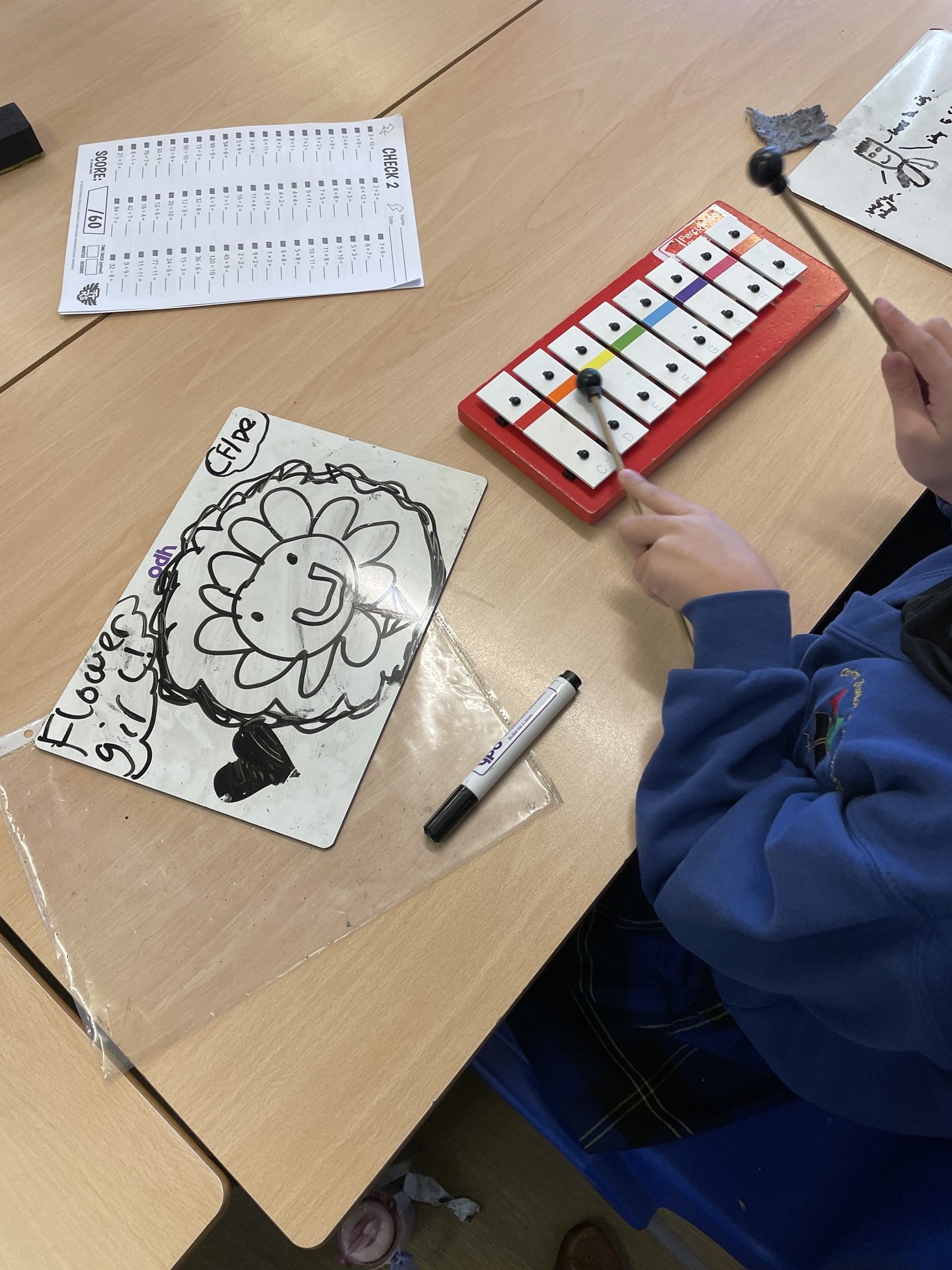 Mental Health Week
This week in Year 4, we celebrated mental health week, raising awareness of talking to others and sharing your feelings with those you trust.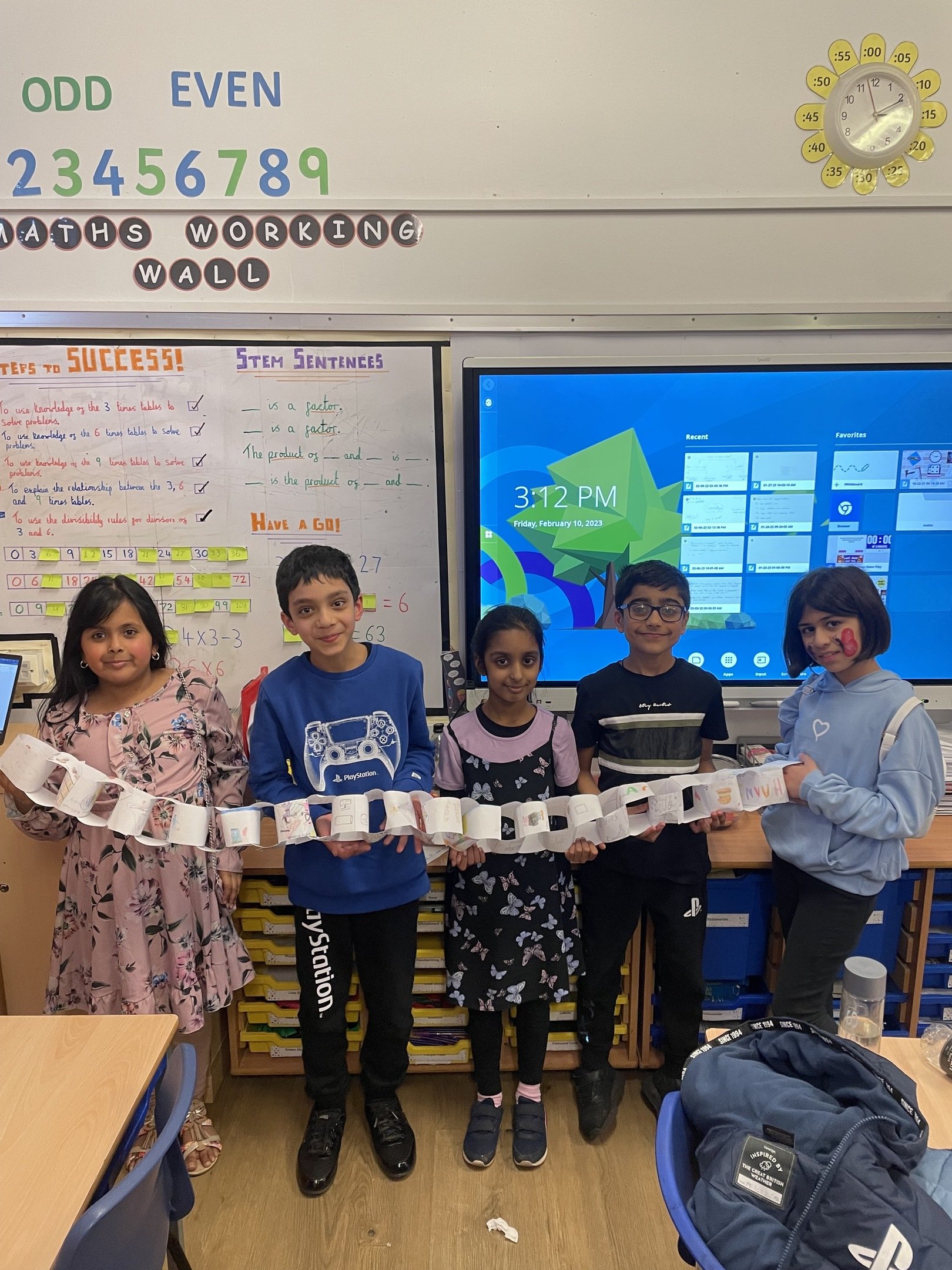 Online Safety
Today was Online Safety Day. We discussed the importance of being safe online and how best to do it, as well as making posters to share with others.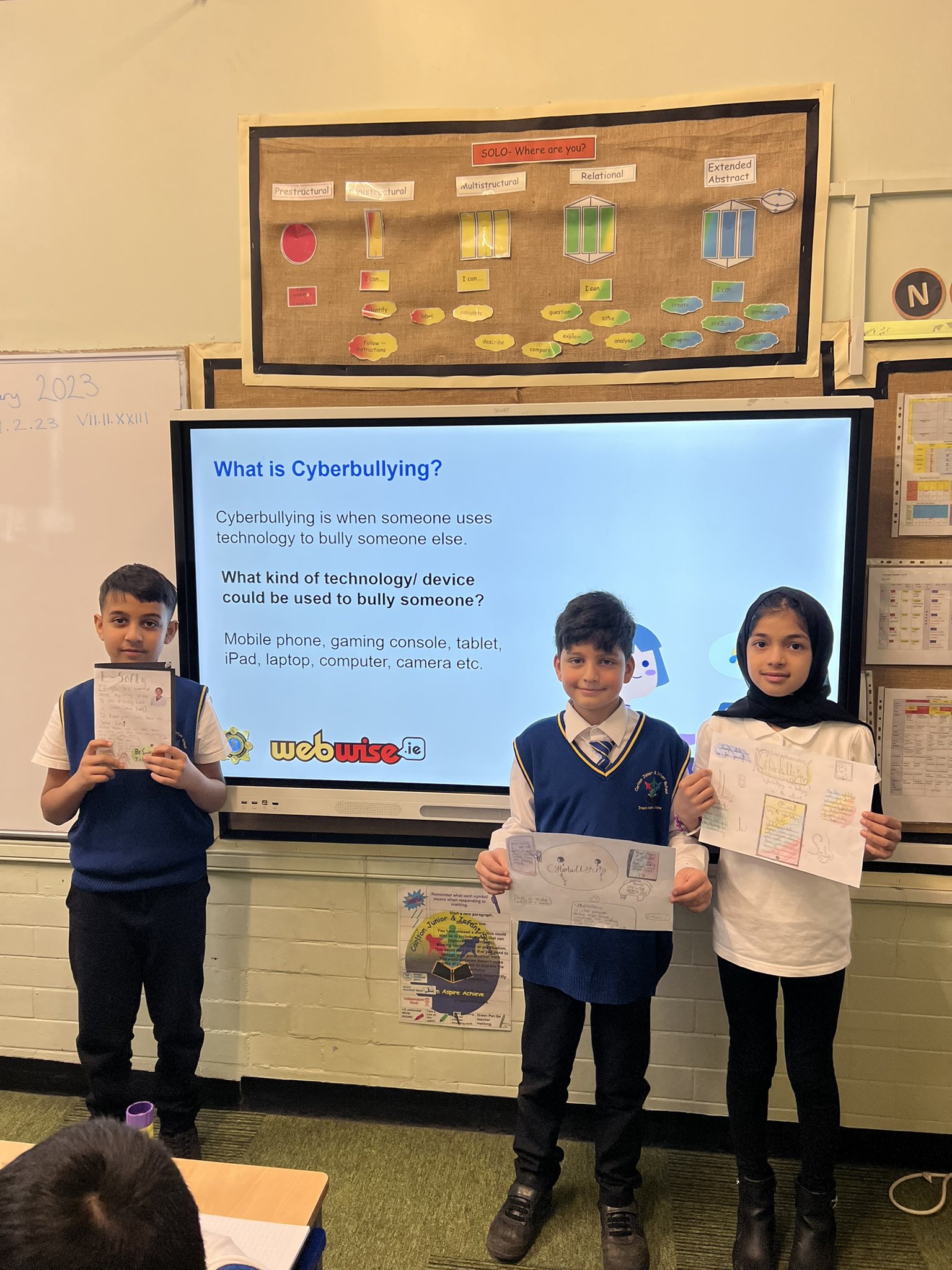 Classification Keys
Today in Science, we were able to explore the outdoors and look for different invertebrates. We then looked at comparing them and making classification keys to identify them.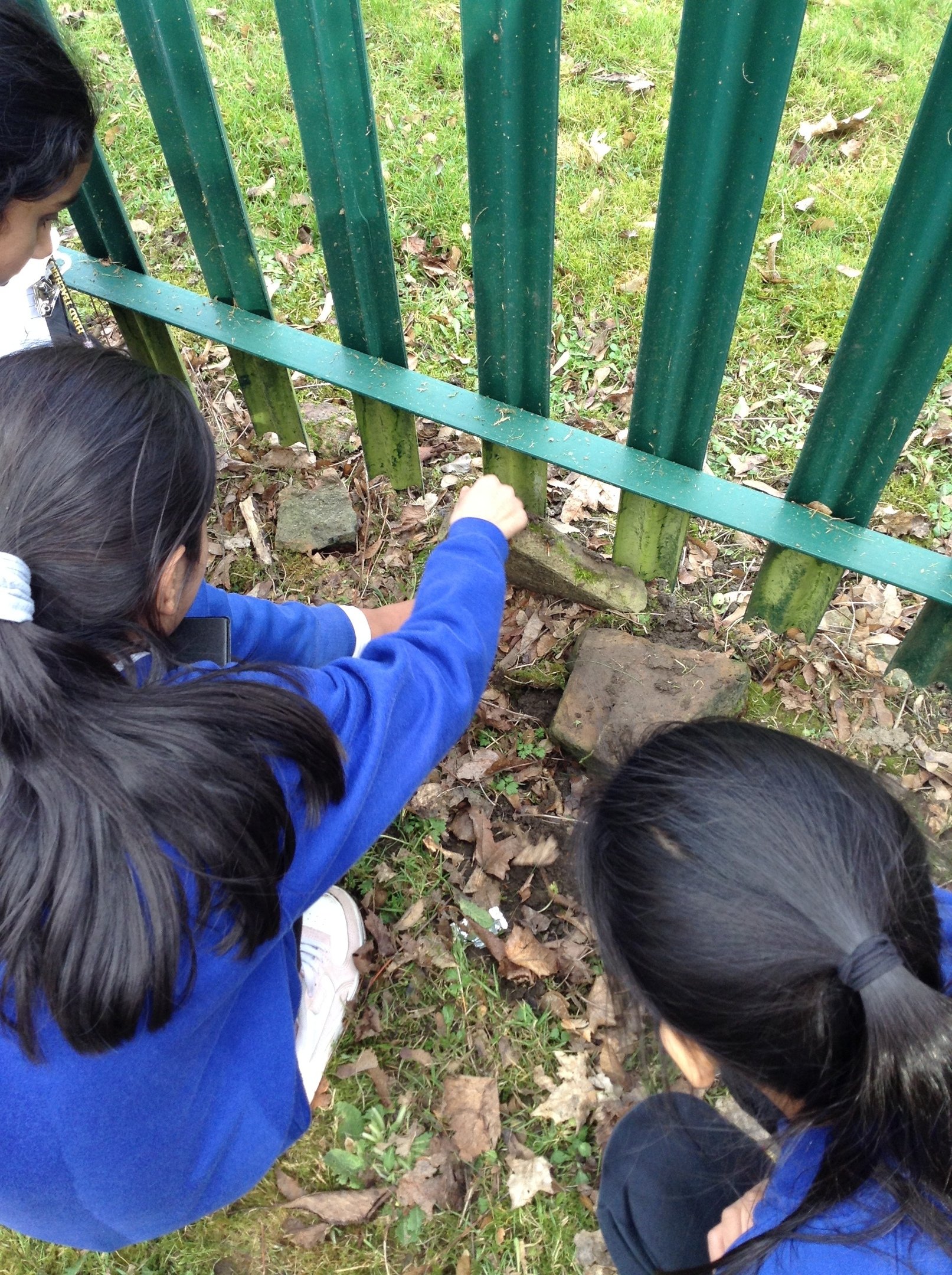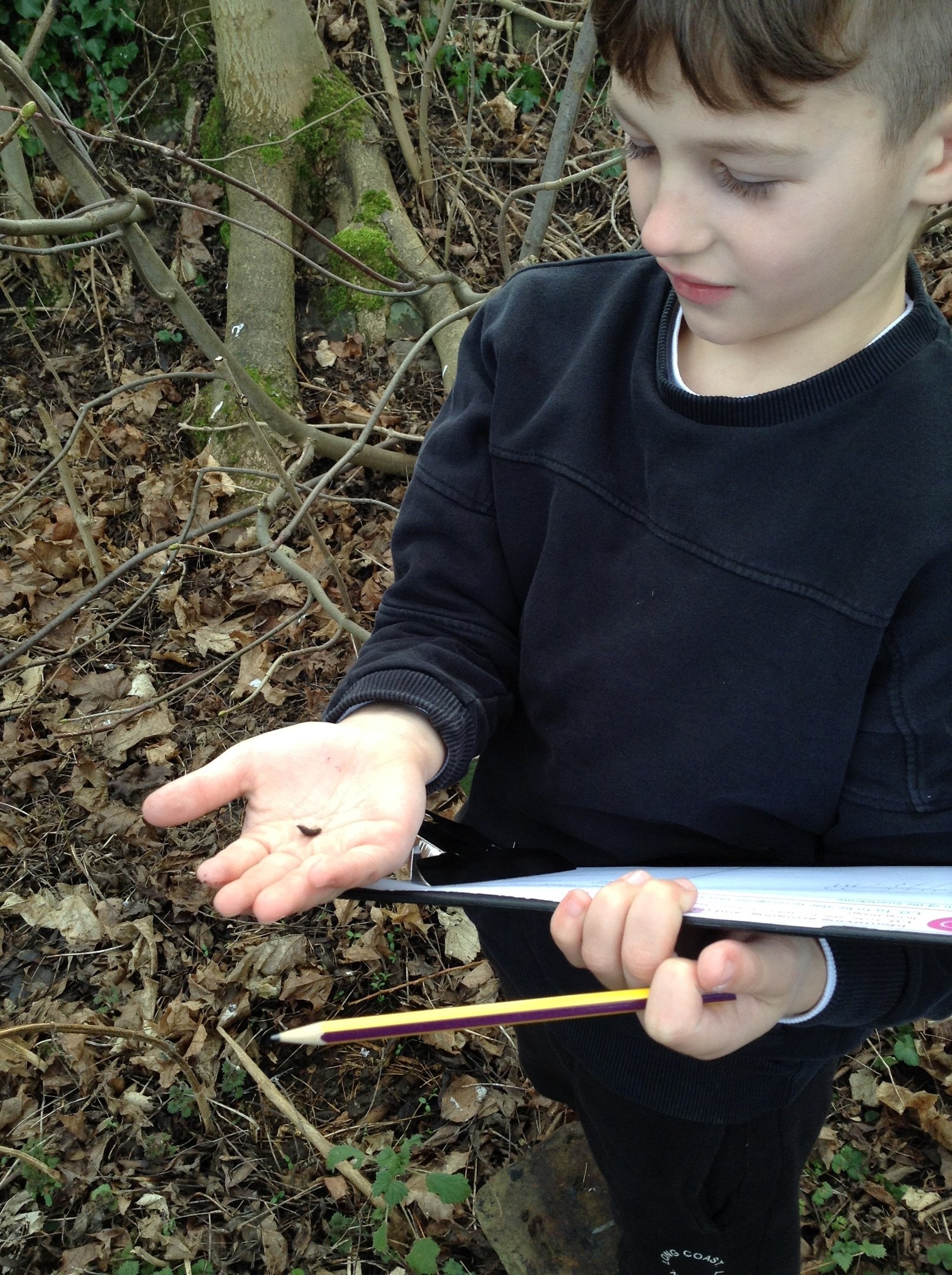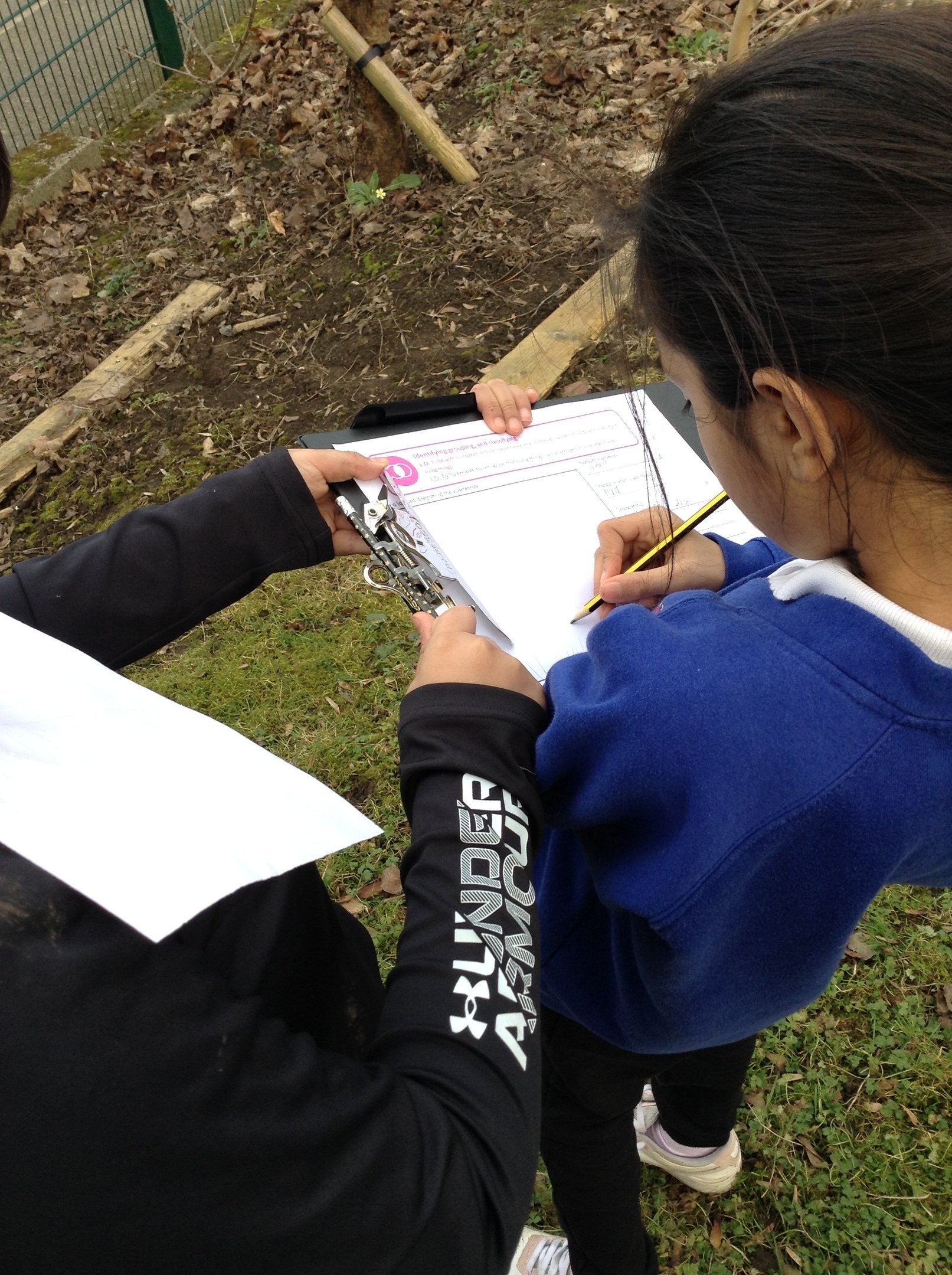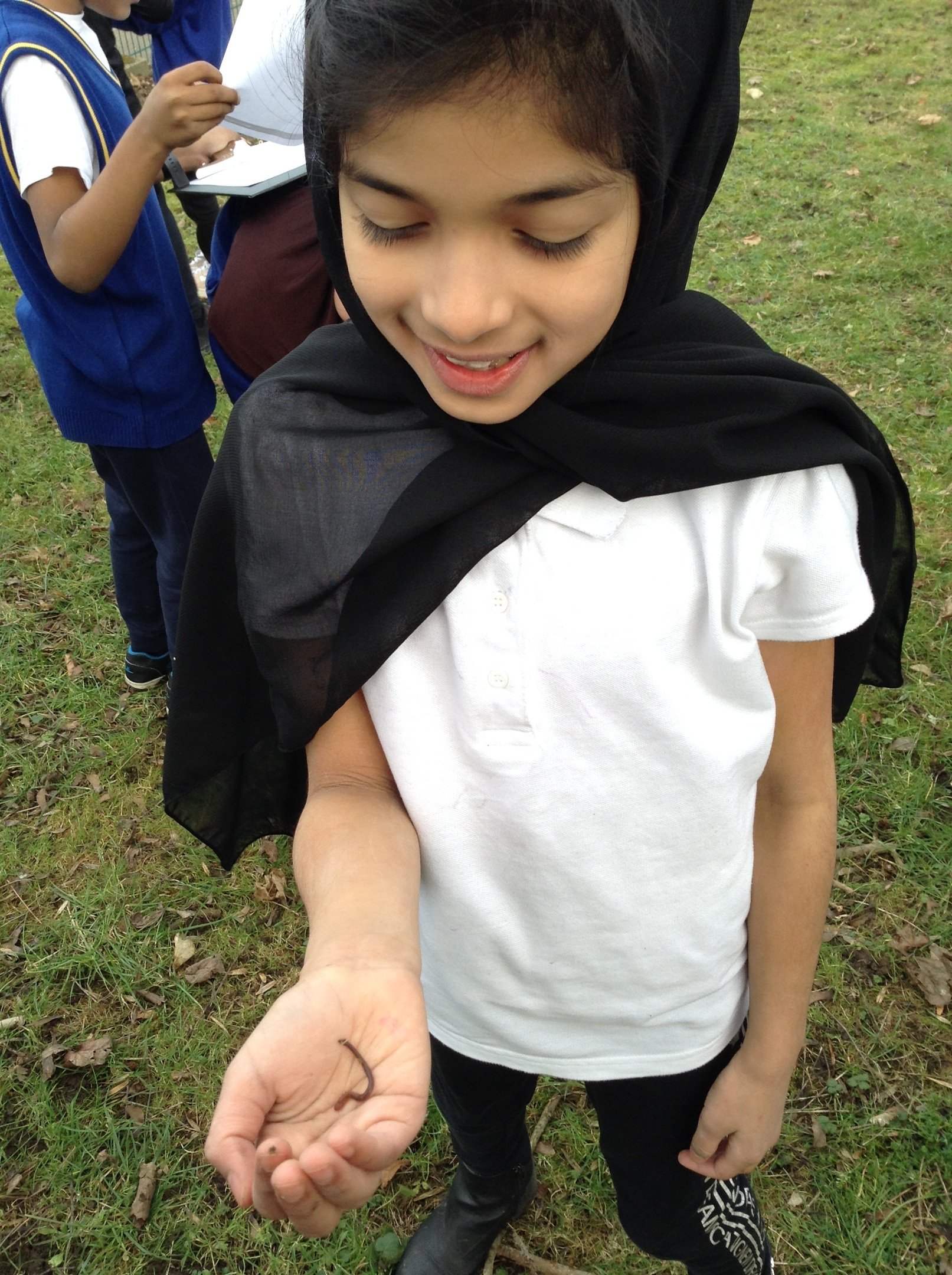 Butterfly Day
Today was Butterfly Day. We came dressed as butterflies, wore purple and raised money through fun activities to help raise awareness for The DEBRA Charity and Forget Me Not Children.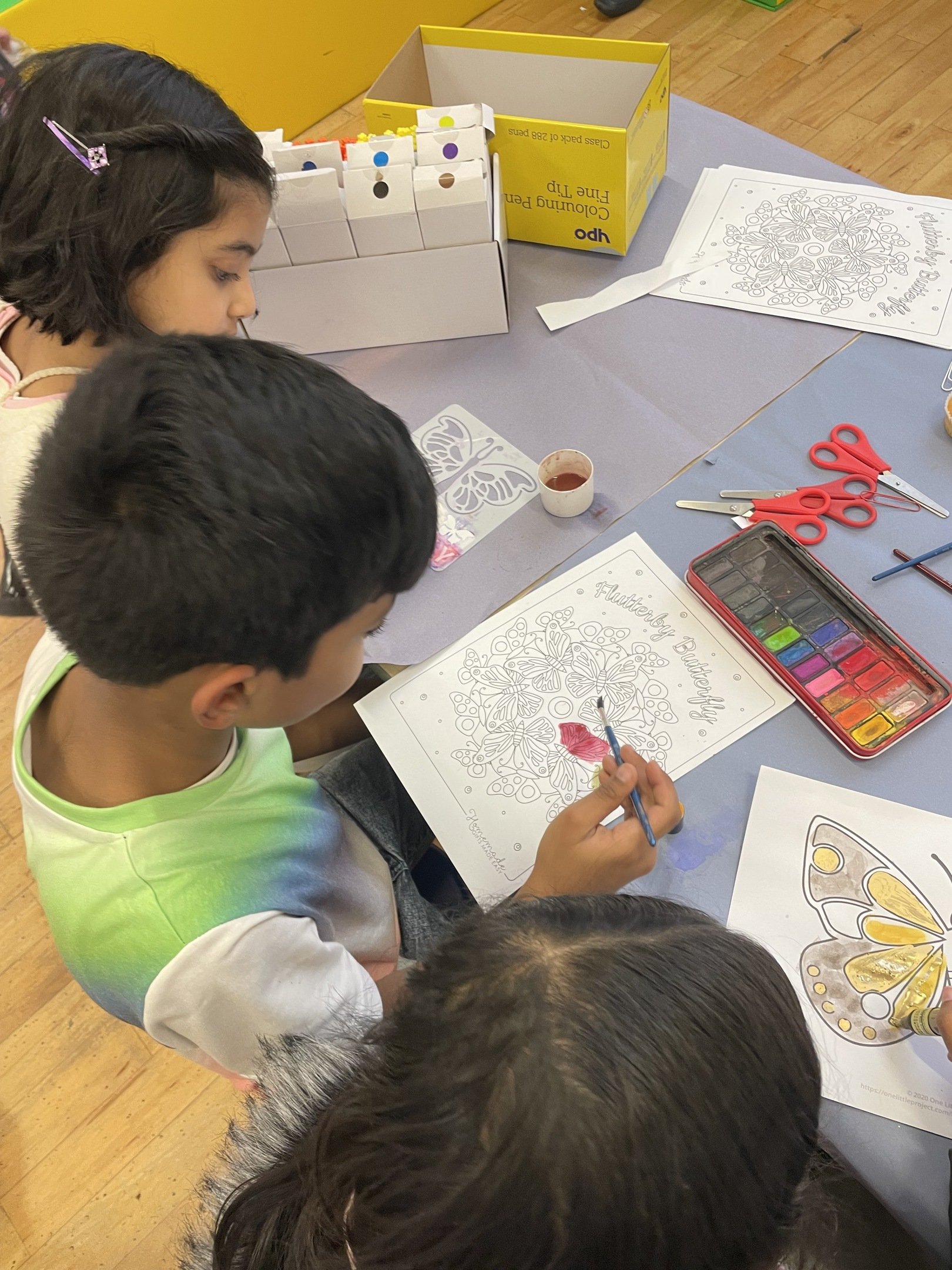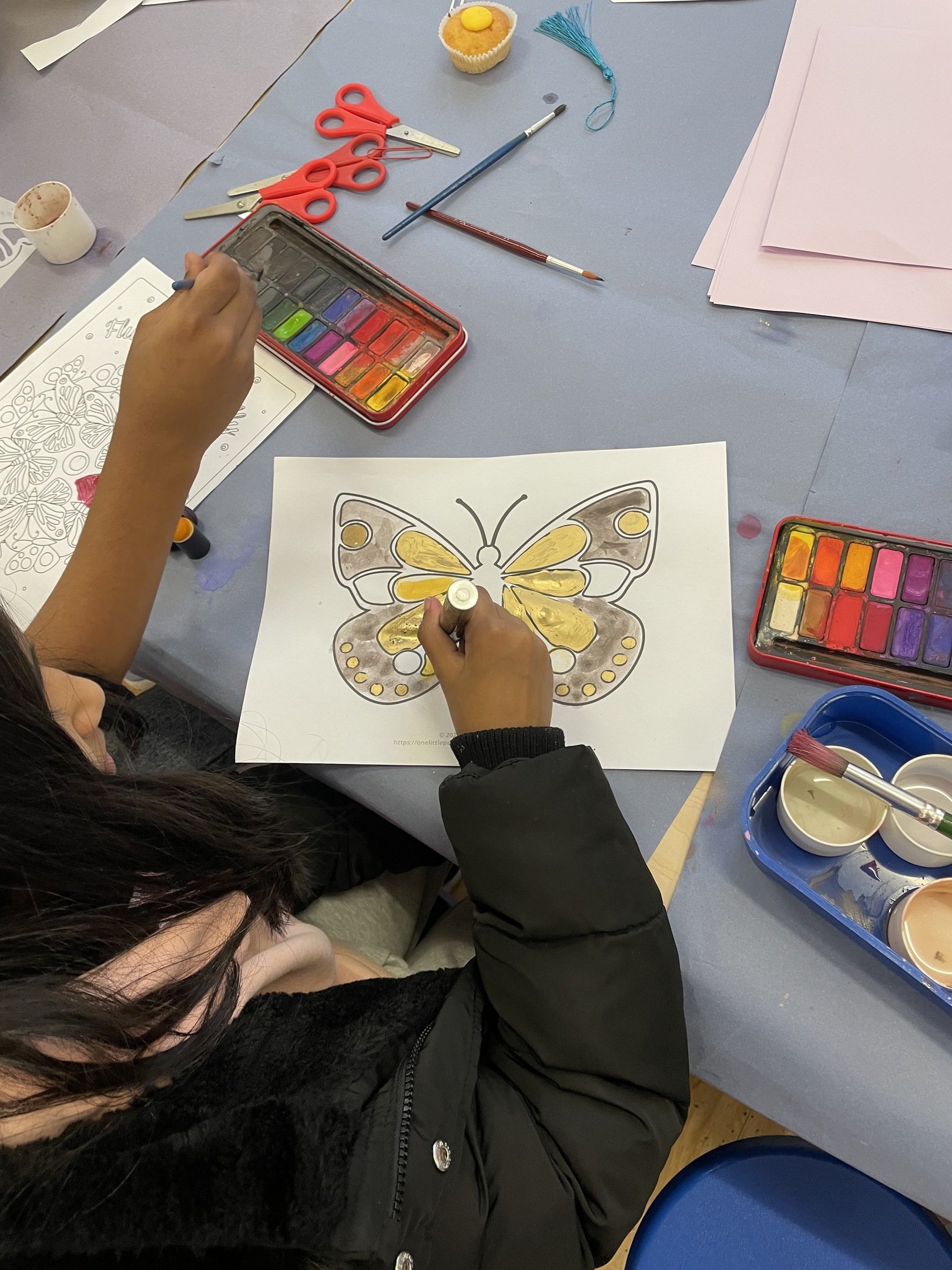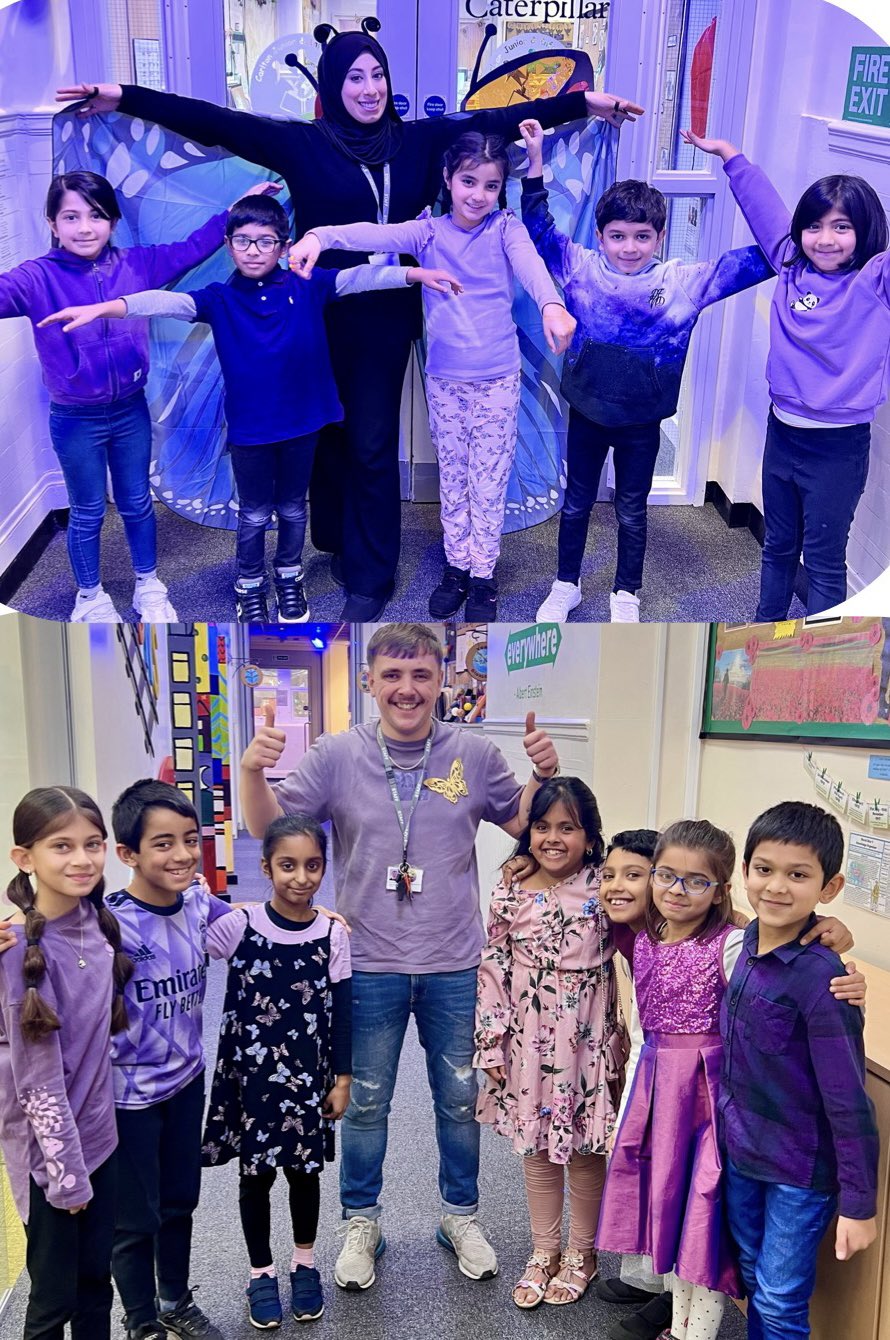 Curriculum Overview and Graduate Homework
Here you can access Spring 2's Graduate Homework and Curriculum Overview.
Drama in English
In English today, we looked at creating freeze frames and drama pieces to encapsulate emotions which we interpreted from illustrations found in the text we are currently reading.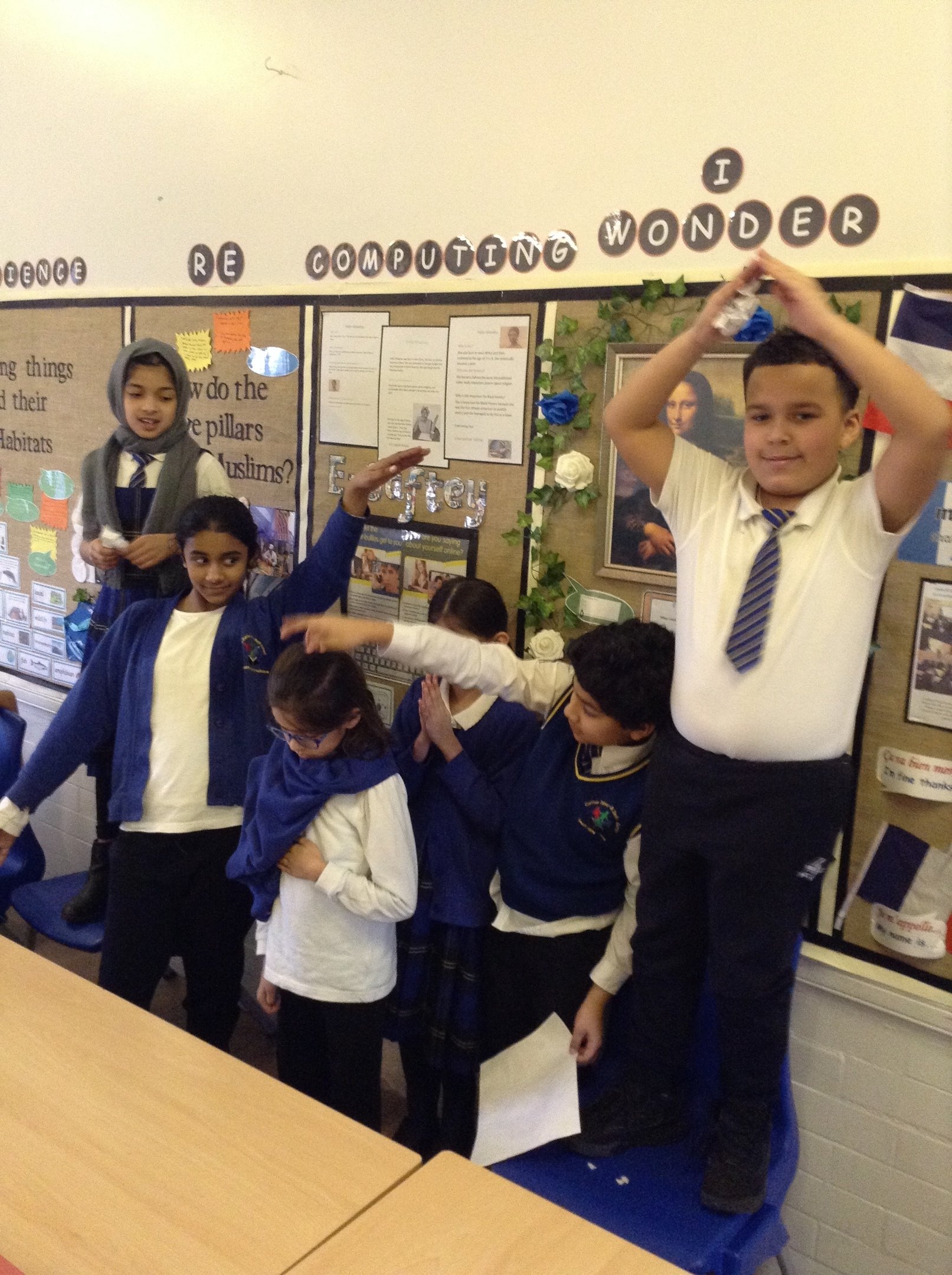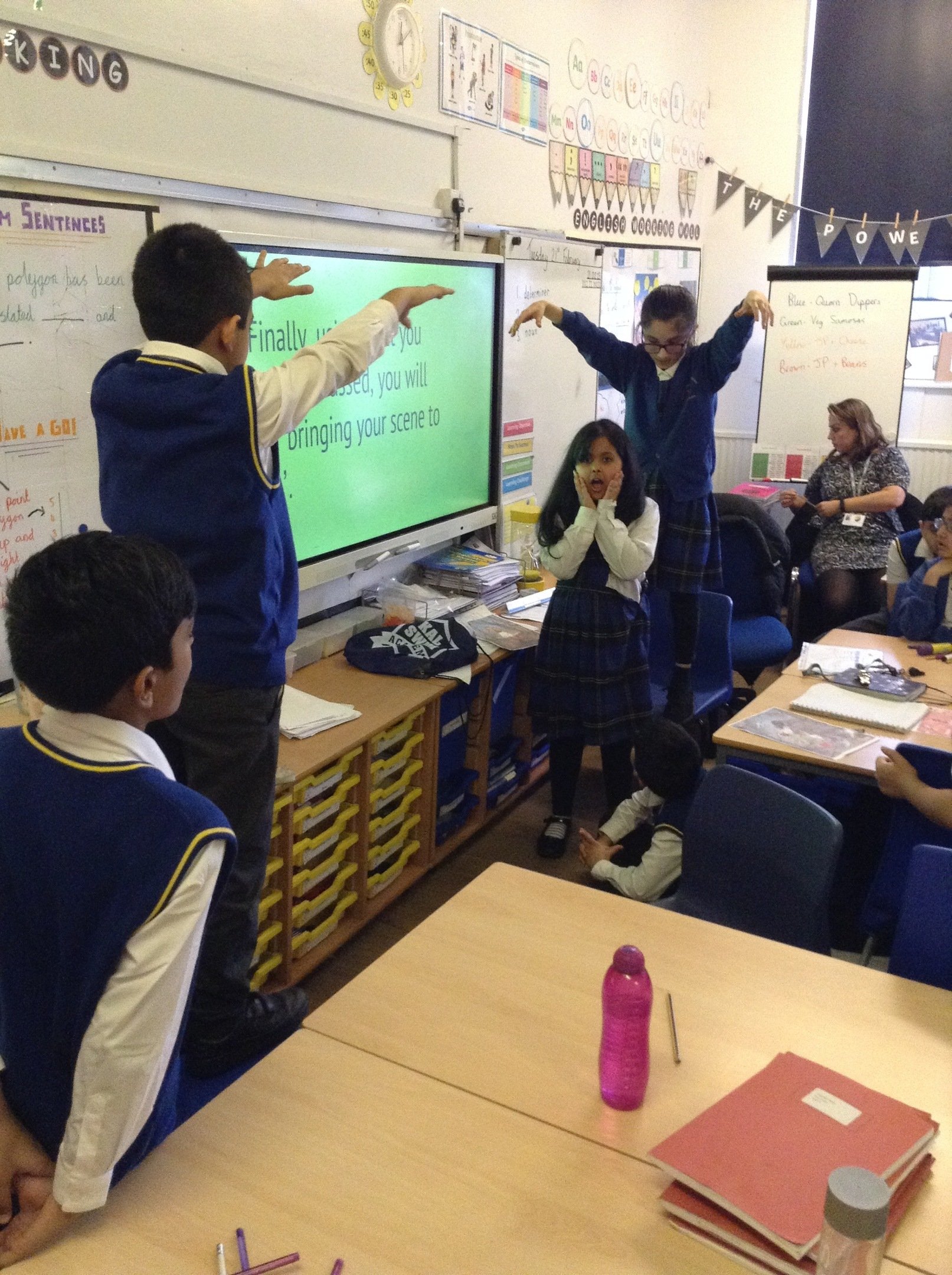 Samba Music
Today, we able to create music using a range of different drums and other South American instruments.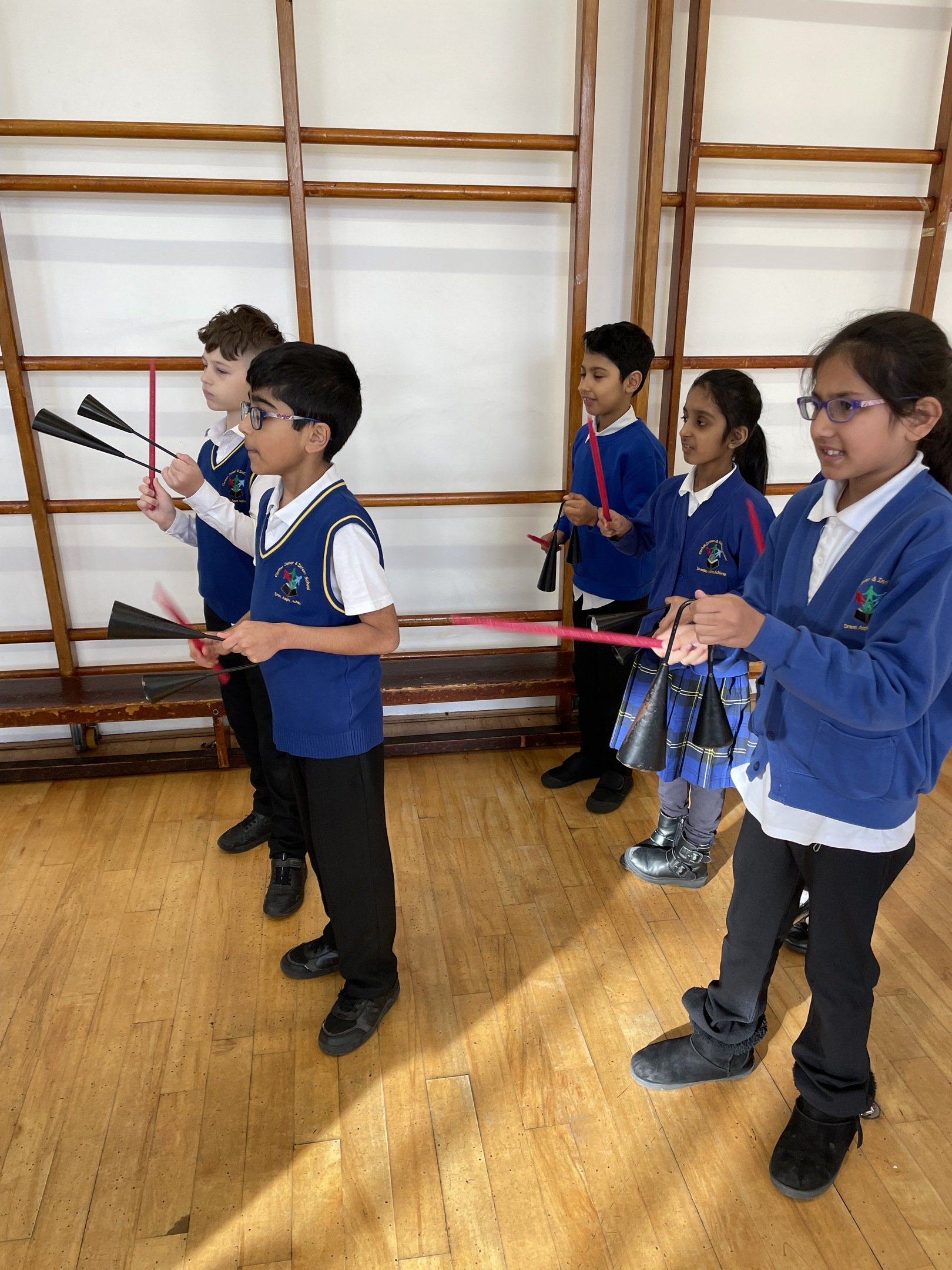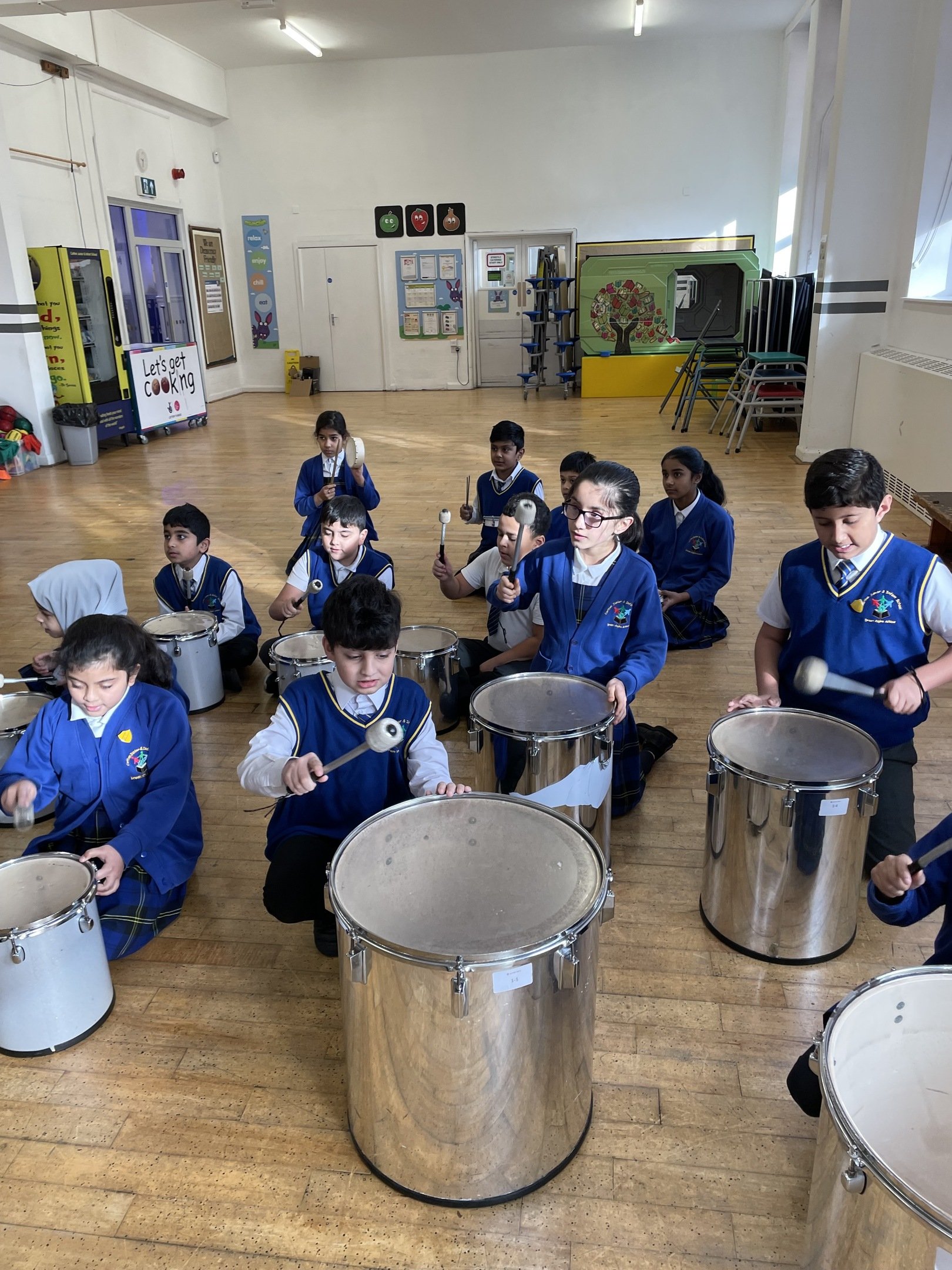 Drama in English
Today we created scripts focusing on the use of punctuating speech.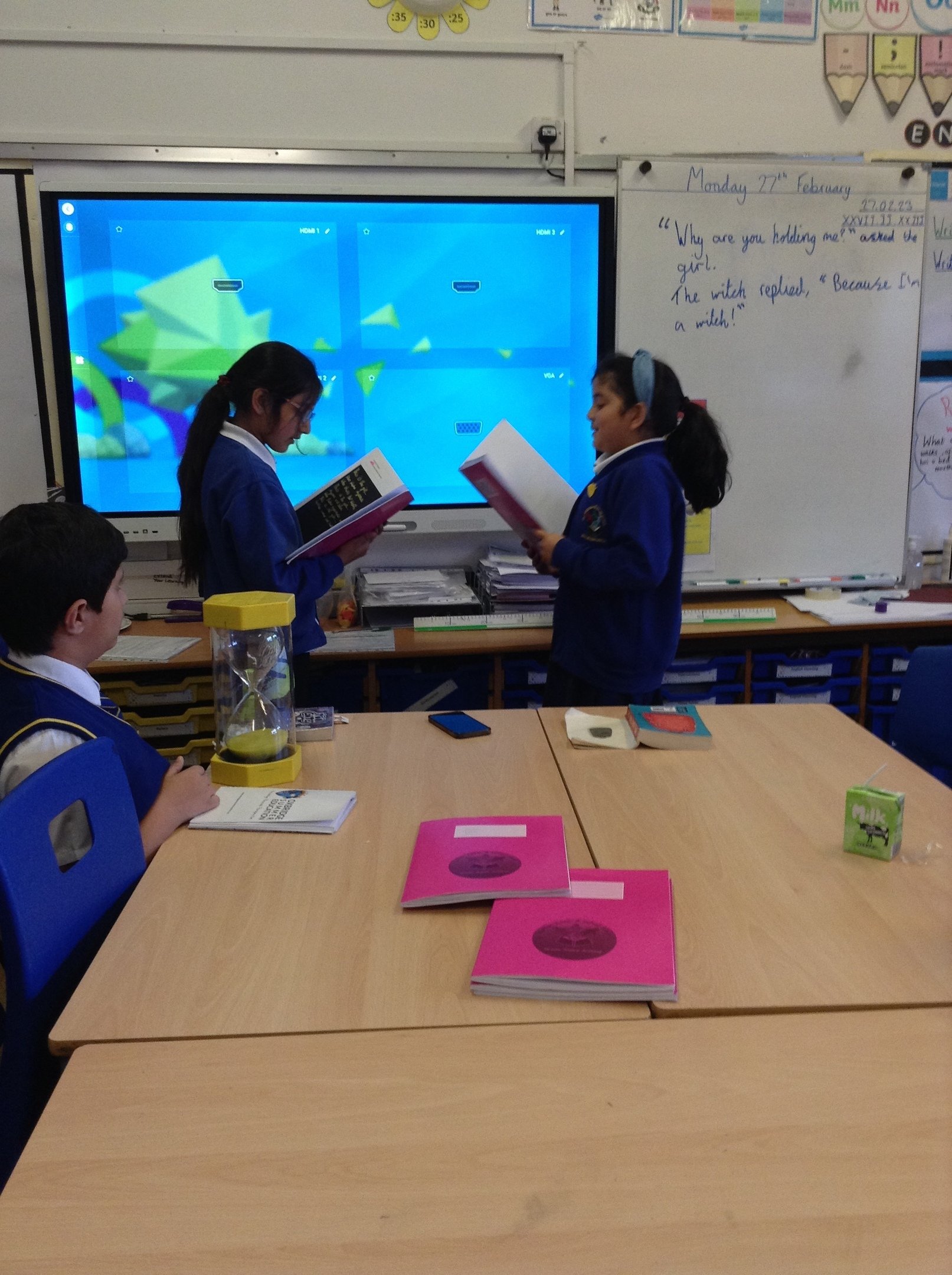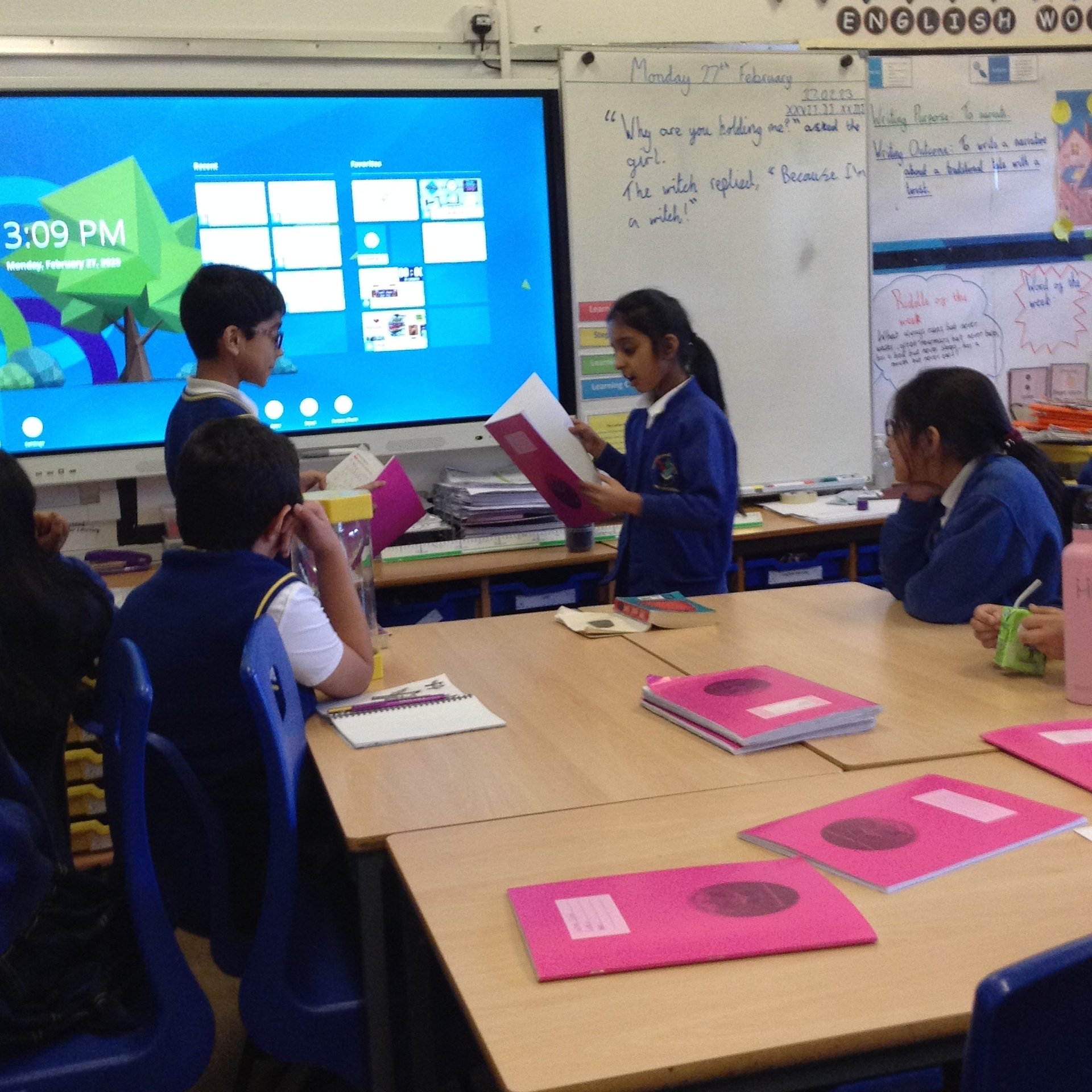 Directions!
In maths today, we looked at describing directions between one place on a grid to another.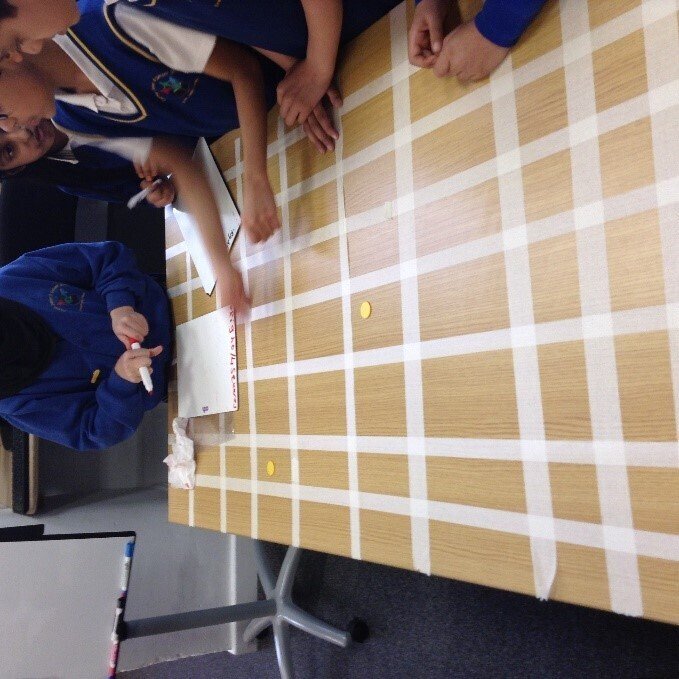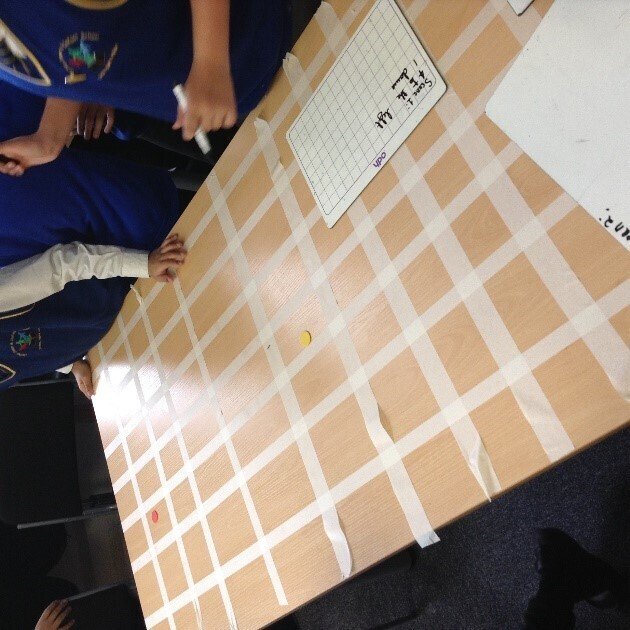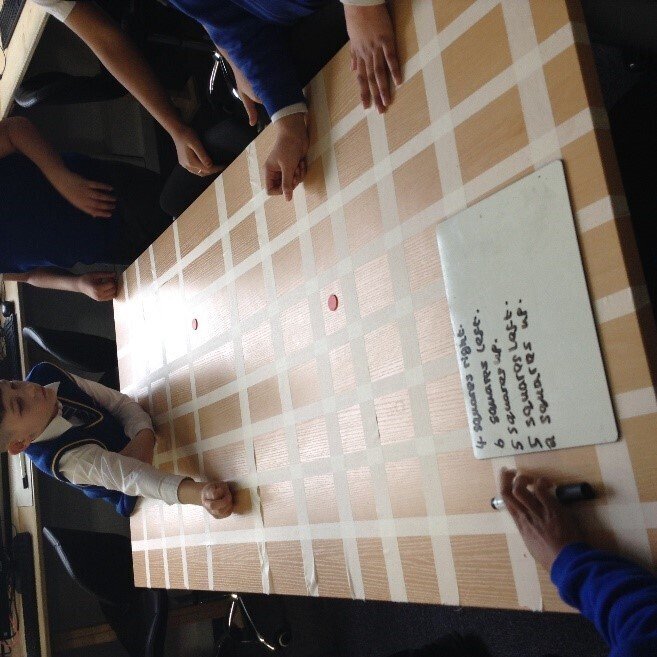 Library Visit
Children in year 3 and 4 are thoroughly enjoying their visit to Dewsbury Library. The snow definitely didn't stop us!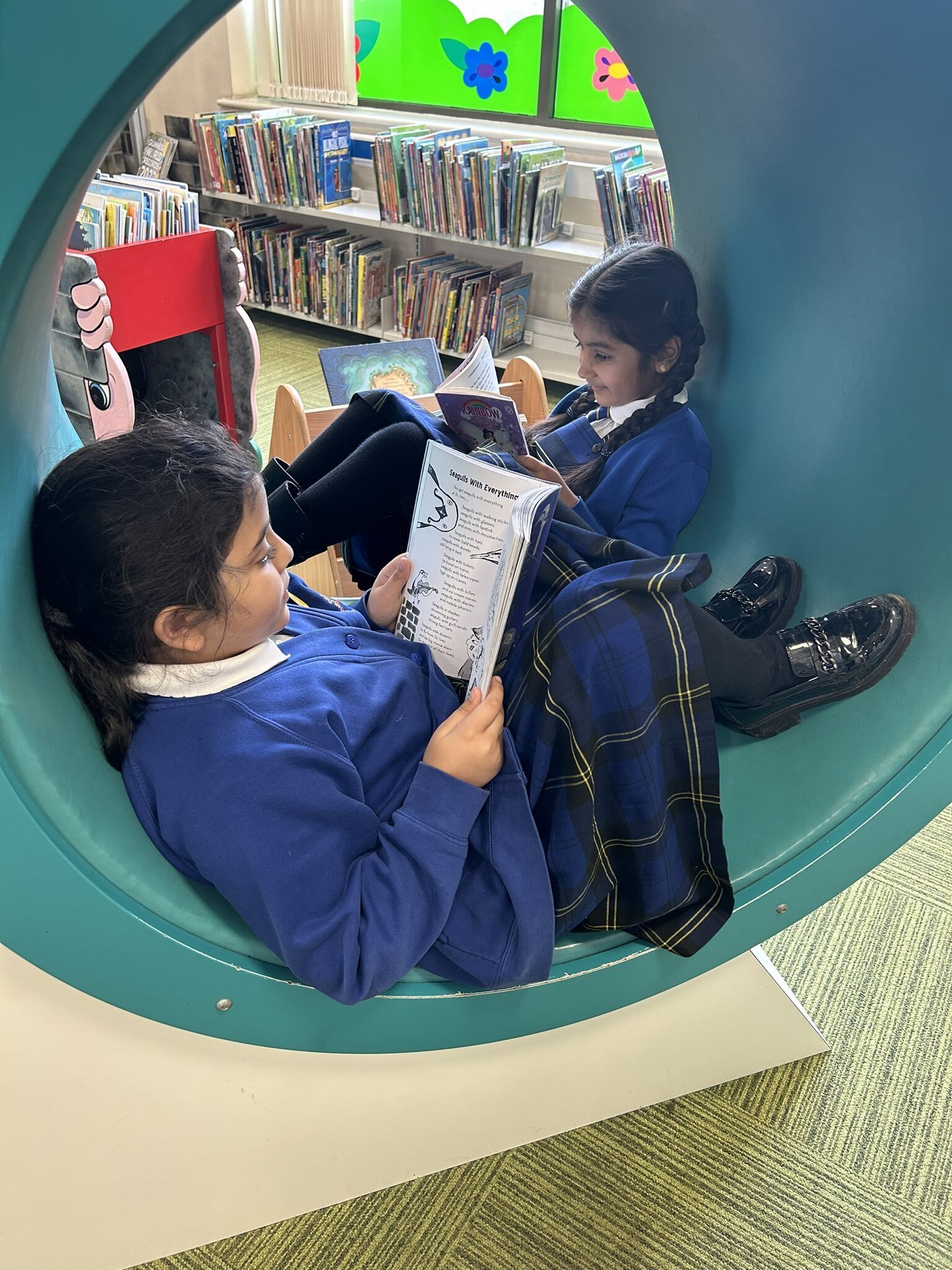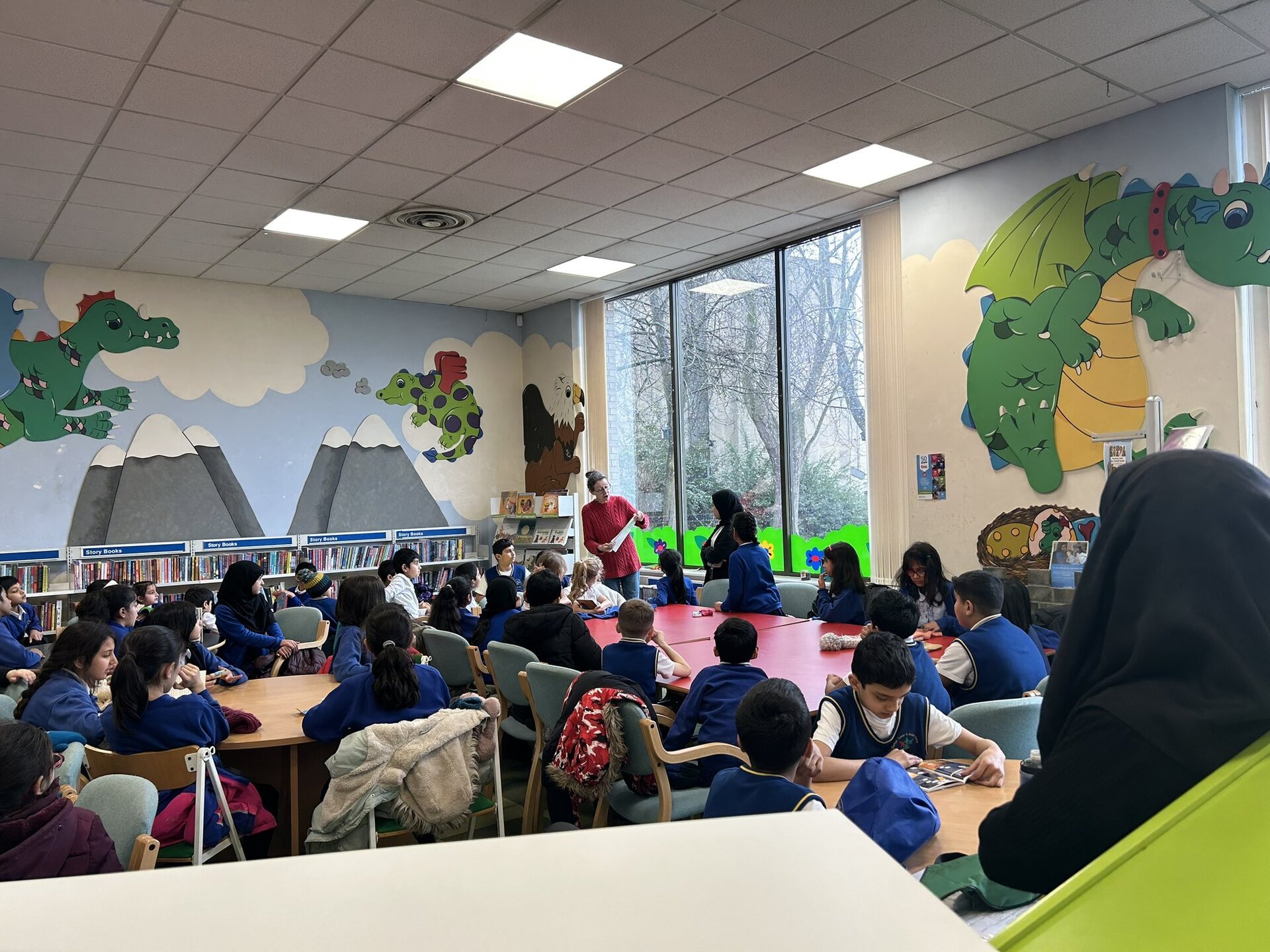 Home Learning
Due to the heavy downfall of snow, we have provided your children with their usual homework today alongside extra home learning for the children to complete - this has also been attached below.

Please encourage your children to complete as much of these activities in as much detail as possible to ensure that they are still working during school hours as a lot of this work will also help them for when they return to school.

Apologies again for the inconveniences caused.

Building Bridges
As this week is British Science Week, we looked at designing and creating our bridges using only paper and tape and competed to see who build the strongest bridge.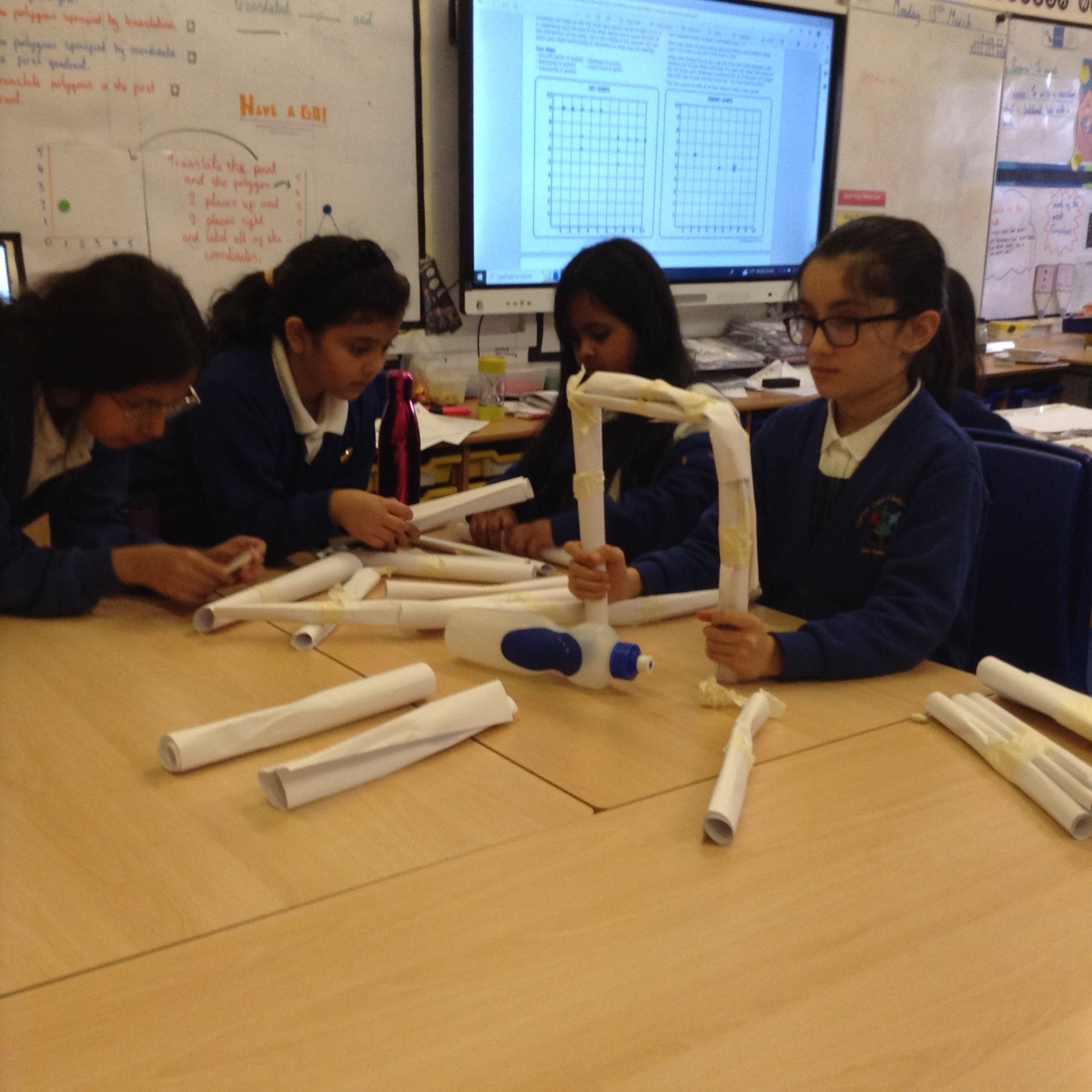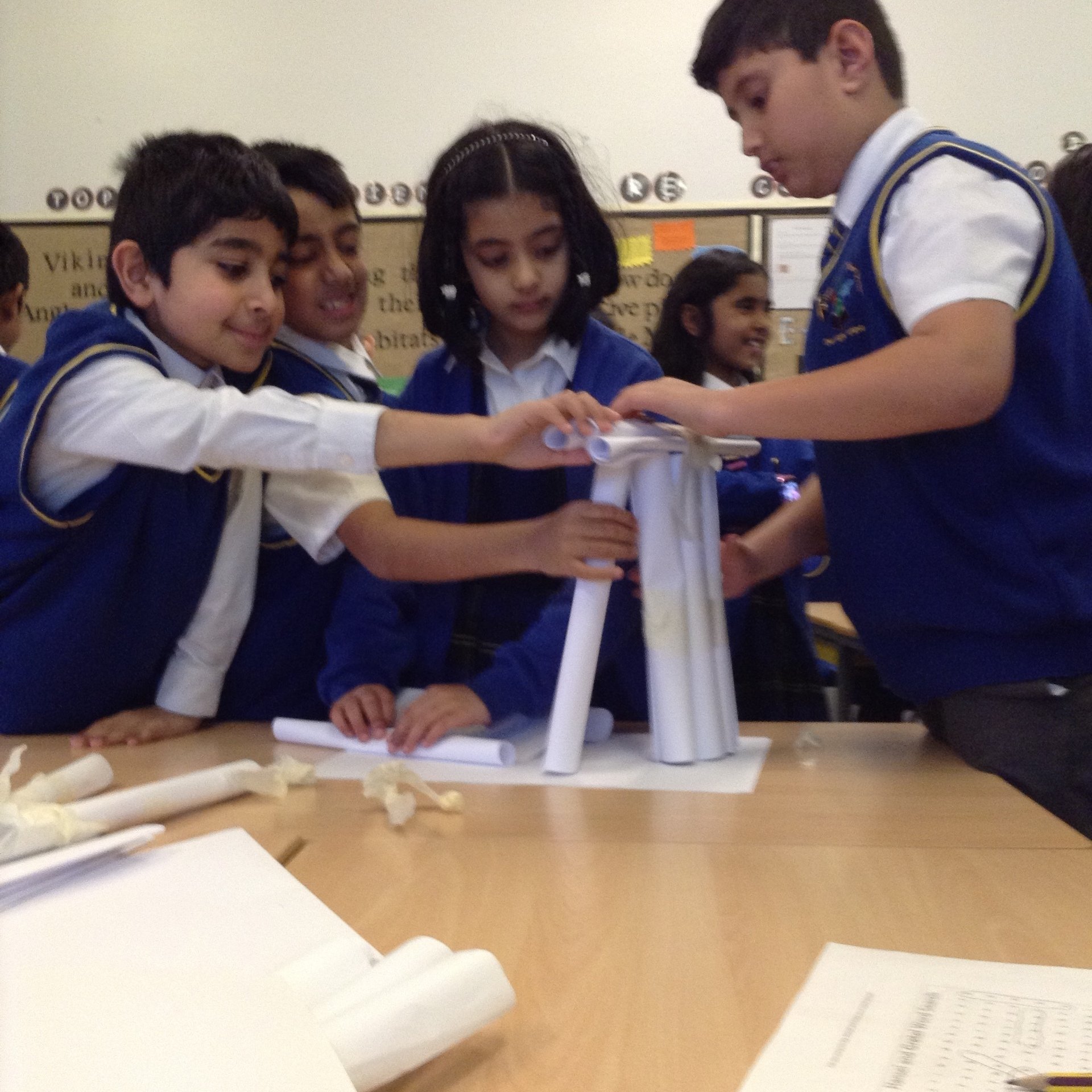 Animal Club
To continue celebrating British Science Week, today a zoo came into school! We were able to learn and touch different animals from all across the world!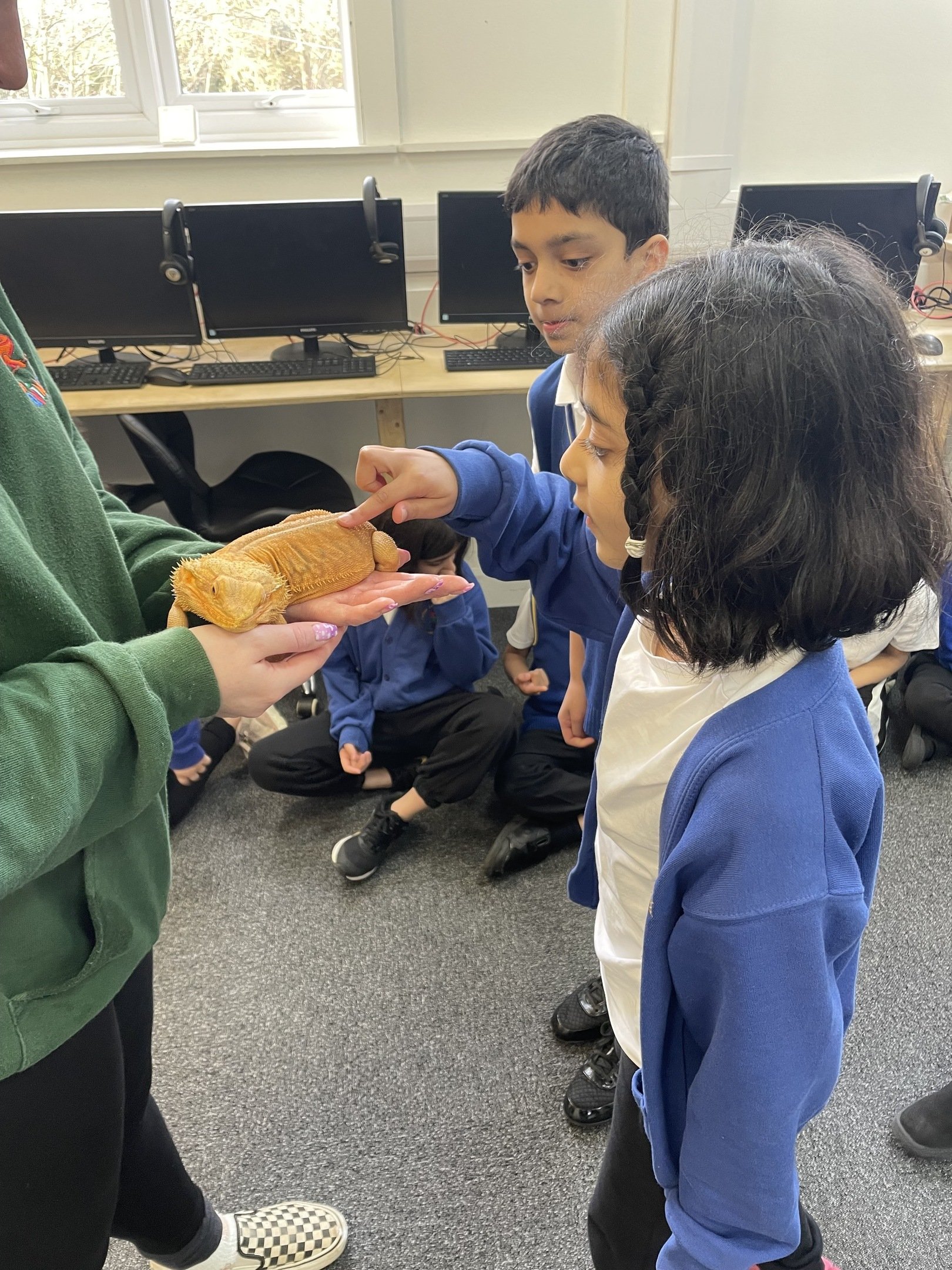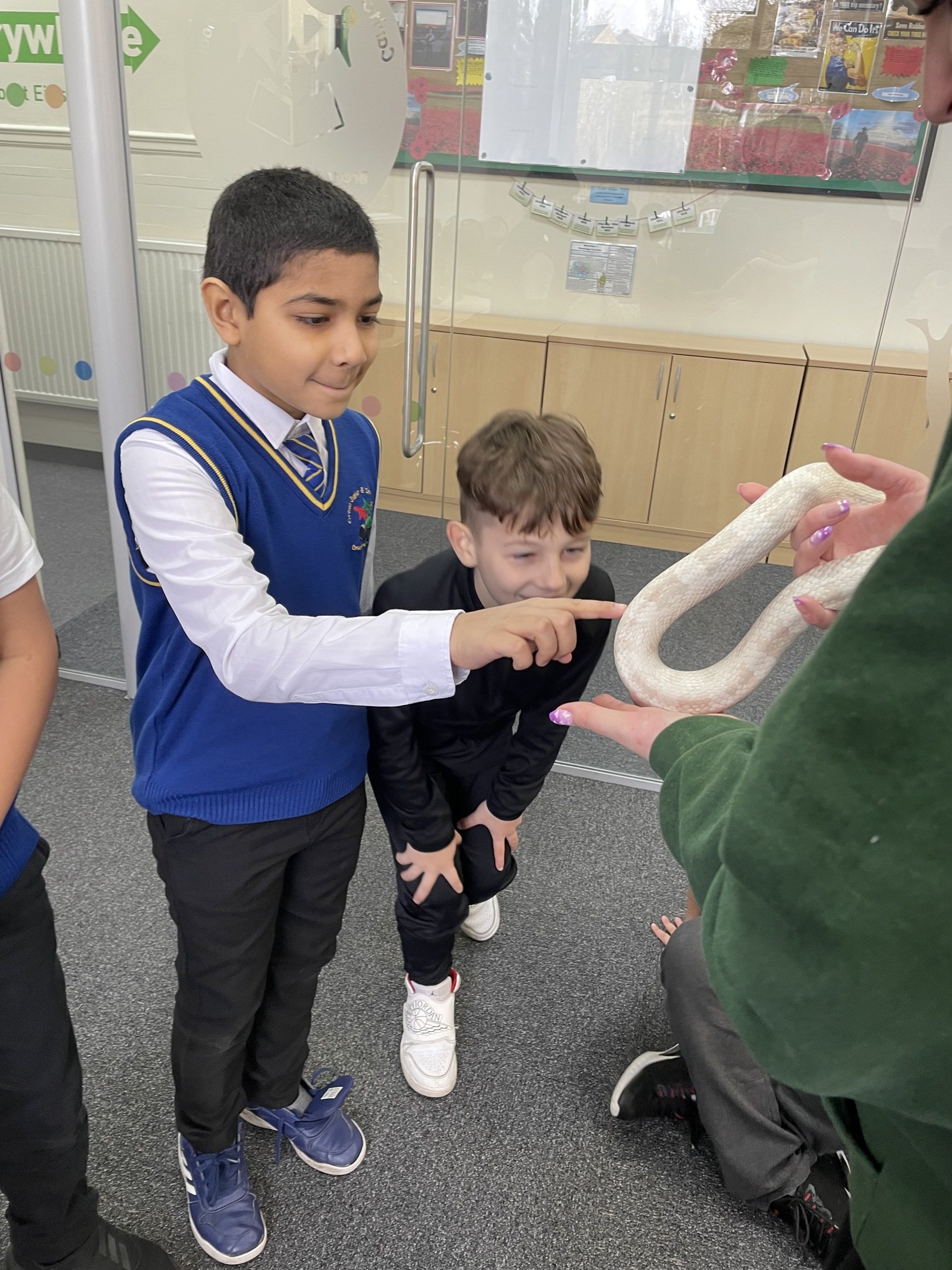 Shakespeare Week
To celebrate Shakespeare week, we explored his plays and had our chance to act them out to our classmates.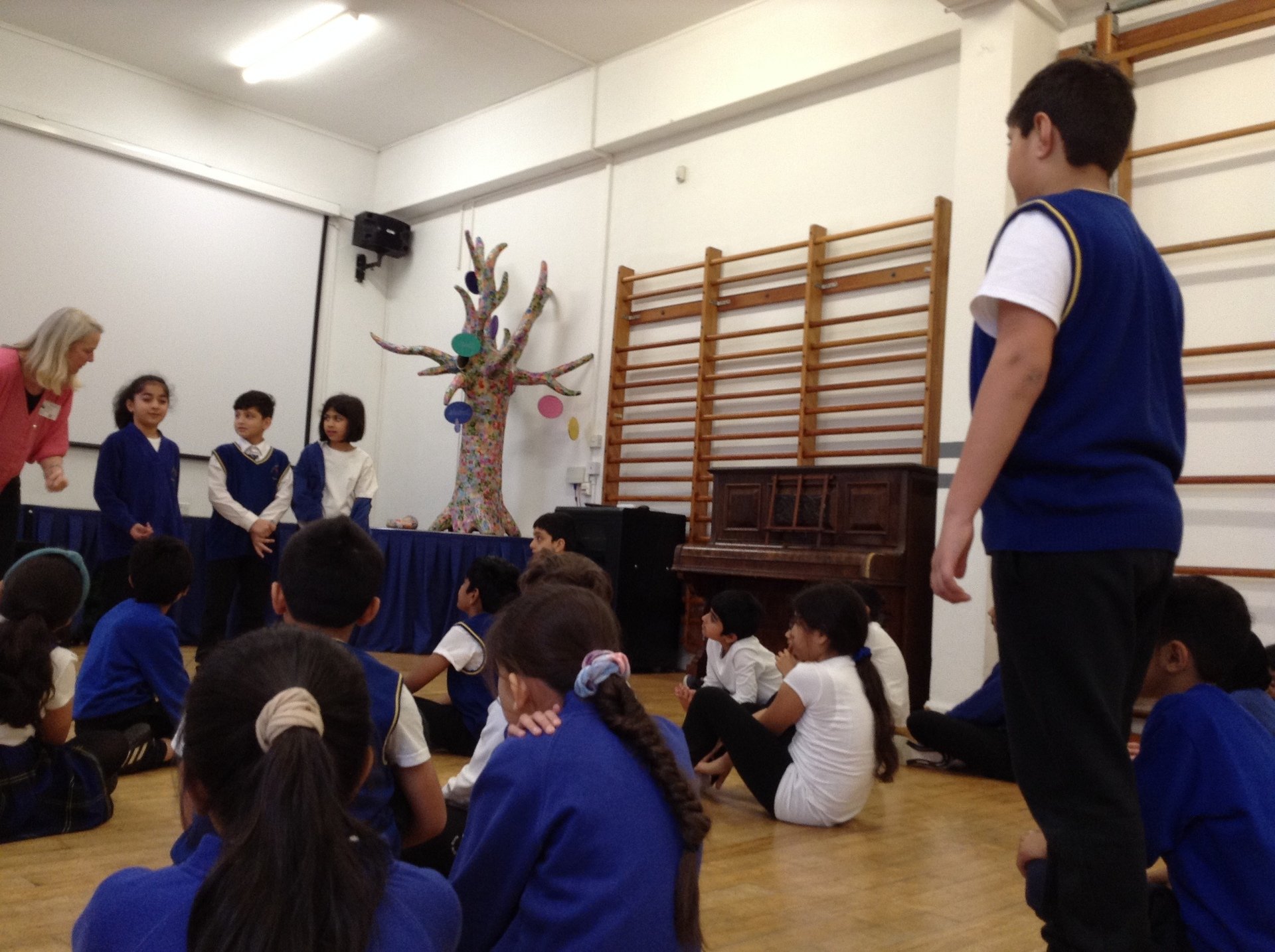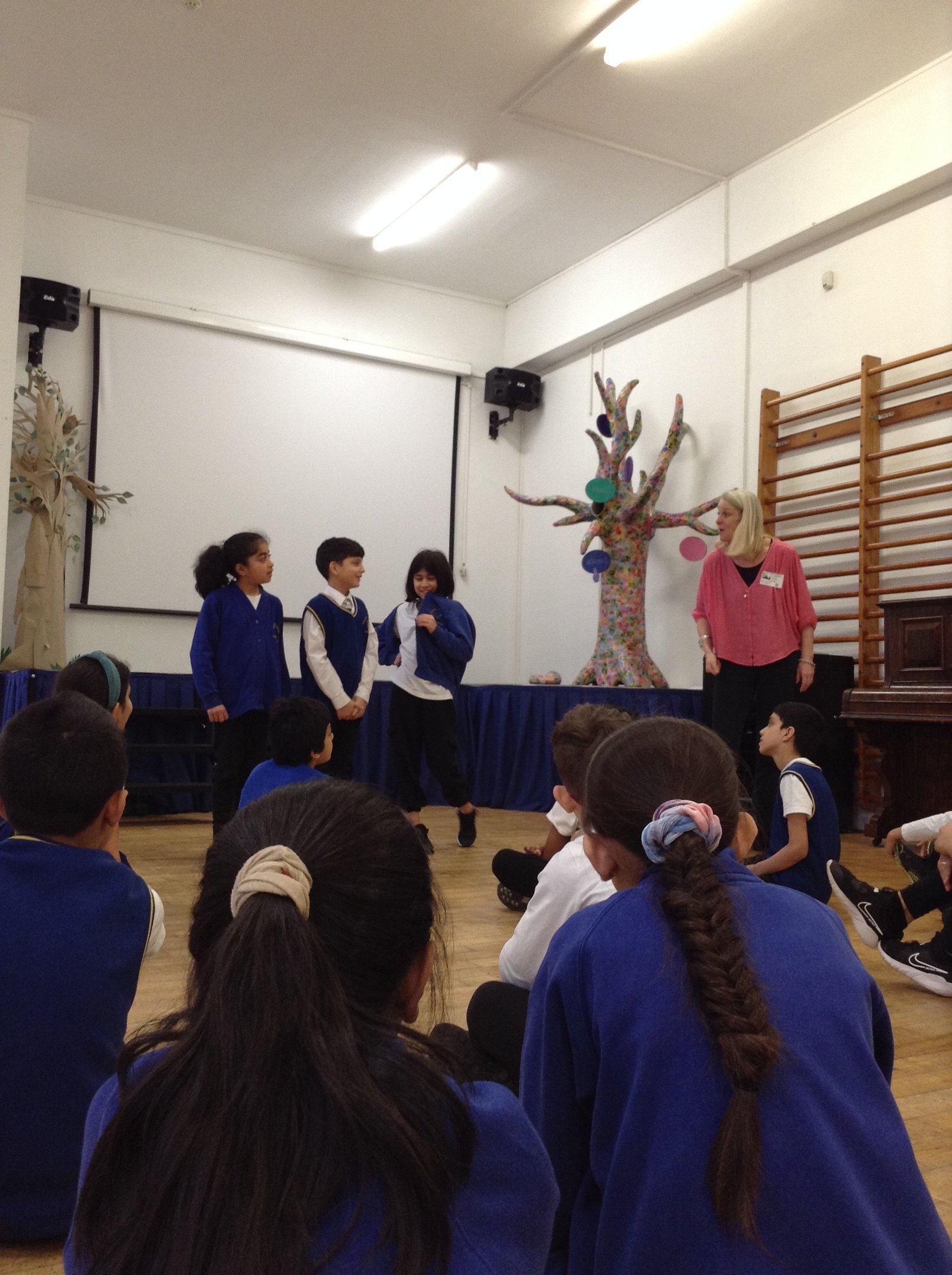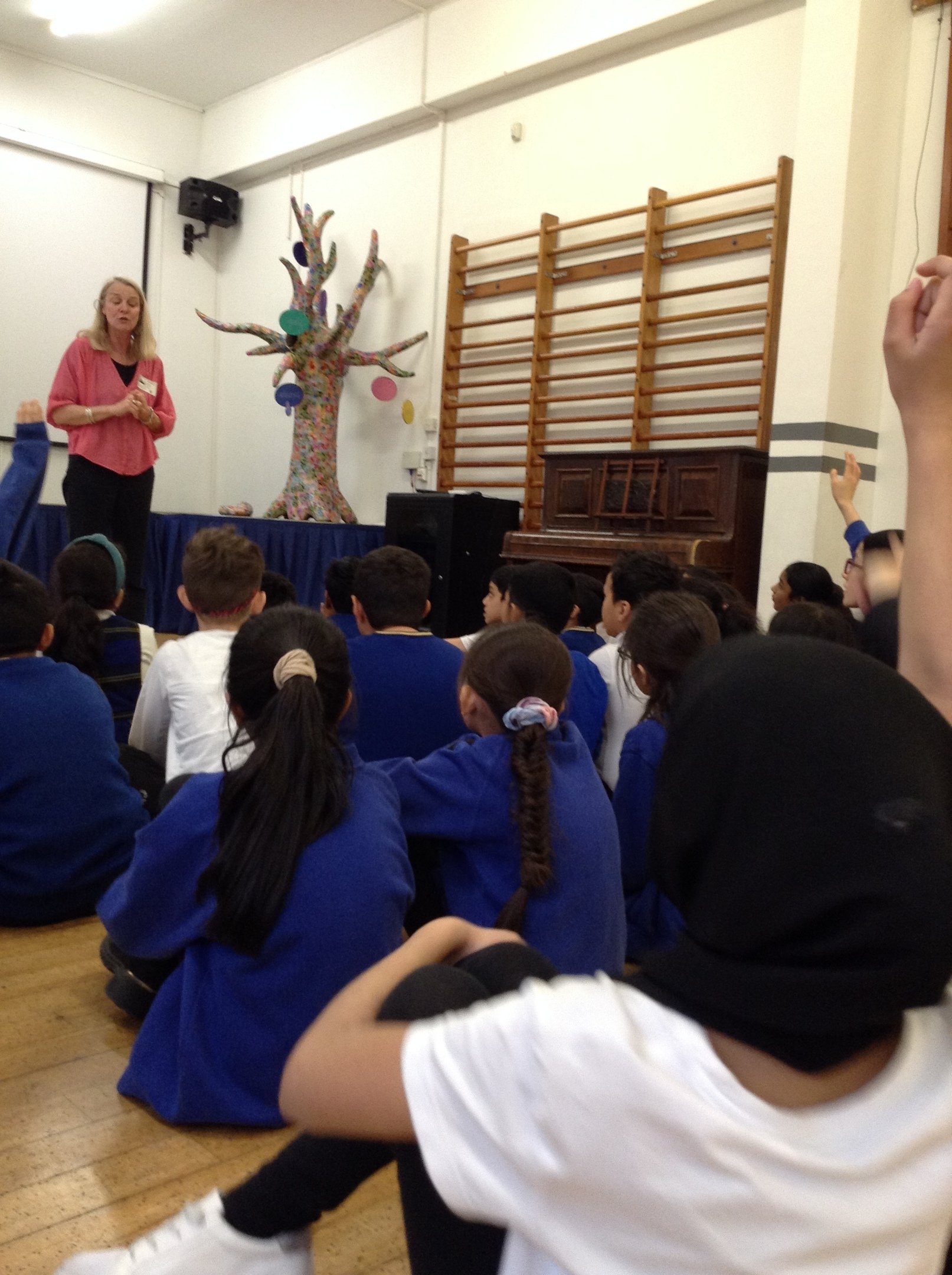 Maths in Action
Today in our maths lessons, we delved into the understanding of fractions and used our interlocking cubes to practise representing them in different ways.